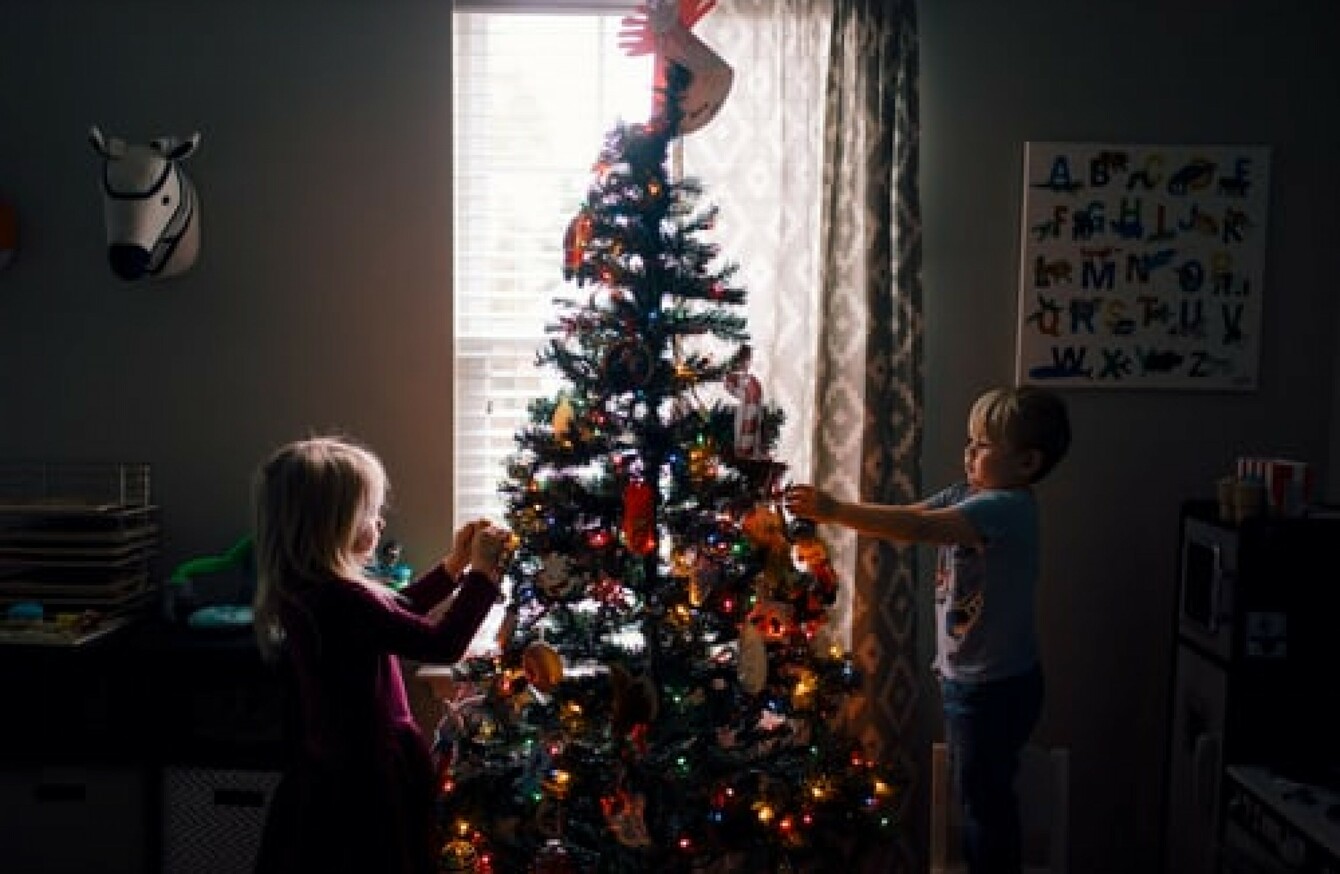 Image: Unsplash
Image: Unsplash
CHRISTMAS DAY CAN be a hectic time, with lots of different people to please. But when all goes to plan, it can be the perfect mix of fun, energy and hilarity.
And if you have kids in your house, you can be guaranteed of a few laugh-out-loud moments, as the stories below prove. We asked parents around Ireland to share some of their funniest, most bizarre or downright embarrassing stories involving their little ones at Christmastime. 
Here are some of the best tales. Prepare to feel all warm and fuzzy, and to cringe a fair bit too…
Making a holy show of it at Mass: Three years ago, while we were doing a renovation on our house, we packed the three kids up and headed to my parents in Kerry for Christmas. On the big day itself, off we all trotted to Mass. I wouldn't be a regular mass goer, but we went along with my folks for the morning that was in it. The small chapel was packed with everyone home for Christmas. Julie was three at the time, and was sitting up on my dad's lap. She looked up at the altar, turned to my dad and said, "Is this a show?" To which he responded, in a strong south Kerry accent "'Tis girlín, a holy show!" In hindsight, the alter did sort of look like a stage…
- Aoife
Glitter was a bad choice: We put glitter around the fireplace as proof that Santa had dropped by. On Christmas morning, our daughter Sorcha – instead of playing with all her toys – started sprinkling the glitter on herself so that she could "fly like Santa".
- Rosemarie
Comparing Granny to the dog: Our beloved dog had died not too long before Christmas last year. We explained to our six-year-old that the dog was very old and tired, and it was time for him to go to sleep forever. He seemed to take it well and didn't have too many questions. Jump to Christmas morning a few weeks later with my granny (his great granny), and he suddenly got very upset after spotting her do a big yawn. We asked him what was wrong and he said, very loudly, "Gaga is very old and tired and it's time for her to go to sleep forever". Luckily all she needed was a nap and she'll be opening presents with us again this year again!
- Sarah
The perfect gift from my in-laws: Last year, heavily pregnant, I opened a Christmas present from my Spanish mother-in-law and found a handmade apron (like something Maria would wear when she was still a nun in the Sound of Music) inside. Okay, all fine… until I opened the present to my two-year-old and found a mini replica. Turns out Granny wanted us to match. My in-laws don't speak much English, so we had an awkward Face Time call where she tried to style me over the phone and told me my bump was getting in the way of her artful apron design! 
- Niamh
Christmas by candlelight (or iPhone torch light): The year before last, the kids woke very, very early on Christmas morning. By the time we had pulled ourselves together and said they could go downstairs we realised we were in the middle of a power cut. Of course, we had been in such a panic the night before to get everything sorted for the Big Man's visit that things hadn't been put back in their usual place and so we couldn't even find a lighter for the candles. The kids decided they couldn't wait any longer, and they had to open their pressies by the light of an iPhone torch… before we decided we had to keep some battery in case the cut lasted all day. By 8am it was bright enough outside for the kids to be able to see their presents properly, but it made for a very tricky few hours.
- Mary
No contest here: On my baby boy's first Christmas morning we got engaged!
- Eavan
Absentee Santa: When we were kids, Dad would always go to the living room door, look in and say, "Oh no, Santa didn't come!" before throwing open the door and telling us he was only joking. It was always one of my favourite memories of Christmas morning. Last year, with my own daughter finally old enough to know what was going on, I decided to replicate it. I guess she was too young to be in on the joke because we had an inconsolable little girl and I very nearly ruined the morning. We won't be doing it again this year!
- Fiona