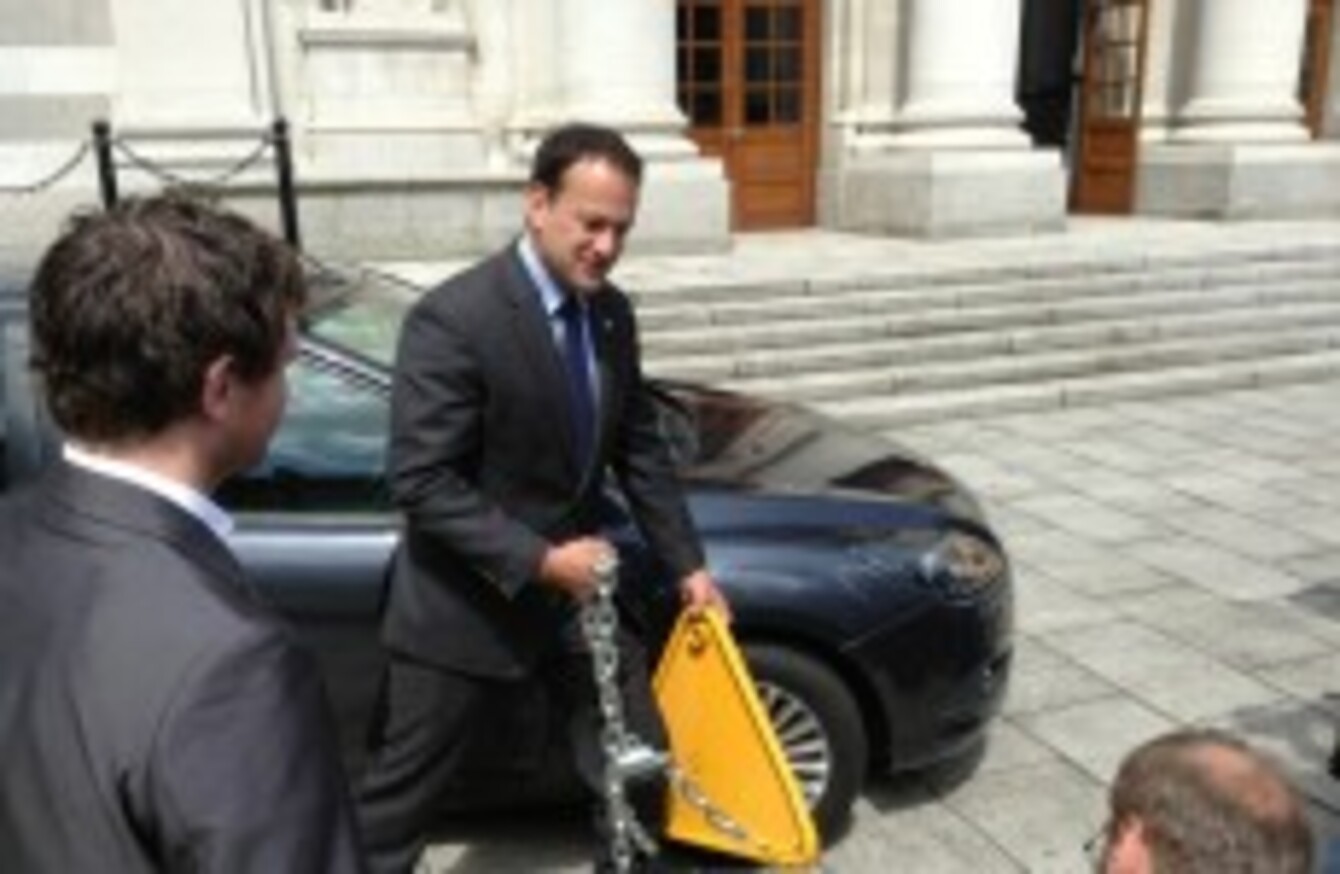 Leo Varadkar at a photo-op in Government Buildings today.
Image: Daragh Brophy
Leo Varadkar at a photo-op in Government Buildings today.
Image: Daragh Brophy
NEW LAWS TARGETING rogue clampers should be in place by next year, Transport Minister Leo Varadkar has said.
He was speaking at the publication of a new Bill aimed at introducing consistency in the practice, on private as well as public land.
"Laws are already in place to oversee clamping in public places," Varadkar said.
"However, the clamping of vehicles on private property is not governed by any specific laws.
"This new Bill protects motorists and legitimate clamping operators, but will penalise bad behaviour by rogue operators."
Appeals
The Bill sets up a new regulatory regime, a two-step appeals process and a default maximum release fee of €100. The maximum vehicle relocation fee will be €50.
As part of the new laws the company doing the clamping, or the landowner, will have to have their own appeals process in place.
Where a driver isn't satisfied with a ruling, they can then lodge a second-stage appeal to an the National Transport Authority, which will regulate the new process.
The new laws will also oblige landowners to provide prominent signs indicating that clamping is in operation, as well as the release fee that applies.
According to the Minister:
"We all know of instances where people have been clamped, they've been charged in some cases €200 or €300 to have their vehicle un-clamped and the signage that was there warning them that clamping was in operation wasn't good or had been removed or was very far away.
It's exactly those type of incidents we're trying to deal with.
The NTA will set out, by regulation… 
The elapsed time period before a vehicle can be clamped.
The clamp release time, after payment has been made.
Means of ID for clamping operators
The form of clamping notice that should be affixed to vehicles.
The manner in which payments may be made.  
'Free-for-all'
"It's not that we don't think that there's room for clamping or a place for clamping — there clearly is," Varadkar said.
"It makes senses often in apartment buildings, near train stations. It makes sense sometimes in shopping areas where people leave their car there but aren't actually using the shops.
"But at the moment it's a free-for-all, an what we're trying to do here is end the free-for-all."