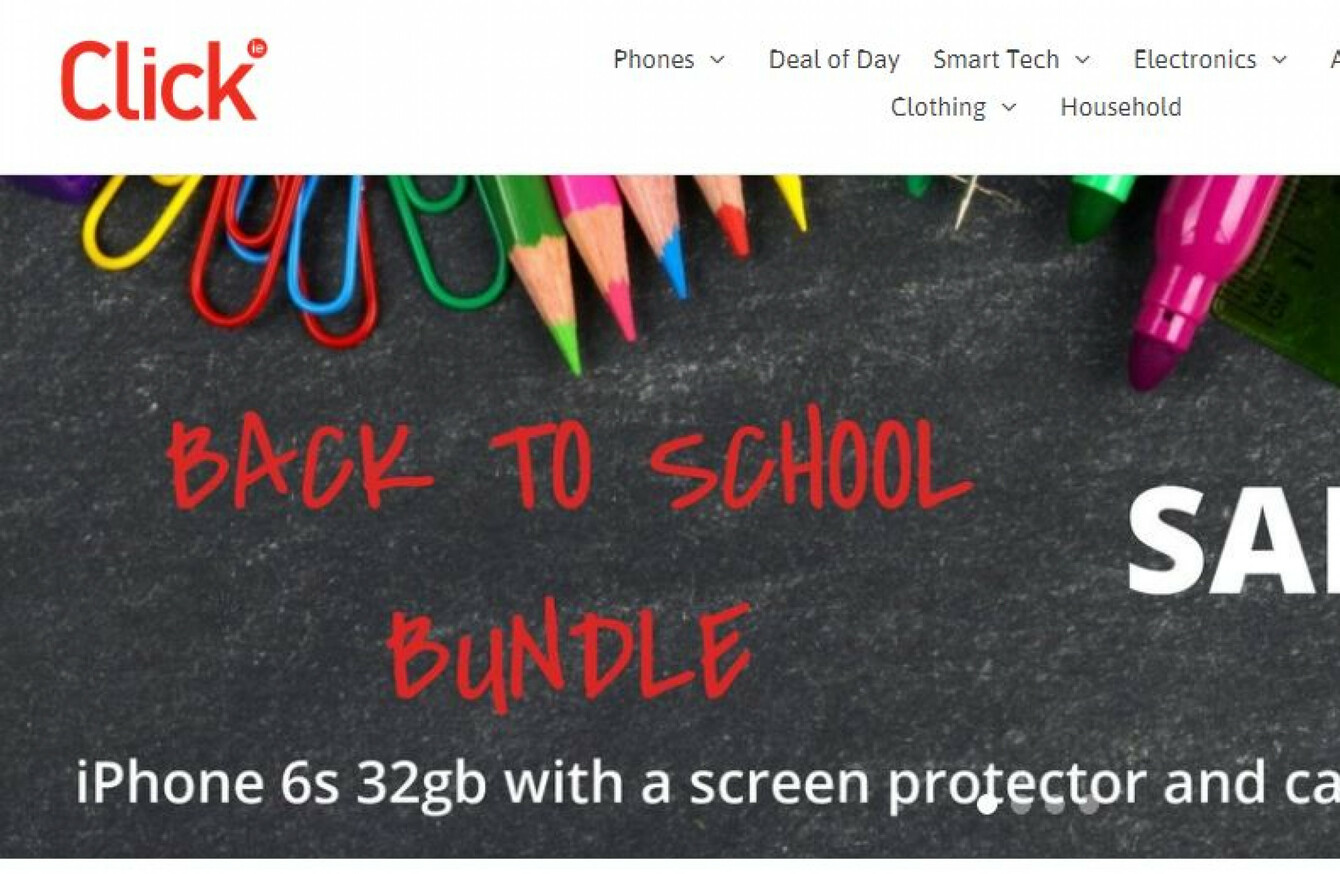 Image: Click.ie
Image: Click.ie
CONSUMERS HAVE EXPRESSED concerns that the website Click.ie has reappeared online.
The domain name was recently bought for €10,500 at auction and the website has been live since last Friday.
A company called Click Group Ireland bought the domain name. However, as of yet, it does not appear to have registered with the Companies Registration Office.
The previous iteration of Click.ie, the trading name of Cantec Office Solutions, went into liquidation in April. It sold electronics such as refurbished iPhones at discounted rates.
The company went into examinership in early 2017 but this proved futile. It had eight stores and a number of franchises nationwide when the company was wound up. It's understood that the firm owes creditors in the region of €1 million.
Complaints
In the months prior to its liquidation the company made headlines after numerous complaints about delays in customers receiving products.
A spokesperson for the Competition and Consumer Protection Commission (CCPC) said, in the months prior to a liquidator being appointed to Cantec on 24 April, there was "a significant increase in the number of contacts received from consumers in relation to the company".
From 1 January to 24 April, the body received 178 contacts about the company.
"Since this date we have received 13 further contacts. The contacts primarily related to issues with delivery, refunds and faulty products. At the time the CCPC engaged with the liquidator to make them aware of the issues consumers were experiencing," the spokesperson said.
A spokesperson for liquidator PJ Lynch & Co confirmed that the company has received over 300 complaints from customers in recent months. They said the company is unfortunately unable to help customers.
A spokesperson for Click Group Ireland said the company "purchased the web domain only".
We did not acquire the customer base or any information on previous orders … The new Click.ie website is not connected in any way to Cantec Office Solutions.
The spokesperson said customers who have issues with previous orders or warranties should contact PJ Lynch & Co directly. However, the liquidator has said it "cannot take responsibility for any warranties on equipment supplied by [Cantec]".
The Click Group Ireland spokesperson added: "We do not have any information, good or bad, on previous customers, orders, complaints etc so unfortunately cant help in this regard."
When asked if they had any concerns about trading under a website name associated with delays and other issues, the spokesperson said, while they "understand that there may be some reservations from previous customers" of the old website, they are committed to growing a reliable reputation in Ireland and the UK.
At the time of publication, the company had not responded to a request seeking information about who was running it.
Phones stopped working 
It is understood that hundreds of customers either did not receive phones ordered on Click.ie or experienced problems with the products they bought.
Margaret Costelloe from Gorey in Co Wexford bought a refurbished iPhone 6 for her daughter Amy from Click.ie for Christmas last year, after saving up €300.
She had heard about delays in people receiving their orders from the website and, fearing it would not arrive before Christmas, called a number listed on the site.
She said she spoke to a helpful woman who reassured her that the phone would arrive on time, and it did. However, there were soon issues with the phone.
When Amy opened the box on Christmas morning she remarked that there were a few scratches on the phone, Margaret recalled.
"I was a bit surprised but didn't think too much of it as it was secondhand. I thought it was going to be a good quality phone."
She recalled that the phone started freezing within two weeks and within in a couple of months wouldn't charge or turn on.
Margaret said the main reason she bought the phone from Click.ie was the fact that it came with a two-year warranty.
The only reason I went with Click was the two-year warranty that came with the phone. That was the thing that sold it for me.
In March and April, after the phone stopped working, she tried calling the number she had previously used to contact Click.ie but was unable to reach anyone.
She mentioned the situation to her sister who informed her that Click.ie had gone into liquidation.
In recent days Margaret was looking online to see how much a replacement phone would cost. To her surprise, Click.ie appeared.
I was actually delighted to see it. My daughter was saying, 'Brilliant, now we can send the phone back and they can fix it.'
However, Margaret was unable to get through to anyone and said she has given up hope on being refunded.
Another customer said he ordered a refurbished iPhone 6 in April, just before the  liquidator was appointed, but never received it.
"If the company continued trading knowing they could not deliver a product this is false advertising and I should be entitled to a full refund," he said, adding that he has also been unable to contact the company.
TheJournal.ie has seen a number of similar complaints in relation to the website.
Investors 
As previously reported by the Sunday Business Post, two of Cantec Office Solutions' investors were involved in a UK-wide scam that conned NHS hospitals, councils and a government out of more than £12 million (about €13.4 million).
Asif Habib is currently in prison serving a 40-month sentence for conspiracy to launder money. He was disqualified as a company director for eight years.
Zahid Muhammed received a 21-month sentence (suspended for two years), for laundering. He was disqualified as a director for three years.
Meanwhile, Ray Norton, who was involved in running Cantec Office Solutions from 2016, has been linked to a number of companies. He co-founded Larionovo, a property firm that went bust.