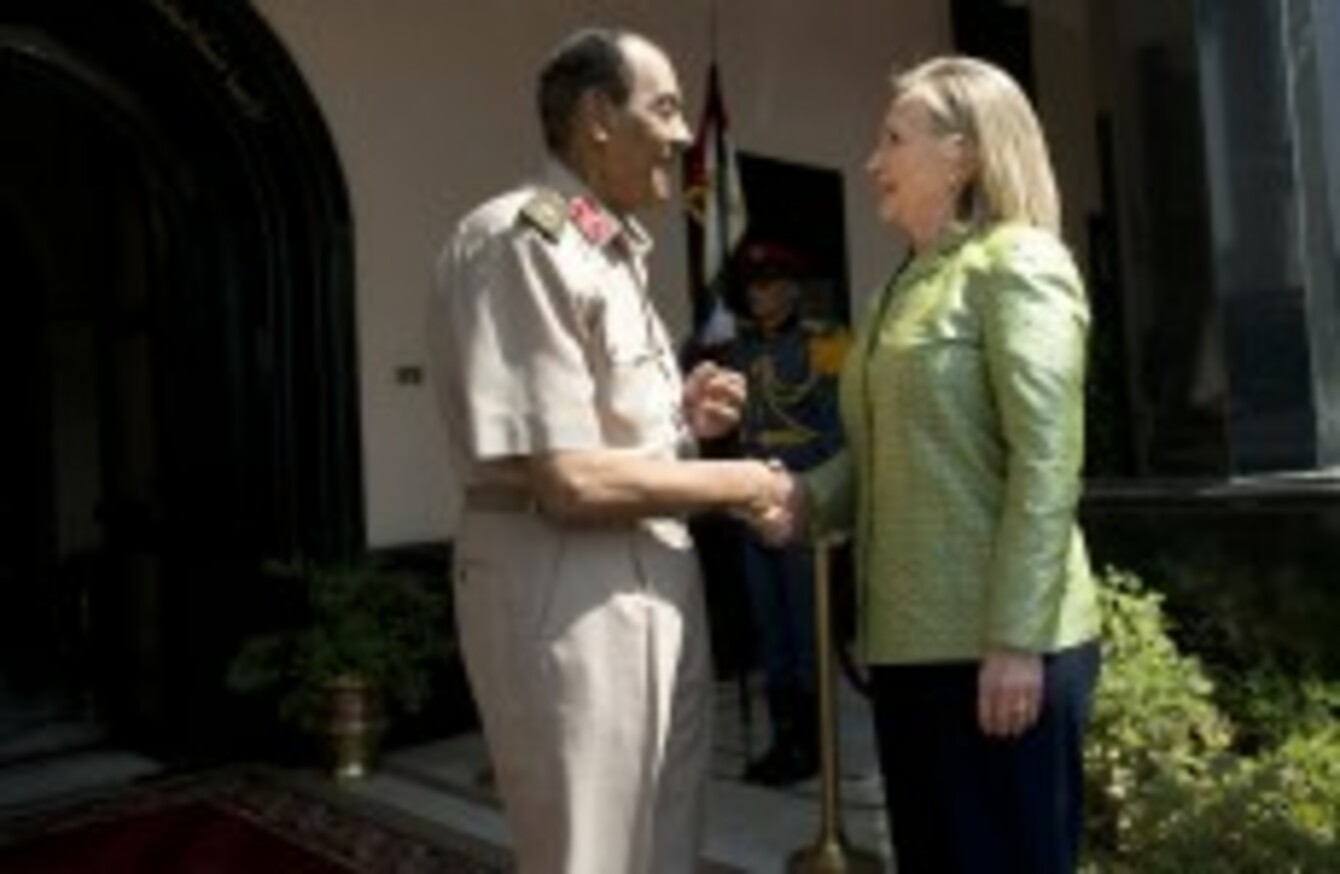 Field Marshal Hussein Tantawi, left, greets US Secretary of State Hillary Rodham Clinton before a meeting at the Ministry of Defense
Image: AP Photo/Brendan Smialowski, Pool
Field Marshal Hussein Tantawi, left, greets US Secretary of State Hillary Rodham Clinton before a meeting at the Ministry of Defense
Image: AP Photo/Brendan Smialowski, Pool
US SECRETARY OF State Hillary Rodham Clinton has urged Egypt to commit to "a strong, durable democracy" that protects the rights of all citizens, hoping to appeal both to supporters of the popularly elected Islamist president and minorities fearful of being repressed by their new government.
Inclusivity
Clinton told a group of prominent women:
The United States will "look to any elected government to support inclusivity, to make sure that the talents of every Egyptian can be put to work in building a new future for this ancient and incredibly important country.
With post-Hosni Mubarak Egypt locked in a political impasse, Clinton shuttled between meetings with the new president, Mohammed Morsi of the Muslim Brotherhood, and the generals who took power after Mubarak's fall.
She tried to exert what influence Washington still has with the army chief whose key role is splitting the country between those who see the military as a threat to democracy and those clinging to it as a guarantor of stability.
The political transition was a central topic in talks with Field Marshal Hussein Tantawi, as were Egypt's economic needs. Clinton later outlined the US position during the session with the Egyptian women.
I came to Cairo, in part, to send a very clear message that the United States supports the rights, the universal rights of all people. We support democracy. But democracy has to be more than just elections. It has to mean that the majority will be protecting the rights of the minority.
She said that "Egyptians have sacrificed so much to get to this moment," and that "a strong, durable democracy that respects the rule of law, that protects the right of all is the best way forward for Egyptians to realize your aspirations."
Civilian rule
Clinton wants the military to work with the new Islamist leaders on a full transition to civilian rule.
But with the US having already approved yet another massive delivery of military aid, it was unclear what leverage Washington has as it seeks to stabilize Egypt and build a new relationship with America's once ironclad Arab ally.
Not long after meeting with Clinton, Tantawi raised the stakes in the standoff, saying the armed forces will not allow a "certain group" to dominate the country. Tantawi did not mention a specific organization, but his comments in the city of Ismalia were clearly referring to Morsi's Brotherhood.
Tantawi's council of generals curtailed Morsi's powers on the eve of his inauguration last month and enforced a court decision dissolving the Islamist-dominated parliament. Together the actions have created an atmosphere where no one is quite sure who is in control and where Egypt is headed.
Middle ground
Calling for compromise and consensus on Saturday after her first ever meeting with Morsi, Clinton staked out a middle ground in the dispute. Yet the immediate effect of her exhortations was nothing.
Clinton, who earlier this year certified sufficient Egyptian action toward democracy for $1.3 billion in US military aid to go through, carried the same message to Tantawi as Morsi.
Clinton urged the military chief to return the armed forces to a "purely national security role," as she termed it on Saturday.
Her criticism was muted, however.
Clinton commended the military for defending lives during the February 2011 revolution against the former president and for the progress Egypt made under its interim leadership, which included free and fair elections.
And she contrasted the approach with how Syria's military is "murdering their own people," while recognizing that the Egyptian military authorities still needed to do more.