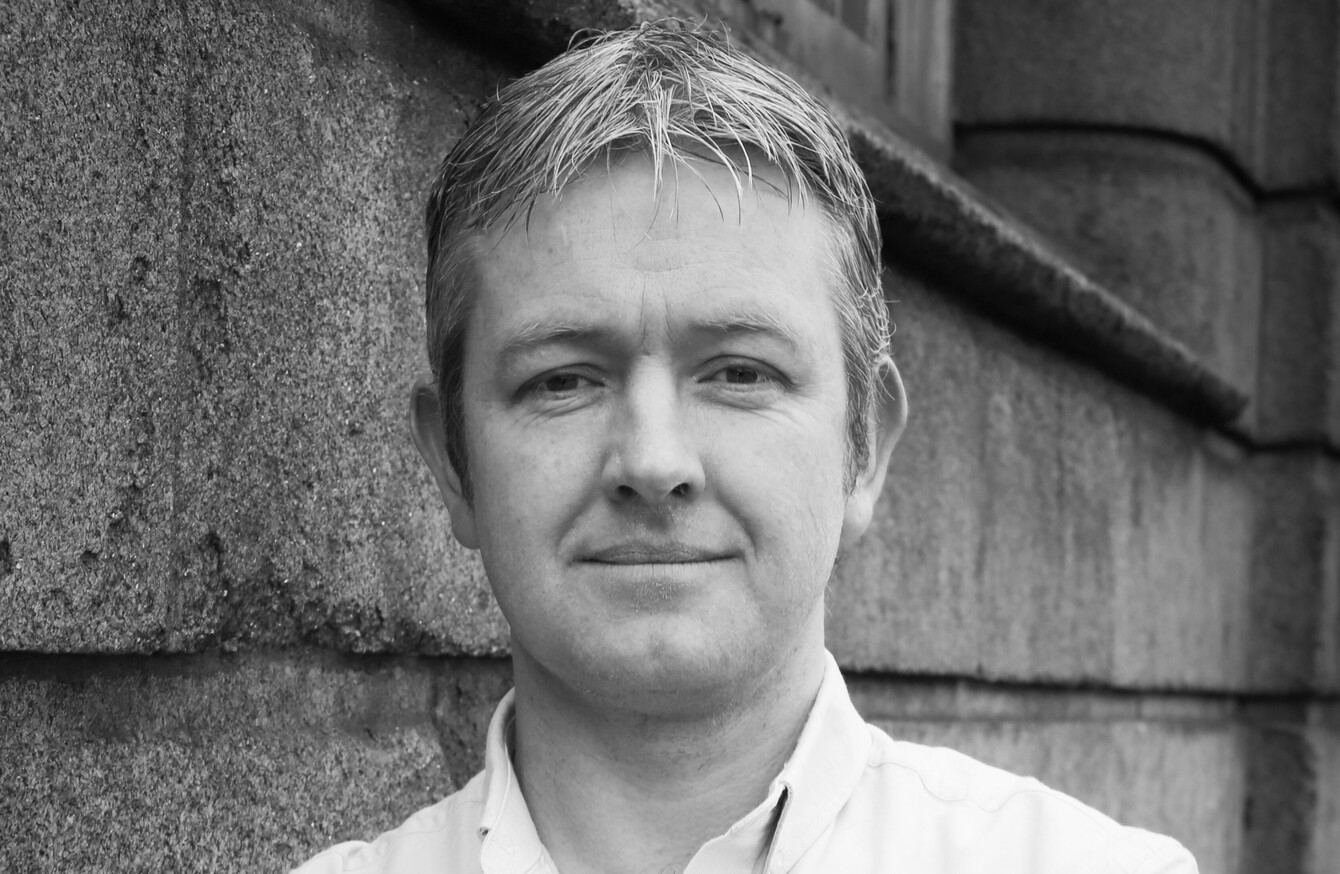 Colm Keegan
Colm Keegan
COLM KEEGAN WRITES poetry because he feels he has to. Because he knows it's what he's supposed to do.
For Keegan, artistic expression and creativity run concurrently with normal life – with no separation between the everyday person and the artist.
Today, he is a well-known poet and creative writing teacher. He teaches in schools, prisons, community centres, addiction support groups all across the city and beyond.
He was the writer-in-residence at DLR Lexicon library in Dun Laoghaire and has been shortlisted for numerous awards.
To get to where he is now, Keegan quit his job in 2013 and struggled through a lot of years being broke, questioning what he was doing with his life.
Keegan's personal struggle at this time was the same as the struggle felt by hundreds of thousands of Irish people as the country worked through the economic collapse and recession. The personal was the political.
In his role as an instructor, he works to help people realise their own ability and to find their means of artistic expression – whatever helps them deal with and respond to the world around them.
The immediate world around them is Ireland – but it's a different Ireland for everyone.
It could be an Ireland of addiction, of struggles with poverty or mental health. A middle-class Ireland, a working-class Ireland – an Ireland of oppression or control.
"I go into schools now and I say to people, 'you have a favourite version of yourself, and my job is to help you get that out.'," Keegan tells TheJournal.ie.
"And it doesn't matter if you don't like poetry.
"I'm like, 'you're still going to admit things to me; you're going to tell me the truth. Are you going to put your money where your mouth is and are you gonna be honest?'
"We dispense with all the masks and all the different ways that people can hide, and that's what poetry is to me. And I say to them:
'You're like a fucking flower and your job is to grow'.
Don't Go There
Keegan published his latest collection of poetry – Randomer – last month.
Published by Salmon Poetry Press, it is his second collection and marks a significant advancement (in terms of style, theme and substance) on his first.
His first collection – Don't Go There (2012) – was a blistering, evocative collection of poems which etched a portrait of working class Dublin and an Ireland in the throes of economic decline.
Source: The Brownbread Mixtape Murphy/YouTube
Keegan says that at the time he was only coming to terms with himself as a writer and poet, as well as the fact that his voice (the voice of a working class Dubliner) wasn't heard too often in the poetry world.
"I didn't realise how different I was before I became a poet. I didn't realise that my voice wasn't that prevalent in the culture," he says.
So I was confronted with that. People started calling me a working class poet, or a raw talent. And I was saying, 'Why am I these things?'
Today, he describes his first collection as "very raw".
"There was a lot of naivety in the first book. There was a lot of audacity. I thought I knew what I was doing but when I look back – it's very raw," he says.
"It's a raw, unfettered voice. And when I look back it is uncultivated, and it's angry.
When I was finished that book I realised that that person I was writing about was already gone.
Randomer
If Don't Go There was Keegan coming to terms with himself as a writer and his journey towards acceptance of himself as a man, Randomer positions that man as a son, father, lover and poet, and all of the pain and the happiness that goes along with being those things.
"Randomer" because Keegan despises labels and doesn't seem himself fitting into any of the boxes society or others try to put him in.
Born in Dublin in 1975, Keegan began life as an only child growing up in the Ballymun flats with his mother and an absent father, before the family moved to social estates on the south side of the city when he was five.
In the poem This Voice, Keegan refers to where he grew up as "the southside that doesn't get to be called the southside":
Jobstown Tallaght, Foxdene Clondalkin, Leighlin Road Crumlin/
This voice became something to be judged, the sound of the skanger, the scumbag.
Randomer is split into four sections, and the first section contains four poems that detail his relationship with his mother and his father and step-father.
The poems taken together reflect the bitterness, regret and anger present in familial relationships, but also the love and poignancy of early memories of his mother and father.
Punk Mother details Keegan as a baby hiding with his mother in their Ballymun flat from a "shadow made of leather and testosterone/ banging on the door for what you owe".
The poem charts the closeness felt by the pair at this time, as well as the sadness brought on by the passing years:
There's a pain in my heart when I think on it./
All that's been lost in the spin of this world./
How old you look, how worn out by it all./
Immediately following this account of maternal intimacy (albeit in a rough setting), the poem is Usurper is brutal in its violence as it depicts a physical fight (real or imagined) between the poem's narrator (Keegan) and a father figure.
It felt good to stick my thumbs in your mouth./
It felt good to cut your knuckles on your teeth./
It felt good to let the blackness out,/
you'd spent years pouring into me.
Randomer doesn't try to be as self-consciously angry as Don't Go There, but beneath the surface of the book lies that same current of violence.
Keegan – a soft spoken, laid back man when you meet him – says that anger can be good when it is channeled in the right way.
"Everybody that knows me personally knows how angry I am," he says.
But while he says that anger and violence can be used – and has been used in the past = to effect great change in society, he says that "it always comes at a great cost".
Austerity
Randomer veers between the intensely personal, the political and the role of the poet in society and the need or compulsion to write.
The journey the work takes moves through seasons and years, through childhood to adulthood. It also charts Ireland's (and Keegan's) journey through the economic collapse and austerity.
"I remember years ago… we had a thunderstorm and then the big snow… and a dead baby bird fell off the roof and landed in my doorway," Keegan says.
"I remember I saw it walking into my house and I said – this is a bad omen. Shit's going to go down.
"And we had the crash and I lost that house, and the house after that and the house after that, and everything fell to shit for the whole country and for me."
"I went through and the country went through this mad cosmic shakedown," he says.
I've felt I've gone through loads of that now – as a father, as a man, as a writer and the poems in Randomer are all that's left after that.
Optimism 
Randomer in its totality is about Keegan's own journey to find himself through a difficult number of years and the relationships (family, mostly) that define him.
At his heart, Keegan is an optimist – and while the collection veers between sadness, violence, bitterness and anger – Randomer is ultimately a hopeful book, one that chooses love and artistic expression as a means of overcoming diversity and difference.
This feeling of love and freedom is no more present than in the poem Springshine – which depicts a idyllic family moment with his then-partner and children (Keegan has four children, to whom he dedicated the book).
Contrasting sharply with the violence and roughness of some of Keegan's poems around his own childhood, Springshine speaks about "the soft machine of our life" and "new bulbs pushing against the clay".
The poem begins:
The house compacted/
then opening up so fast/
like a popcorn kernel/
or a stop motion flower/
exploding with my laughter after/
my four year old son's first joke -/
wit like a whip crack/
snapping out from his mouth.
The poem is a beautiful snapshot of a single day in a family's life. A family unit that today no longer exists in that shape, in a house that is no longer their home.
"It's like you get struck by a future knowledge sometimes when you're writing a poem," he says.  "You think, this moment is going to go and I need to record it now."
"I was watching that beautiful moment happening in that house in Springshine.
"And that house is gone, and that family is gone – that's what's mad – that family has completely changed.
"But the poem holds onto what family is for me.
In the lament for what we lose we hold onto it too but sometimes we don't know what we're losing until we write it.
Writing 
Randomer is a post-recession collection in that it's looking back over a period from the vantage point of somewhere else.
For Colm Keegan the poet and the man, he feels like he's come through a turbulent time in his life and is ready to progress to the next stage.
For Colm Keegan the instructor, he feels like he's been fortunate to find the meaning in his own life, and now he must help others find their own expression.
The personal, the political, the poet, the teacher, the father, the son – they're all the one person.
"I feel I have become myself," he says.
I took the risk and I did it and I am what I wanted to be and I'm happy about that, in a way I could have never expected.
While Keegan says that being a poet and all the negativity that comes with can always be a struggle, he also loves what he does with a passion that he tries to instil in others.
"This country has been so unloved. I mean people go on about 800 years of oppression, it's 800 years of rejection, man. It's 800 years of feeling that we didn't fit in.
"So my job is to go in tell people that they are amazing.
And it's a fucking great job.
Randomer is published by Salmon Poetry Press