Liveblog
IT'S THURSDAY: get through today and the weekend will be in touching distance.
We'll be with you until 9am this morning, helping you get to where you need to go.
Good morning, folks.
Catherine Healy here on TheJournal.ie's commuting liveblog, bringing you all the latest traffic, transport and weather news.
Spotted something we should know about? Email catherine@thejournal.ie, tips@thejournal.ie or tweet me @Chealy_.
Not while driving, obviously.
Let's see what the weather has in store for us.
Met Éireann says the morning will be cold and frosty in many places, with showery rain and sleet affecting parts of the west and south.
Highest temperatures are expected to be just four to six degrees.
As you're probably aware, there'll be no Luas services running today or tomorrow as drivers strike over pay.
Buses, Darts and train services will all run as normal, but will almost certainly be busier – so plan accordingly.
Luas tickets will NOT be valid on other forms of transport.
Luas will NOT be providing an alternative transport service, so there will be no extra bus services in place to transport people from Luas stations.
Holders of seven-day, 30-day, monthly and annual Luas tickets are entitled to a refund for the strike days in question.
If you're travelling in from the northside of Dublin this morning, the good news is you probably won't be as affected by the Luas strike as those coming in from the south and west.
Live Drive says the worst affected routes will most likely be around Clonskeagh/Ranelagh.
This could have knock-on effect on the surrounding area, with the N11/Beaver Row/Merrion Road also taking on extra volumes as commuters look to find a good route to the southside.
The North Quays are also expected to be a problem as more people drive into the city centre.
Road temperatures of below zero have been reported on a number of routes across the country, so be careful while driving.
Look out for fog on roads in Carrick-on-Shannon, Cavan Town, Tullamore, Portlaoise, Mountrath and Abbeyleix.
A crash on Tara Street in Dublin is blocking the right lane:
The latest Dublin traffic updates, via AA Roadwatch:
It's slow on the N4 Lucan Road inbound from J3 Lucan towards Palmerstown
Further in, the right turn for Kilmainham is busy from Con Colbert Road and it's slow then on St. John's Road West up to Heuston Station
Along the North Quays, it's busy at Wolfe Tone Quay and again from Ormond Quay to Bachelors Walk
Traffic is heavy inbound through Fairview from the Malahide Road junction through to the Five Lamps on Amiens Street
It's quite busy along the Grand Canal eastbound from Ranelagh to Leeson Street bridge
There are delays on the Navan Road inbound from railway bridge to the Ashtown roundabout
Traffic is busy but moving through Drumcondra inbound on the Swords Road
Poplar Row has reopened between the Ballybough Road junction and Annesley Bridge Road junction
On the M50 southbound, traffic is slow from J6 Blanchardstown to J10 Ballymount
It's slow on the N7 Naas Rd inbound from Newlands Cross to the Red Cow interchange
Here's how the N11 and M50 are looking:
Meanwhile, the Tara Street collision has now been cleared, with delays improving on approach.
Traffic is heavier than usual on commuter routes across Dublin, particularly along the Grand Canal and on the Stillorgan Road.
The quays are also quite busy: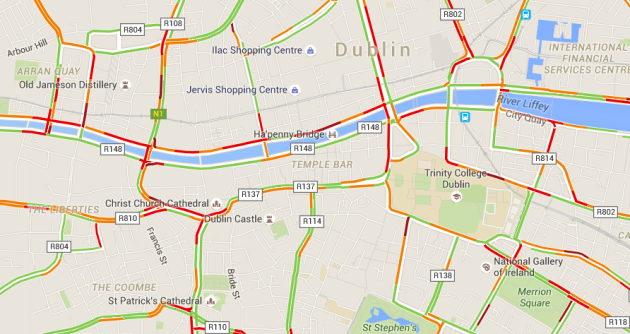 In other, vaguely transport-related news, we got a tour of Dublin on the Green Party election bus yesterday.
Irish Rail says northbound Dart services are currently stopped at Lansdowne Road to await an ambulance for an ill passenger.
Other trains have also been delayed as a result:
There's a car on fire on the M18 Galway/Limerick Road in Clare at the southbound exit for J9 Shannon.
Gardaí are advising drivers to exit at J8 Ballycasey instead.
Traffic continues to build on Dublin commuter roads, so leave extra time if you need to get to work.
If you're affected by the Luas strike, nationaltransport.ie can help you plan your journey.
The latest on those Dart delays:
Another collision on Tara Street in Dublin, this time involving a bus and van, is causing delays at the junction with Pearse Street.
Live Drive reports that the Dundrum bypass is now at a complete standstill, with commuters taking up to 50 minutes to drive from the M50 to the nearby Luas bridge.
On the M50, meanwhile, southbound traffic is slow from J5 Finglas to J11 Tallaght, while northbound traffic is heavy from before J13 Sandyford to J11 Tallaght.
The N7 Naas Road is slow inbound from J2 Kingswood to the Red Cow interchange.
There are also delays on the Rock Road from Booterstown Avenue to the Merrion Gates and then from St. Vincent's Hospital to Ballsbridge on the Merrion Road.
You're not the only one, Stephen.
A picture tells a thousands words…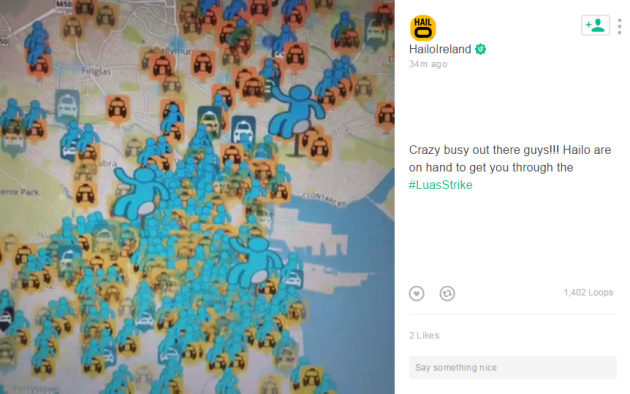 Things aren't too rosy on the M18 in Clare either:
And in Cork, it's busy approaching the Dunkettle interchange from the N8 Dublin Road and N25 Waterford Road.
Traffic is heavy inbound on the South City Link Road from the South Douglas Road flyover through to Custom House Street, as well as on the N28 Ringaskiddy Road approaching the Shannonpark roundabout from Ringaskiddy.
There are delays towards Tivoli on the North Ring Road, inbound on the Lower Glanmire Road, on the Rochestown Road towards Douglas and inbound through Frankfield.
Outside of the capital, traffic is also busy now on the usual commuter routes into Galway city.
It's slow travelling into the city on the N17 Tuam Rd from the Abbeyknockmoy turn-off to Claregalway, as well as on the Headford Road from before Ballinfoyle to the Kirwan roundabout.
Traffic is also heavy approaching Bóthar na dTreabh from both the N6 Dublin Rd and the Monivea Road.
Also in Cork, there are reports of broken glass on the N25 Cork/Waterford Road at the Little Island roundabout. Be careful on approach.
We're not all about traffic and weather, you know. Here's some other news for you to catch up on if you're stuck on the bus or train:
That's today's liveblog wrapped up for today. We'll leave you with this magnificent election video.
Contribute to this story: