Liveblog
WELCOME TO WEDNESDAY.
We'll be with you until 9am this morning, bringing you all the latest traffic, transport and weather news.
Morning, folks.
Catherine Healy here on TheJournal.ie's commuting liveblog, helping you get to where you need to go.
Spotted something we should know about? Email catherine@thejournal.ie, tips@thejournal.ie or tweet me @Chealy_.
Not while driving, obviously.
First things first: the weather.
Met Éireann says the morning will be chilly, with frost, fog and icy stretches as rain, sleet and snow clears from the east coast soon after daybreak.
Scattered wintry showers in the west will become more widespread in the morning but clear to leave a dry afternoon, for most parts, with spells of sunshine.
A snow-ice warning is in place until 11am.
Highest temperatures will range from four to seven degrees.
There's been a collision in the right lane of the M50 northbound before J9 Red Cow, so take care on approach.
Not far away, Chapel Hill in Lucan has been closed to facilitate the removal of a fallen tree.
Traffic coming from Laraghcon is being diverted through Lucan village onto the N4.
Meanwhile, in Westmeath:
Traffic lights are out of action on the St John's Road in Dublin 8:
The M50 collision has now been cleared but there are still delays on approach.
The latest Dublin traffic updates, via AA Roadwatch:
It's already heavy inbound on the N4 Lucan Rd from before J4 Newcastle to Palmerstown
Further in, Con Colbert Road is busy at the right turn for Kilmainham
Along the North Quays, there are delays from Ormond Quay to Bachelors Walk
Traffic is heavy on the Naas Road inbound from Newlands Cross Flyover to the Red Cow interchange
It's busy inbound from Five Lamps to Connolly Station on Amiens Street
Delays are building on Guild Street southbound approaching Samuel Beckett bridge
It's slow inbound on the Stillorgan Road from the Lower Kilmacud Road to Mount Merrion Avenue
Nearby, traffic is building on the Rock Road from Booterstown Avenue to the Merrion Gates
Eastbound along the Grand Canal, it's busy eastbound from Portobello to Ranelagh
Swords Road is slow moving from Collins Avenue to the Belvedere Road junction on Dorset Street
Debris has been reported on the M8 Cork/Dublin Road southbound between J13 Mitchelstown and J14 Fermoy North.
M50 traffic remains slow on approach from J7 Lucan.
Here's how that stretch of the route looks: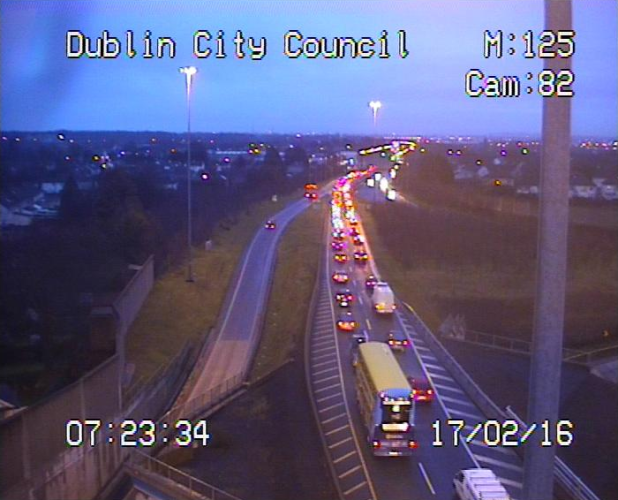 Traffic is building in Cork city centre on Patrick Street southbound with delays continuing as far as UCC on Western Road outbound.
In Galway, it's busy as usual on Ballybrit Crescent heading into Galway Technology Park.
Watch out for a broken down truck on the M11 northbound:
Dublin's North Quays are still busy.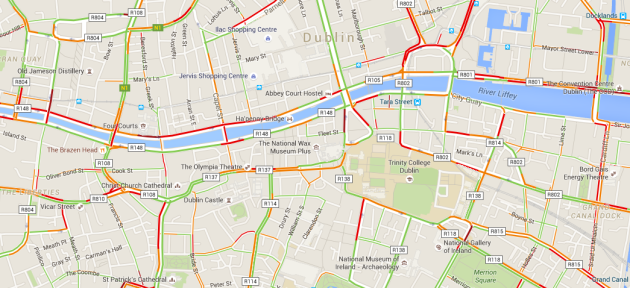 A truck has broken down in the inbound bus lane of the N4 Lucan Road at J3 Lucan.
As the general election draws ever nearer, catch up on the best and worst bits from yesterday's campaign trail here.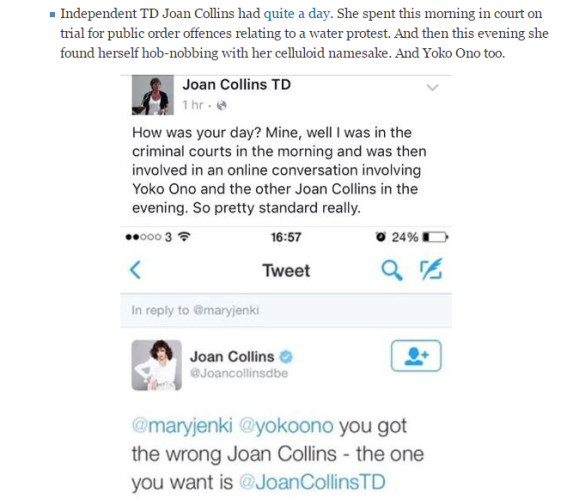 Source: TheJournal.ie
Fine Gael's chances of being re-elected to government have taken another blow, meanwhile, with the party dropping to 26% in the latest Red C opinion poll.
If you use the Luas, remember that there'll be no services tomorrow and Friday due to strike action:
GET OFF THE ROAD, CANDIDATES.
Also in Dublin, there's been a collision at the junction of Greenhills Road and Tyman Road North approaching the Walkinstown roundabout.
In Galway, there are inbound delays on the N84 Headford Road from Ballinfoyle to the Kirwan roundabout.
Traffic is also heavy westbound over Quincentenary Bridge where traffic lights are out of action at the Newcastle Road junction.
It's busy inbound on the Old Dublin Road from Roscam to Murrough, as well as westbound on Bóthar na dTreabh from before the Coolagh roundabout to the Briarhill junction.
In Cork, there are delays approaching the Dunkettle interchange from both the N8 Dublin Road inbound and J10 Mahon on the N40 South Ring Road eastbound.
The N28 Ringaskiddy Road is slow from Raffeen bridge to Ringaskiddy.
Traffic is also heavy travelling into the city on Lower Glanmire Road at the Tivoli flyover.
Chapel Hill in Lucan remains closed as council staff deal with this fallen tree:
In more candidates-blocking-traffic news:
Delays can be expected around Dublin's Liffey Valley Shopping Centre after a truck broke down on the Fonthill Road roundabout.
Further west, there are inbound delays on the N84 Headford Road from Ballinfoyle to the Kirwan roundabout following a crash at the Galway Shopping Centre.
That's all from us for today! See you back here – same time, same place – tomorrow.
Contribute to this story: