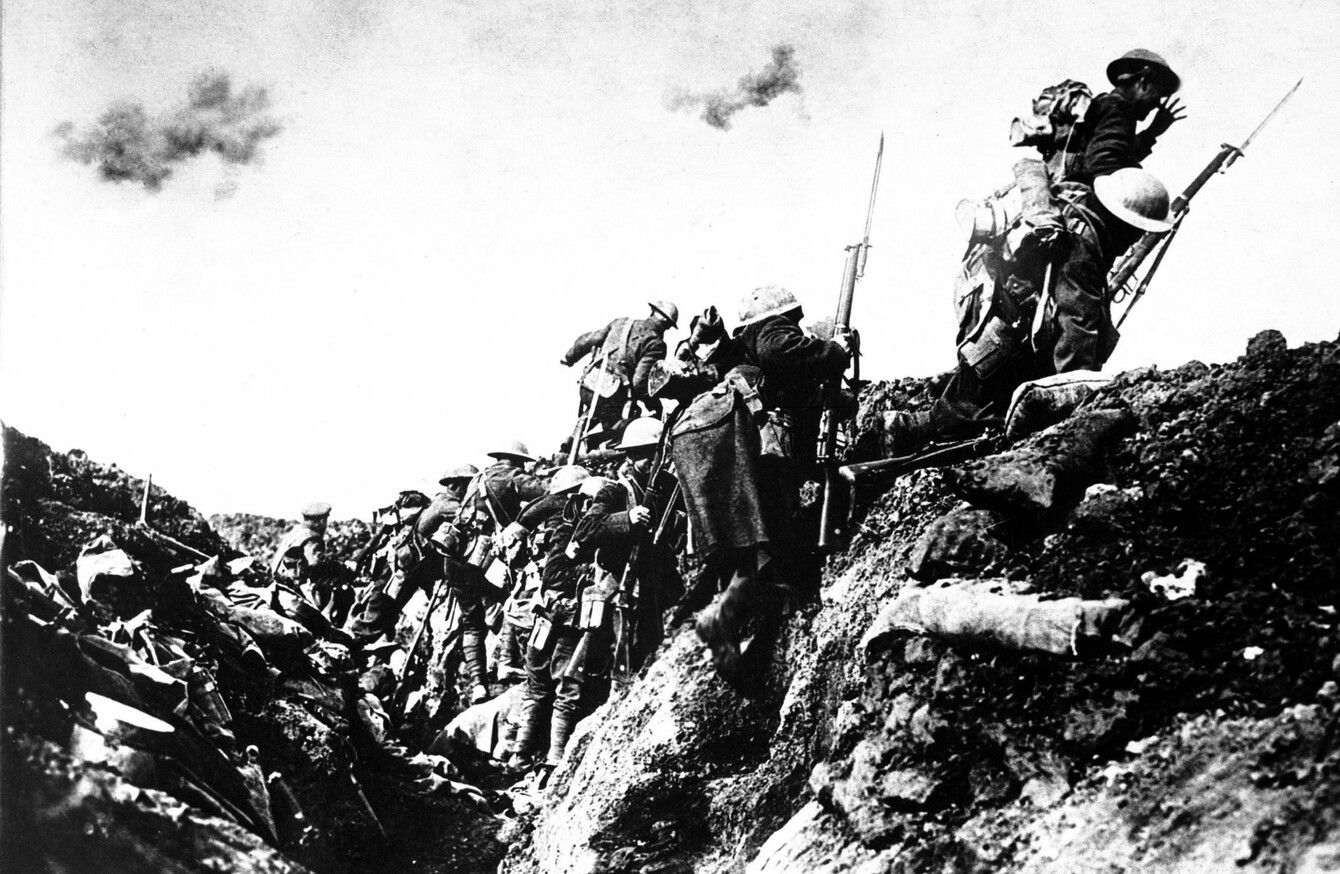 File photo
Image: Shutterstock/Everett Historical
File photo
Image: Shutterstock/Everett Historical
A GROUP OF 6th class children and their intrepid teacher from Parteen National School in Co Clare are trying to track down the family of a Corkman killed in the First World War to reunite them with a bronze plaque bearing his name.
Edward Lynch was one of four brothers to die in the conflict. A sergeant in the British army before the war, he was killed just before the brief Christmas truce on 21 December 1914.
His family would have been sent a bronze plaque, commonly referred to as a "Widow's Penny", along with the letter to inform them that Edward had died.
History enthusiast Cathal Crowe came across the engraved plaque on eBay, and decided it would be a good project for the children in his sixth class in Clare.
He told Patricia Messenger on C103′s Cork Today Show: "I thought it would be a fascinating project to try and reunite the family with the medal."
Crowe and his class began to research everything they could about Lynch and found a myriad of details about the man, who died over 100 years ago.
"There was only one Edward Lynch from here who died in the war," he said. "We tracked down his will, his medical records, his rank and where he died."
Unfortunately, Lynch is a common name. His father died young, and Lynch's mother married an O'Sullivan, which is also a very common name.
"We do know," Crowe said, "that Edward Lynch was a Cork soldier from St Dominics Terrace in the city, which is near St Fin Barre's Cathedral."
Unfortunately for the Lynch-O'Sullivan family, Edward was not the only member of the family to die on the battlefield. Crowe believes that four siblings from the same family died during the war, with one of Edward's brothers dying the exact same day.
Crowe had come across details surrounding Lynch when he happened across his World War One medal for sale on eBay.
He said: "I thought that was all wrong. This should be a sacred relic for a family. There's no grave for this guy but someone was selling this on eBay. The only reason I bought it was to research it and give to his family."
Really, Crowe and his class are looking to track down Lynch's, O'Sullivans and anyone else who had relations in that area of Cork at the time who may know something to make contact so that Lynch's family can come and claim his plaque.
There also some possible familial connections in West Cork that they have not yet been able to confirm.
Crowe concluded:
We've used modern technology to solve a very old mystery. We're nearly there but the last hurdle will be the biggest one: finding the family.