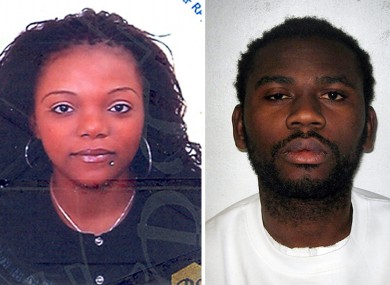 A WOMAN AND her boyfriend who were found guilty of the murder of her 15-year-old brother, who they accused of being possessed by witchcraft, have been sentenced to life by a London court.
Kristy Bamu, 15, had suffered 130 injuries when he was found dead in the home of Magalie Bamu and her boyfriend Eric Bikubi at Christmas 2010. He had been attacked with sticks, metal bars, ceramic floor tiles, bottles, a hammer and a chisel.
Kristy eventually drowned after being forced into a bathtub and doused with cold water for "ritual cleansing."
Today, a court in London sentenced Bikubi to a minimum of 30 years while Bamu was sentenced to 25 years.
Accused of being 'witches'
In December 2010, Kristy, his two brothers and two other sisters came from their home in Paris to spend the holidays with Bamu and Bikubi. Soon after they arrived, the couple accused them of witchcraft and began to threaten and beat them, as well as witholding food and water.
The two sisters convinced the couple to stop attacking them by "confessing" to engaging in witchcraft. However, they continued to beat Kristy.
In the original trial, prosecutor Brian Altman said that the boy had been "the victim of a prolonged attack of unspeakable savagery and brutality" – a sentiment that was echoed by the sentencing judge today, who said the murder had a"sadistic element".
Judge David Paget said that Kristy had been subject to "prolonged torture involving mental and physical suffering being inflicted before death". He added:
The belief in witchcraft, however genuine, cannot excuse an assault to another person, let alone the killing of another human being.
He refused to accept Bamu's testimony that she did not believe in witchcraft but had been forced to attack her brother by her boyfriend, saying that the murder was "only explicable if (she) shared Eric Bikubi's belief.
Kristy's father, Pierre, previously released a statement, saying: "I feel betrayed. To know that Kristy's own sister, Magalie, did nothing to save him makes the pain that much worse."
Undated handout photo issued by the Metropolitan Police of Kristy Bamu, 15.