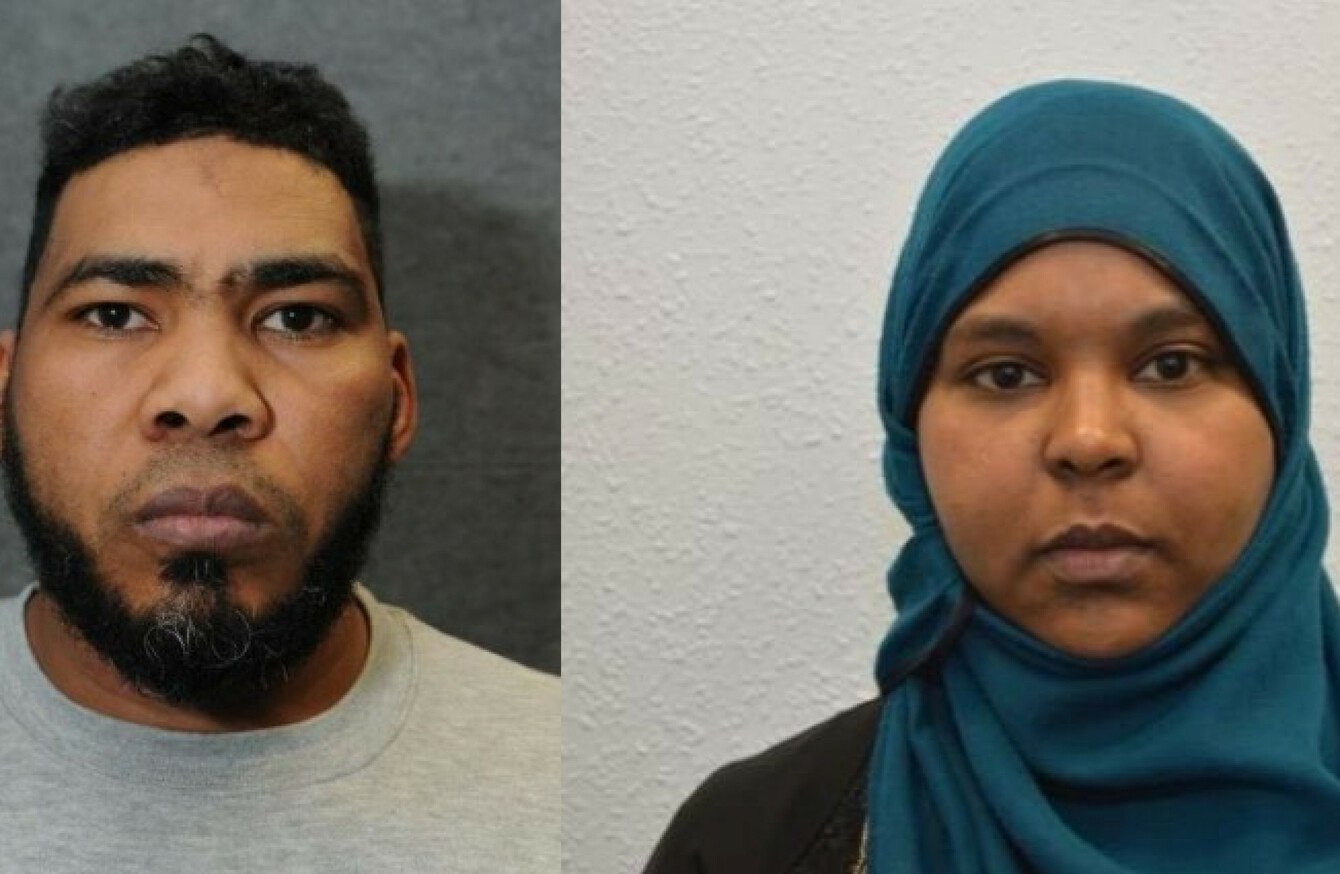 Munir Mohammed and Rowaida El-Hassan
Image: CPS
Munir Mohammed and Rowaida El-Hassan
Image: CPS
A COUPLE WHO met on a dating site were today convicted today of preparing to carry out chemical and bomb attacks in the UK.
Munir Mohammed, 37, from Derby, bought items to make the lethal devices and received support and advice from Rowaida El-Hassan, a 32-year-old qualified pharmacist.
She sent messages to him via WhatsApp with links to websites where he could find information on manufacturing the deadly poison ricin, the Crown Prosecution Service (CPS) said in a statement.
He sent her graphic videos showing members of the so-called Islamic State (IS or Daesh) taking part in beheadings and shootings and killing prisoners using explosives.
At the time of his arrest in December 2016, Mohammed possessed two of the three components required to create an explosion as well as instruction manuals on how to prepare them, mobile phone detonators and ricin.
Mohammed was also in touch with someone he believed to be an IS commander via Facebook and asked him for bomb-making instructions and expressed willingness to participate in "a new job in the UK".
The CPS explained to a jury at the Old Bailey in London how the pair's exchanges showed they supported IS's goal to spread fear through terrorism and that Mohammed was prepared to carry out a "lone actor" attack. El-Hassan, from Willesden in London, knew what he was planning and she actively supported him.
The couple first got in touch with each other via a website for single Muslims in March 2016, and on her dating profile El-Hassan wrote: "I am looking for a man I can vibe with on a spiritual and intellectual level. Someone who can teach me new things and inspire me."
'They planned to kill'
Sue Hemming, head of the CPS's Head of the Special Crime and Counter Terrorism Division, said the couple "were clearly attracted to each other through their support for Daesh's violent ideology and its intolerance of those who do not subscribe to its views".
They planned to kill and injure innocent people in the UK and had the mind-set, the methodology and almost all the material needed, for Mohammed to carry out an attack.
"Both will be in prison, where they cannot plot together and will no longer be a danger to the public."
Both were charged with one count each of intending to commit an act of terrorism or helping someone else to commit an act of terrorism under Section 5 of the Terrorism Act 2006. It carries a maximum sentence of life in prison. They will be sentenced on 22 February.
Comments are closed due to ongoing legal proceedings.