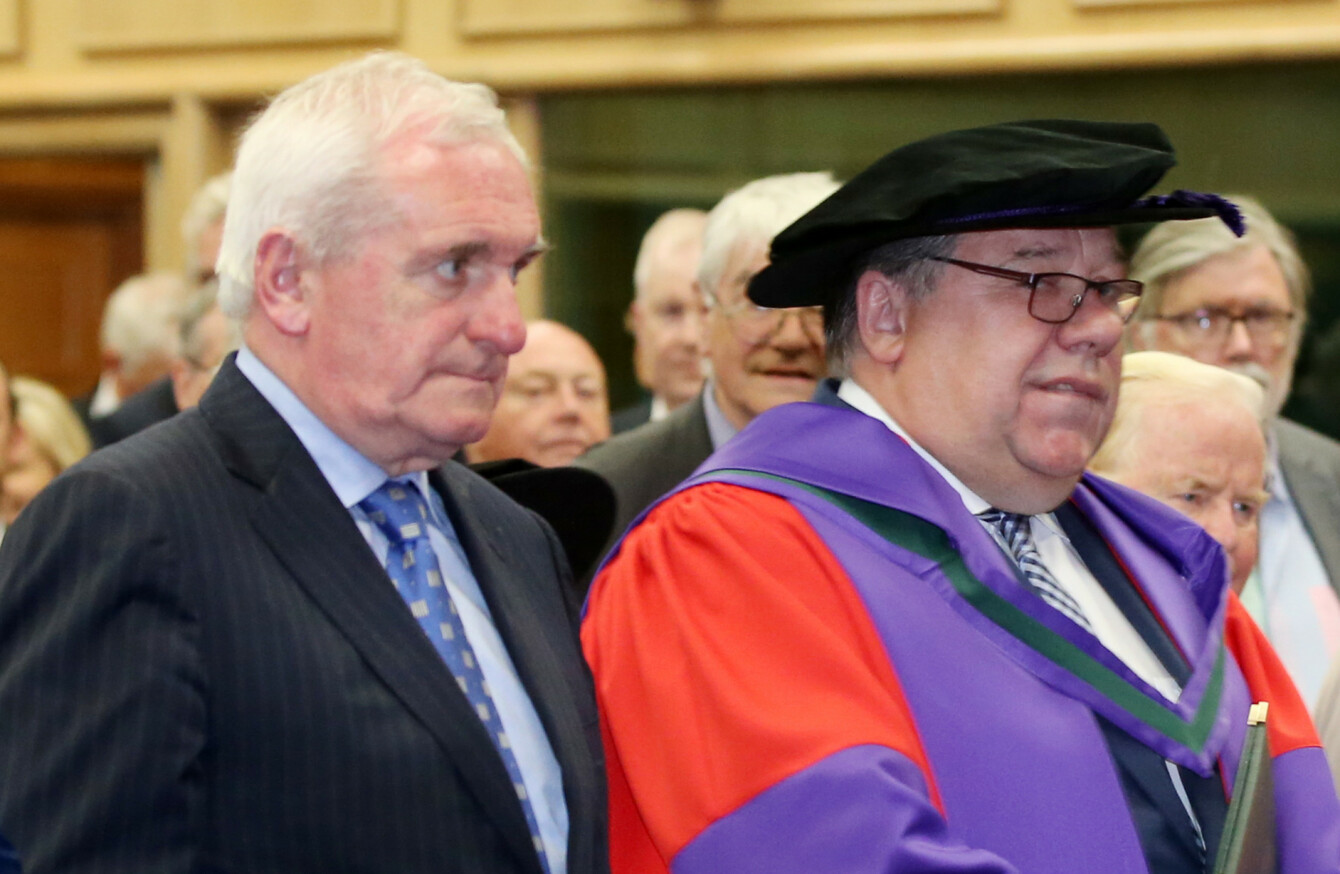 Two former Taoisigh - Bertie Ahern and Brian Cowen
Image: Sam Boal/Rollingnews.ie
Two former Taoisigh - Bertie Ahern and Brian Cowen
Image: Sam Boal/Rollingnews.ie
FORMER TAOISEACH BRIAN Cowen has said that he regrets the jobs that people lost during the recession, but defended his time in government while speaking at Dublin Castle last night, where he was awarded an honorary doctorate.
With his long time colleague Bertie Ahern in attendance, the former Offaly TD spoke at length after receiving the award from the National University of Ireland.
While the speech lasted well over half an hour, he only expressed regret about the economic crisis on one occasion, and instead framed the action taken by his government as "decisive".
Cowen said: "The greatest hardship during the recession was the loss of employment for so many of our people. It's something I deeply regret.
Hard working man and women asking for only the chance to work to support themselves and their families were denied that opportunity by the cruel reality of the economic downturn that impacted on millions of people across the world.
"250,000 of our two million workforce lost jobs… We knew that the required action would understandably be more unpopular than almost any policies in recent Irish political history and that this threatened the survival of the Government and our hopes in an election.
However, we also know that to avoid taking the decisions would mean that future recovery could be put off by decades.
Cowen said that the policies implemented by his government during the economic crisis "laid the foundations" for future growth.
He said that while problems that contributed to the crisis "could have been identified earlier", the prevailing consensus at the time was an optimistic outlook for the economy.
Cowen was Taoiseach from May 2008 to March 2011. He had served as Minister for Finance from 2004, up until the time he took the job after Bertie Ahern stepped down.
Prior to that, he served as Minister for Transport, Energy and Communications in 1993-1994 and Minister for Health from 1997 to 2000. He was also Minister for Foreign Affairs, and helped implement the Good Friday Agreement.
He was at the helm when Ireland entered the bailout, received from the Troika in November 2010.
Cowen presided over the country as the Irish economy began to collapse and austerity policies were implemented as part of the bailout programme.