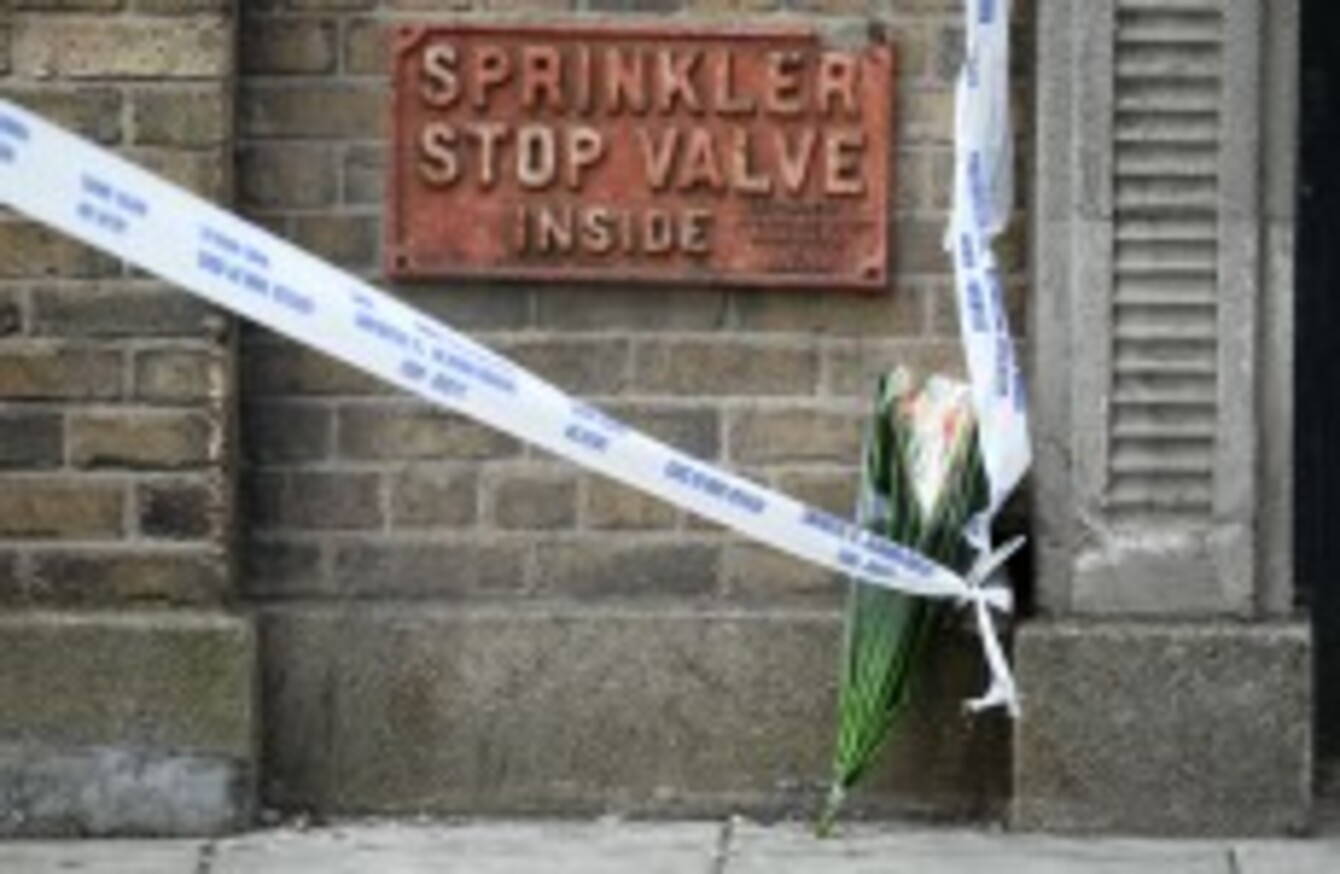 Flowers left near the scene of the crash.
Image: Sam Boal/Photocall Ireland
Flowers left near the scene of the crash.
Image: Sam Boal/Photocall Ireland
A FRENCH NATIONAL has been fined €4,000 for careless driving causing the death of a mother-of-one in a "tragic" incident involving a Luas last year.
Sergeant Karl Mackle said that Quentin Hannezo broke a red traffic light and collided with an oncoming Luas tram before going into a skid.
The silver BMW car hit Yao Webster (35), who had been walking on the footpath, killing her immediately.
Hannezo (31) with a previous address at Ha'penny Bridge House, Lower Ormond Quay, pleaded guilty at Dublin Circuit Criminal Court to careless driving causing the death of Mrs Webster at Jervis Street on April 7, 2014.
He has no previous convictions.
Victim impact
Peter Le Vert BL, prosecuting, read out a victim impact statement in which the victim's husband described how his "happiness for the future has been replaced with depression, anxiety and fear."
Robin Webster said he would never understand how his partner of ten years could be taken from him and their daughter while doing a "most mundane thing" as walking through the city centre.
He added that his wife's parents in China were now "broken, alone and scared for their future" after the death of their only child.
Sgt Mackle told Mr Le Vert that a motorist behind Hannezo's car saw it hit the Luas, but didn't notice the traffic lights changing. This witness told gardaí that he thought the BMW had been travelling at normal speed and hadn't accelerated.
A pedestrian saw the car strike Mrs Webster and went to help her, but realised her injuries were fatal.
'Upset and shocked'
Sgt Mackle told the court that Hannezo appeared "extremely upset and shocked" when he met him at the scene.
He said Hannezo told him he wanted to go to the Garda Station immediately while the incident was fresh in his mind.
Hannezo revealed he couldn't remember what colour the light had been and described driving that route to work for over a year and a half.
Sgt Mackle said garda forensics officers concluded from CCTV, that there was nothing Hannezo could have done to alter the speed and course of the car after the collision with the tram.
He told Mr Le Vert that Hannezo had been driving between 37 and 41kmph in the 30kmph zone.
1.2 seconds
Sgt Mackle agreed with Dominic McGinn SC, defending, that the incident lasted 1.2 seconds.
He further agreed that Hannezo, who has since moved back to France, is a "good employee and upstanding member of the community."
Mr McGinn submitted to Judge Martin Nolan that Hannezo wished to apologise to the Webster family and added that his client's employers were aware of the situation.
Judge Nolan described the case as "tragic" and expressed his condolences to the Webster family, but noted that Hannezo had driven "at a relatively normal speed and missed a red light."
"We are all capable of inattention, it is a human failing. We are not automatons," the judge said.
He added that there was "no doubt (Hannezo) would live with this for the rest of his life".
He imposed a €4,000 fine, taking into account that there was no evidence of major speeding, drink driving or reckless driving.