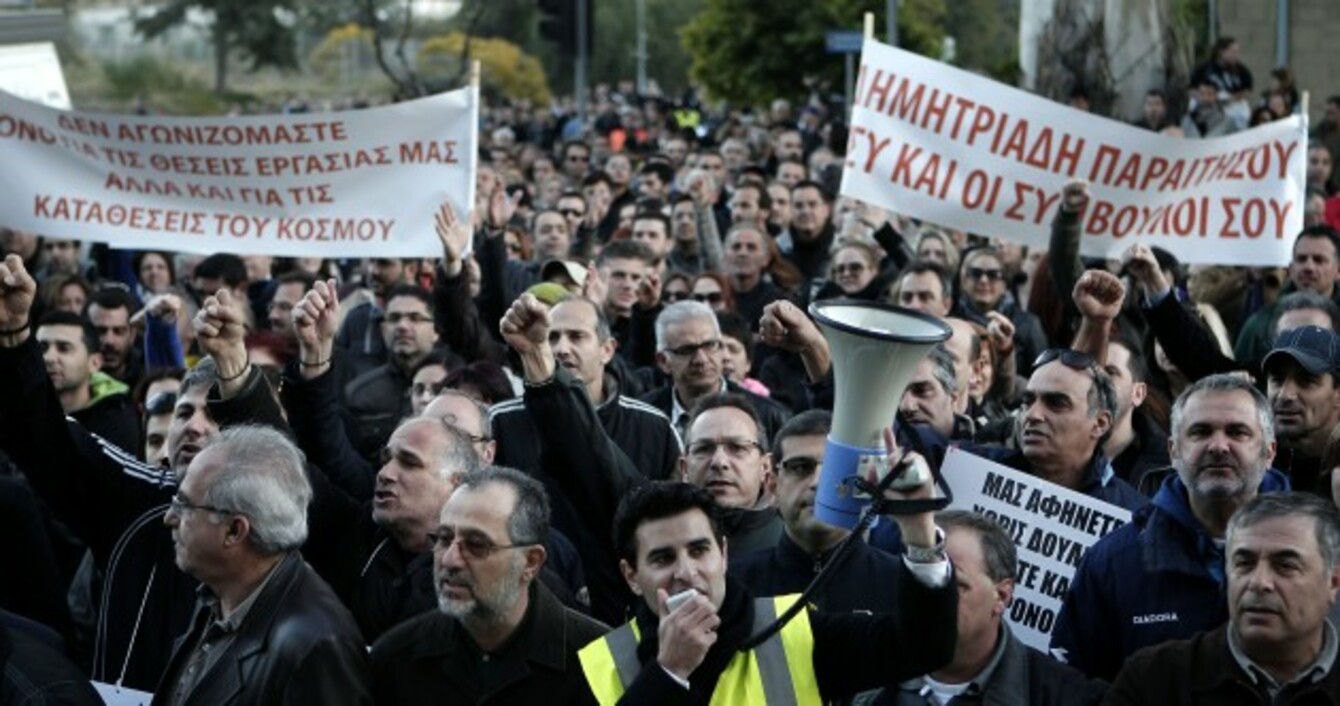 Bank employees protest outside the Ministry of Finance yesterday, demanding clarity on the future of their jobs and opposing a deposit levy.
Image: Petros Giannakouris/AP
Bank employees protest outside the Ministry of Finance yesterday, demanding clarity on the future of their jobs and opposing a deposit levy.
Image: Petros Giannakouris/AP
THE EUROZONE'S finance ministers are to hold a make-or-break summit in Brussels this evening where they will decide whether Cyprus gets a €10 billion bailout – or whether the country is shoved out of the Euro.
It's been a long-building saga in Cyprus, which has been in line for an EU bailout for a long time now – but has still struggled to finalise a bailout that would allow its banks to be recapitalised and continue in operation.
Despite the long-running saga, it's only in the last nine days or so that the crisis has reached boiling point – and gotten to the point where Cyprus must either be given an emergency loan by the EU and IMF, or be kicked out of the single currency and told to introduce its old currency.
Here's our crash course to how we got where we are.
1. Cyprus has been a member of the Euro since 2008. Membership of the Euro brought down the cost of borrowing for the Cypriot government and the country's main banks.
2. Cyprus's parliament only has one house – the House of Representatives – with 59 seats. The Democratic Rally party is the biggest party in the house, but it doesn't have a majority – meaning it is reliant on the support of other parties to pass laws.
3. Cyprus is like the United States in that the President, who is directly elected, is the most powerful person in the country – but is not a member of parliament themselves. The President appoints a cabinet which does not necessarily contain members of the parliament.
4. Because most of Cyprus has a political and cultural affinity with Greece, the two countries and their economies are closely related. Therefore, when Greece entered a major economic slump, Cyprus also suffered.
5. This effect became even more pronounced when Greece partially defaulted on its sovereign debts last year. Cyprus's two biggest banks, the Bank of Cyprus and Laiki Bank, held large amounts of Greek government debt and took a major hit in the partial default. The solvency of the banks became an issue and the government was forced to step in and look for financial aid.
A man holds a souvenir Cypriot €1 lapel pin with a piece taken out, near the Cypriot delegation building in Brussels. (AP Photo/Virginia Mayo)

6. Aside from its relationship with Greece, Cyprus is also closely entangled with the economy of Russia. Cyprus is a popular place for cash-rich Russian investors to hold offshore deposits – in fact, offshore banking is one of Cyprus's main industries, and took a big blow in the banking crisis.
It is estimated that anywhere between 25 and 40 per cent of all cash in Cyprus's banks is held by a Russian account holder.
7. When the Cypriot economy began to slide, it first went to Russia for financial assistance. It received a loan of €2.5 billion in early 2012 to keep its economy kicking over, and to survive a spike in its borrowing costs.
It was intended that the loan would be repaid in 2016, but assumed at the time that Cyprus would be back borrowing from the open markets by early 2013. As the economy continued to slide, Cyprus began approaching Russia to ask for a renegotiation of the loan and an extension of the repayment dates.
8. The cost of borrowing for Cyprus continued to rise, however, and Cyprus asked for a bailout from the EU and IMF in summer 2012. There followed months of disagreement about the terms of a deal, meaning no bailout was ever agreed.
9. In February the five-year mandate of the previous president, Demetris Christofias, lapsed and new presidential elections were held. Nicos Anastasiades, of the Democratic Rally party – the biggest party in parliament – was elected President, and began intensive new talks on trying to finalise the bailout deal.
10. In the early hours of last Saturday morning, March 16, the Troika and the Eurogroup – that is, the group of 17 finance ministers from the Eurozone – finalised a bailout deal where Cyprus would receive €10 billion in Troika loans, as long as it came up with €7.2 billion itself.
11. Cyprus's banks, unusually, have virtually no senior bondholders – having rarely needed to raise money because of the influx of Russian deposits. Junior bondholders would be burned by the deal, but this would only raise about €1.4 billion – leaving €5.8 billion to be found in other ways.
12. It was proposed to raise this amount in possibly the most controversial proposal of the entire European debt crisis: by taking money from depositors. The idea was that accounts with balances over €100,000 would be hit with a levy of 9.9 per cent.
This money would be used to recapitalise the banks, and the account holder would be given shares in the bank in exchange. (This is different to Ireland's case, where the shares are held by the government: each individual account holder would own the shares.)
More controversially, however, was the proposal that accounts under €100,000 would also be hit with a levy of 6.75 per cent.
13. There was major outrage and shock at the proposals – and queues immediately began to form at Cyprus's ATMs. Account holders desperately tried to get their money out of the banks before a levy could be applied to them.
Depositors in other weaker European countries also began to worry. If Cyprus could decide to plug its gap by taking money directly from bank accounts, they wondered, could the same thing happen elsewhere?
People queuing in Athens last Friday to use an ATM of the Greek branch of Cyprus's 'Laiki' Bank, as it remained closed for a fourth day. (AP Photo/Thanassis Stavrakis)
14. Meanwhile the Cypriot government set about trying to win support for the moves. It scheduled a vote to approve the new levy in Parliament for Sunday. Being unable to guarantee its approval, the vote was delayed until Monday (which was a Bank Holiday in Cyprus) and then delayed again until Tuesday.
15. This extra delay meant another bank holiday was declared – with banks remaining shut on Tuesday until the laws could be passed.
16. When the vote was held on Tuesday, the measures included an exemption for accounts under €20,000. However, the MPs from the ruling party abstained – in a symbolic gesture of how uneasy they were about the proposals Anastasiades had asked them to impose. As a result, the proposals were defeated without a single MP voting in favour.
17. With question marks hanging over the future of banks, and the deposits contained in them, the banks stayed shut for a third day – with the government eventually announcing that they would stay shut for the rest of the week. With Monday 25 March also being a bank holiday, the closures meant ten days without a functioning banking system – causing business on the island to grind to a halt.
#Open journalism No news is bad news Support The Journal

Your contributions will help us continue to deliver the stories that are important to you

Support us now
18. With the rest of Europe still scrambling, the European Commission sought to underline that the Cyprus proposals were a one-off and that the same principle wouldn't apply in other countries. It said it had opposed plans to impose the levy on accounts under €100,000 – but that Cyprus itself insisted on doing so.
This seemed largely sensible: EU governments usually guarantee deposits under €100,000, meaning that if a bank goes bust, small account holders can be safe in the knowledge that they will be reimbursed.
However, it was suspected that Cyprus had decided to put a levy on all account holders because it also needed to stay on the good side of Russia – and could not be accused of hammering Russian bank accounts while trying to insulate its own citizens.
(A separate report from the Financial Times yesterday suggested that EU economics commissioner Olli Rehn had pleaded with Cyprus to keep the top levy under 10 per cent, in order to stop a run on the banks – a report which brought the Commission's claims into question.)
Cyprus – and the Eurozone as a whole – was plunged into panic when MPs rejected the Government's plans to impose a levy on all domestic bank accounts. This weekend they approved other plans to create new solidarity funds, and to split Laiki Bank in two. (AP Photo/Petros Karadjias)
19. The European Commission, at the same time, said it was now up to Cyprus to come up with a 'Plan B' for how it would raise the €7.2 billion – suggesting it was not willing to start talks on a new proposal. However, a Cypriot minister said the Troika had already rejected a Plan B, and that it would look elsewhere.
20. The Cypriot finance minister flew to Russia to meet his Russian counterpart, hoping at least to win an extension on the original Russian loan – and perhaps to see if Russia would offer a bigger bailout. There was no deal, however.
21. The European Central Bank issued an ultimatum, saying it would stop offering emergency loans to Cyprus's banks on Monday 25 March if a deal had not been reached. The ECB can only offer liquidity assistance to banks if they remain fundamentally solvent – and believed the two big banks, Bank of Cyprus and Laiki, didn't fit the bill any more.
This meant that if a bailout was not in place by Monday, Cyprus's banks would collapse – and in order to clean up the mess, without triggering a chain of dominoes, the other Eurozone countries would force Cyprus to leave the currency.
22. With no deal from Russia, and an ultimatum from the ECB, the Cypriot parties began talks again. They ultimately decided on plans to create a 'National Solidarity Fund', which will probably include public and Church assets, as well as oil and gas rights, which could be offered as security for any foreign loans.
23. MPs also approved plans to split Laiki into two banks – essentially 'good' and 'bad' banks – hoping to lower the price of saving the 'good' bank.
24. Talks resumed on Saturday between Cyprus and the Troika, while President Anastasiades prepared to travel to Brussels for a last-ditch plea for help – though the travel was not needed, as finance minister Michalis Sarris said talks had been positive.
The talks proposed reintroducing the bank levy, with a 25 per cent levy on deposits over €100,000, but no levy on smaller accounts.
25. A last-ditch meeting of Eurozone finance ministers was called for this evening, where ministers would deliberate – and either approve or reject – on the proposals formulated by the Cyprus and the Troika. Ministers will either decide to approve the latest compromise between the Troika and Cyprus, or force it to leave the single currency.