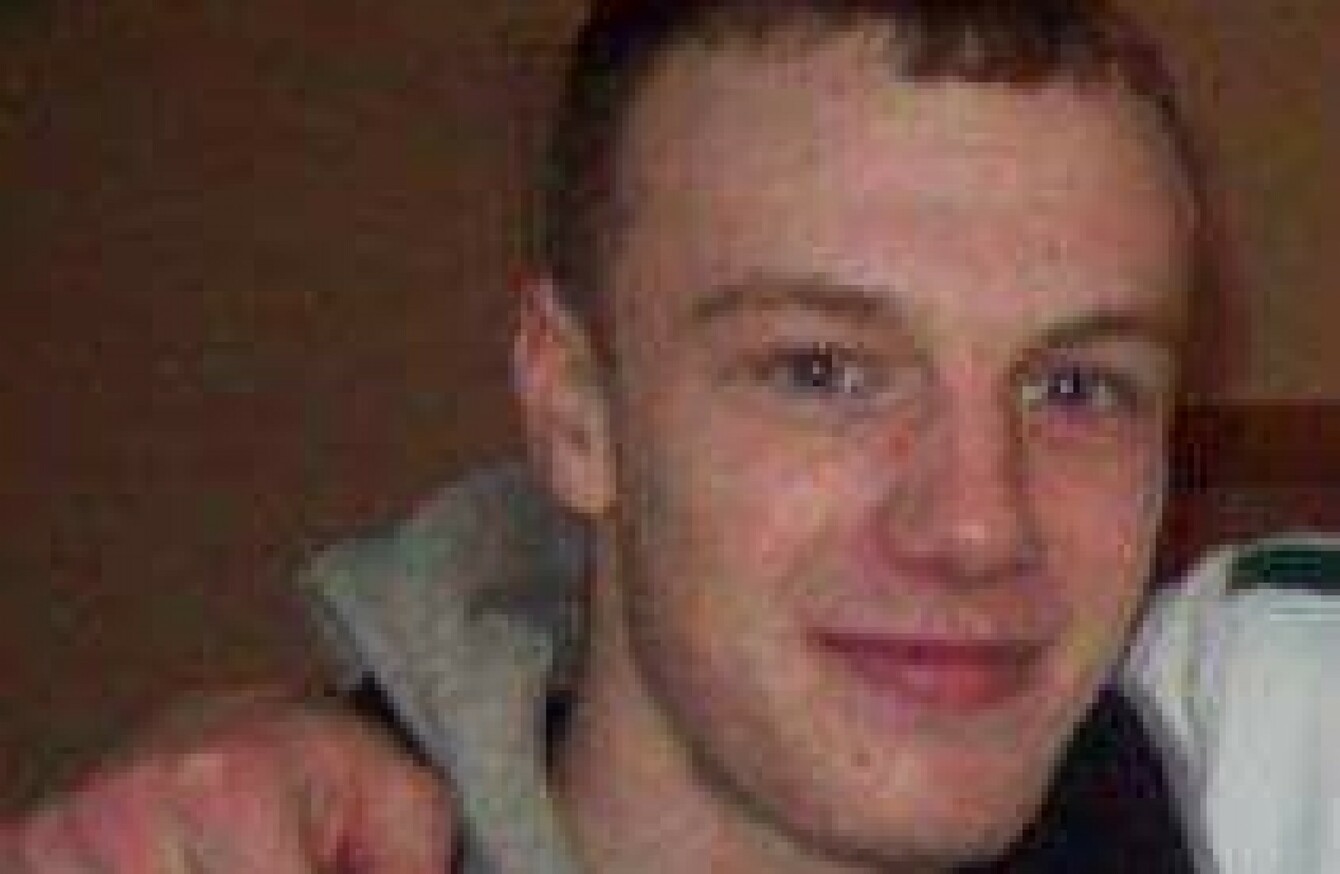 Daniel McAnaspie was murdered on the night of 26 February, 2010.
Image: Facebook
Daniel McAnaspie was murdered on the night of 26 February, 2010.
Image: Facebook
A MAN HAS been sentenced to life in prison for the 2010 murder of 17-year-old Daniel McAnaspie.
Richard Dekker (30), from the Blanchardstown area of Dublin, was given a mandatory life sentence today at the Central Criminal Court after he was found guilty last month of the murder of 17-year-old Daniel McAnaspie at Tolka Valley Park on 26 February, 2010.
Sentencing for another man, Trevor Noone (28) – who had pleaded guilty to the manslaughter of McAnaspie – has been adjourned until 24 April.
Daniel McAnaspie's family today told the court that they want his killers to "rot in hell".
Daniel's sister Nikita McAnaspie told Dekker's sentence hearing that Daniel's death had made their lives meaningless, adding:
We hate the people who did this.
The teenager's decomposed body was found almost three months after his murder in a farmer's drain about 30 kilometres from where he was killed. He had been stabbed multiple times.
At the sentence hearing today Nikita spoke on behalf of her family. She said Dekker and Noone had taken their "beloved Daniel from us in the most tragic circumstances".
When the family first heard Daniel was missing in February 2010 they immediately feared the worst and searched fields, parks and rivers, still hoping that he would return to them with a smile on his face and tell them they had been worrying about nothing.
"While we searched, the people who killed him watched us," she said. When it was found, Daniel's body was so badly decomposed his family was not allowed to see him and his coffin was closed at his funeral.
Describing Noone and Dekker as evil, she said Daniel was a child who did not deserve to be murdered. Noting that Daniel begged for his life as he was stabbed to death, she said the family is haunted by thoughts of his final moments.
"We hope they rot in hell," she added.
Disappearance
Detective Sergeant Dan Callaghan told the court that Dekker and Noone became suspects in the disappearance of McAnaspie because they were known to have been with him the evening he went missing.
Daniel, who was in the care of the HSE, had skipped his curfew and spent the evening with Dekker, Noone and three other friends. In the early hours of the morning Daniel's friends went home but he remained with Dekker and Noone.
Callaghan told prosecuting counsel Brendan Grehan SC that Noone and Dekker initially denied all knowledge of what happened to Daniel, but after his body was found they each blamed the other for stabbing Daniel and hiding his body.
Today's hearings were held separately after prison guards told Justice Patrick McCarthy there was an issue with having Dekker and Noone present at the same time.
Callaghan said Dekker had 25 previous convictions, including one for possession of a knife.
In 2010, after he had murdered Daniel, he was sentenced to two years and six months for unlawful possession of a firearm with intent to endanger life.
Justice Patrick McCarthy sentenced Dekker to life imprisonment, the mandatory term for murder. He will be given credit for time already served.
Psychiatric report
Callaghan then gave evidence in the sentence hearing for Noone, telling Grehan that Noone pleaded guilty to Daniel's manslaughter in February this year.
He said that throughout garda interviews Noone had blamed Dekker for the killing and said that he was there only as a bystander. He also admitted that he knew Dekker was carrying a blade and that Dekker wanted to stab Daniel.
During a series of interviews he made several admissions and brought gardai to the location where Daniel was killed.
Days after the killing Noone said that he helped Dekker and Dekker's half-brother Christopher Gaffney put Daniel's body in a suitcase so it could be removed and hidden.
#Open journalism No news is bad news Support The Journal

Your contributions will help us continue to deliver the stories that are important to you

Support us now
Callaghan agreed that Gaffney has since died, his remains found in a ditch in Co Meath.
"He met his end by foul means," he added.
Noone has 23 previous convictions, including nine public order breaches, two for misuse of drugs, and one for criminal damage.
He was sentenced to four years in Mountjoy prison in August 2010 for possession of a firearm and ammunition with intent to endanger life. He has never had a job.
Noone's barrister Michael O'Higgins SC said his client knows he has done a terrible thing and wants to go to prison.
Reading from a psychiatric report, he said Noone had told a psychiatrist:
I need to be in jail for what I have done. When I know I have paid for what I have done then maybe in my head I will be okay.
Mr O'Higgins said this shows that Noone has insight into what he did and takes responsibility. He said the report also outlined Noone's violent upbringing, during which he witnessed his own mother being stabbed and regularly suffered violence himself. The report said he has a "schizoid" personality.
Whilst in custody Noone has been beaten up on several occasions. Mr O'Higgins said he has been targeted because of his role in killing the teenager.
Counsel asked Justice Patrick McCarthy to take into consideration his client's guilty plea and his remorse and extend the "maximum degree of leniency" possible.
Justice McCarthy adjourned sentencing Noone until 24 April.
Comments have been disabled as a man is still de to be sentenced