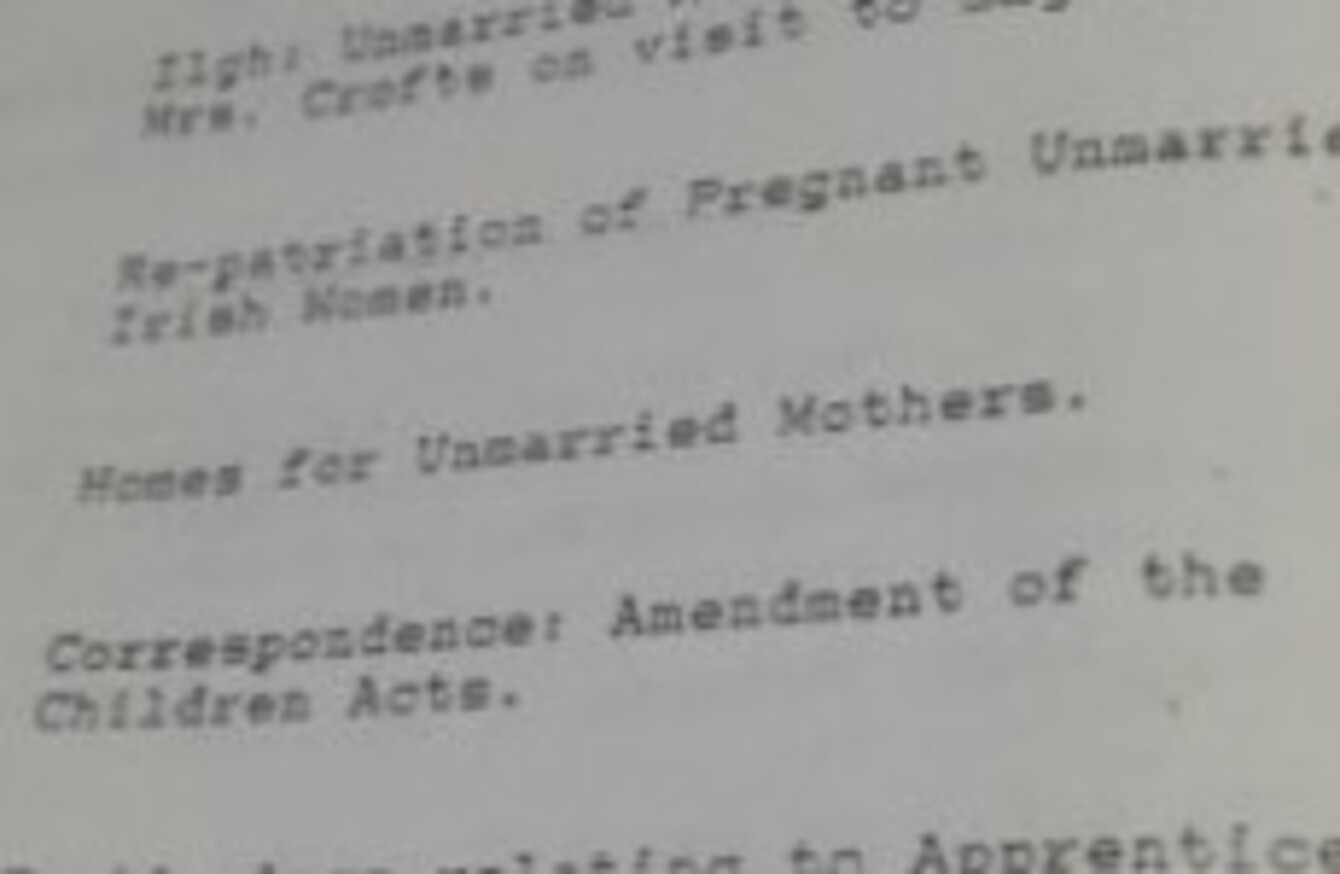 List of files withdrawn from the National Archives.
Image: The National Archives of Ireland
List of files withdrawn from the National Archives.
Image: The National Archives of Ireland
FOLLOWING A REQUEST from TheJournal.ie, the Department of Health has said it will return files to the National Archive, eight years after recalling them.
TheJournal.ie reported today that since 25 May this year, 12 state files relating to mother and baby homes have been withdrawn from the archives.
Furthermore, over 40 state files relating to unmarried mothers, such as health inspection reports on unmarried mother's homes and other aspects of their administration, were "recalled" by the Department of Health in May 1992 and on 8 February 2006.
Return
In a statement today, the Department of Health said that a number of files that were recalled from the National Archive "will be returned".
It said the National Archives files stored in the department are made available to researchers upon request and can be arranged with its personnel.
"A small number of files are being recalled from the Archives for examination as part of a cross-departmental initiative which will report to Government," they said.
The National Archives said a lot of files were recalled, an action permitted under the National Archive Act 1986, as part of the child abuse investigation, which resulted in the Ryan Report.
The maintain that the information contained in the files that were withdrawn is "pretty standard", and that no personal details relating to anyone would be available within the documents.
However, the Department of Health said that some of the files contained some details about children in care.
Today's statement said:
Files were returned by the National Archives to the Department as part of an indexing project known as the Access to Industrial and Related Records (AIRR) Project that was undertaken between 2004 and 2006. This project involved the indexing of all papers relating to child care services, some of which contain information referring to individual children who were in care.
The department said that references to personal details have been indexed onto a specialised 'names index' along with other relevant information. The purpose of the project was to create a comprehensive archive of historical childcare records and to enable efficient release of papers on foot of requests from individuals.
"Files that contain personal information have been retained by the Department for that purpose, they said, adding that "the remainder, which were retained in secure storage, will be returned to the National Archives".
TheJournal.ie have requested to see the files recalled by the department.
First publish 4.30pm