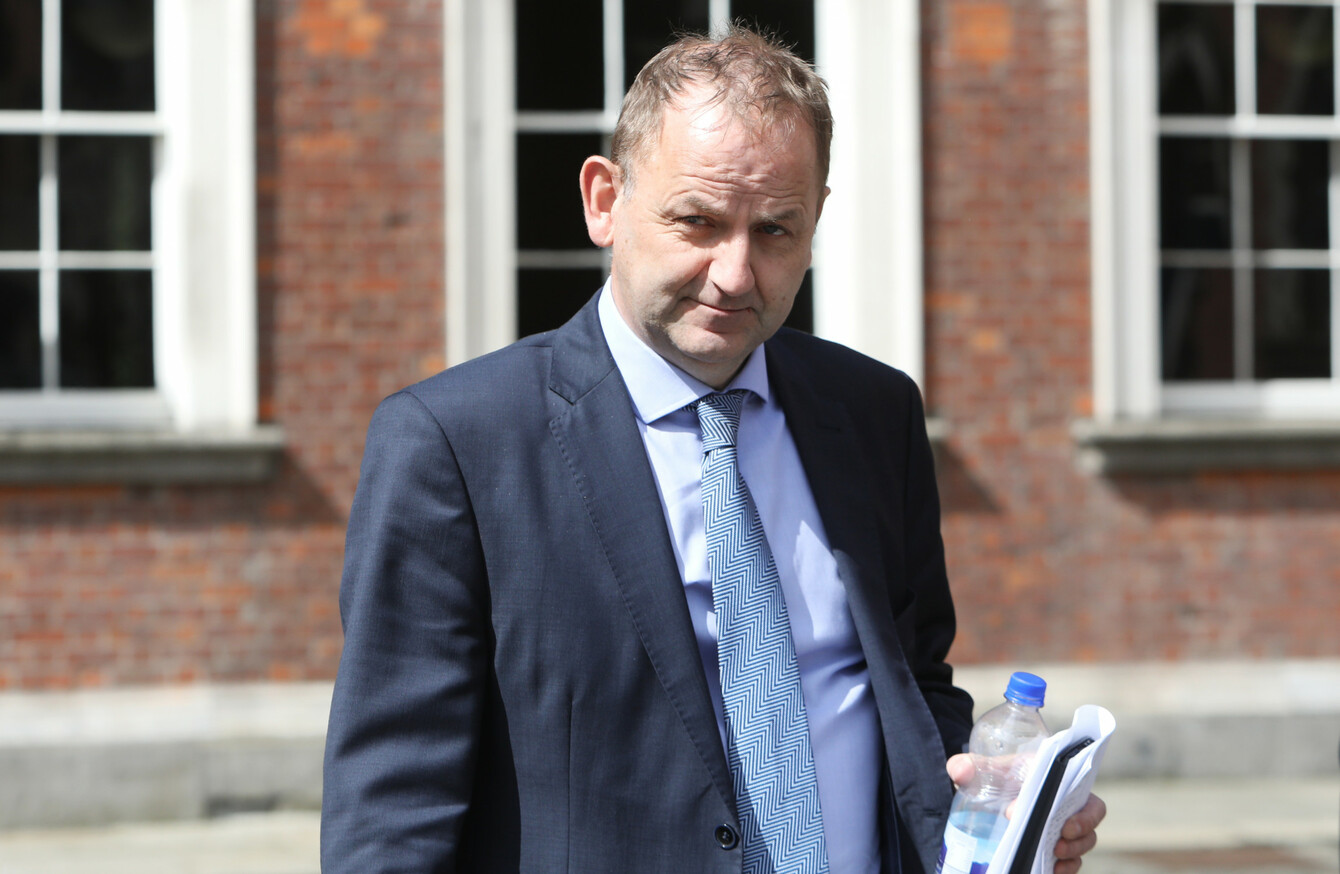 Garda whistleblower Maurice McCabe.
Image: Leah Farrell via RollingNews.ie
Garda whistleblower Maurice McCabe.
Image: Leah Farrell via RollingNews.ie
NO EVIDENCE WAS found on Garda computer systems or electronic devices to support the allegations of former press officer Superintendent David Taylor that he was instructed to give negative briefings to the media about whistleblower Sergeant Maurice McCabe.
Two scientists from the Forensic Service Northern Ireland (FSNI) told the Disclosures Tribunal that they examined telephones and computers which were used by Superintendent Taylor and by former garda commissioners Martin Callinan and Nóirín O'Sullivan between July 2012 and May 2014, the period when Superintendent Taylor was at the Garda Press Office.
Computer systems at Garda HQ, including the Pulse system, were also examined.
Deleted text messages
The Tribunal is examining allegations by Taylor that he was directed by former Garda Commissioner Martin Callinan to brief the media negatively on Superintendent McCabe. Callinan denies the allegation.
Elaine Strachan of the FSNI told the Tribunal that she examined three telephones which had been used by Supt Taylor, two telephones which were used by Callinan, and two telephones and an iPad used by O'Sullivan.
Text messages on the first phone used by Callinan had been deleted, Strachan told the Tribunal.
The second phone had been handed back to Garda HQ by Callinan when it developed a fault, and after it was repaired it was assigned to another officer. No information from the time when Callinan used the device remained on the phone.
No evidence to support Taylor's allegation was found on any of three phones which were used by Taylor between September 2014 and May 2015, after he was reassigned from the press office.
An iPad which was used by O'Sullivan contained no evidence to support Taylor's claim that he was instructed by Callinan to give negative briefings, or that O'Sullivan was aware of such an instruction.
An Apple iPhone 4 which had been used by O'Sullivan, and was given to her son, also contained no relevant data, and all information recovered from the phone related to the former commissioner's son. Two Samsung Galaxy phones which were used by O'Sullivan in 2016 and 2017 also contained no relevant evidence.
Mark McConnell of the FSNI said he examined a laptop used by Taylor during his time as press officer, using a list of 33 keywords suggested by the Tribunal.
Keywords included 'McCabe', 'Cabe', 'whistleblower', 'rat', 'child', 'child abuse', 'kiddy fiddler', 'reputation', 'negative publicity', and the name of Miss D. No files found using these words were relevant to the Tribunal's inquiries.
Taylor did not have access to his Garda email account on the laptop, the Tribunal heard. A search of an image of the computer hard drive also yielded negative results.
A computer which was used by Callinan, and purchased from Garda HQ on his retirement, was wiped and reset to factory settings on 4 April 2014, "in accordance with Garda protocol", Tribunal barrister Kathleen Leader said. No data before that date was available, McConnell said.
Other Garda computer systems
McConnell also examined various computer systems at Garda HQ, including the Garda Pulse system.
One Garda system which holds garda correspondence, contained two "potentially relevant" files relating to McCabe but neither was about briefing negatively, McConnell said.
#Open journalism No news is bad news Support The Journal

Your contributions will help us continue to deliver the stories that are important to you

Support us now
One of these files related to a Fixed Charge Penalty system complaint. The second related to correspondence from the Northern Region assistant commissioner's office in Sligo containing a Tusla notification of suspected child abuse. The correspondence, received by Garda HQ on 16 May 2014, contained a scanned PDF and a Word document.
The Tribunal has previously heard evidence of the creation of a Tusla file in error after a 2006 allegation against the sergeant resurfaced. The allegations by Miss D had been dismissed by the DPP after the 2006 Garda investigation but when they resurfaced they were incorrectly recorded as a more serious allegation.
A copy of the Tusla notification was also held on FileShare, a file storage system. FileShare also contained seven documents relating to McCabe, which related to policing issues in the Cavan-Monaghan district. One of the documents, a "Chronological Sequence Report" made reference to the Miss D allegations.
Barrister Donal McGuinness, on behalf of Callinan, asked the witness to confirm that "any information at all denigrating Sgt McCabe would have been considered relevant and no such information was found." McConnell agreed this was the case.
Leader said that there were two "privileged systems" McConnell was not granted access to, and witnesses will give evidence on those systems tomorrow.
Taylor is scheduled to begin his evidence next week.
Comments have been closed for legal reasons.