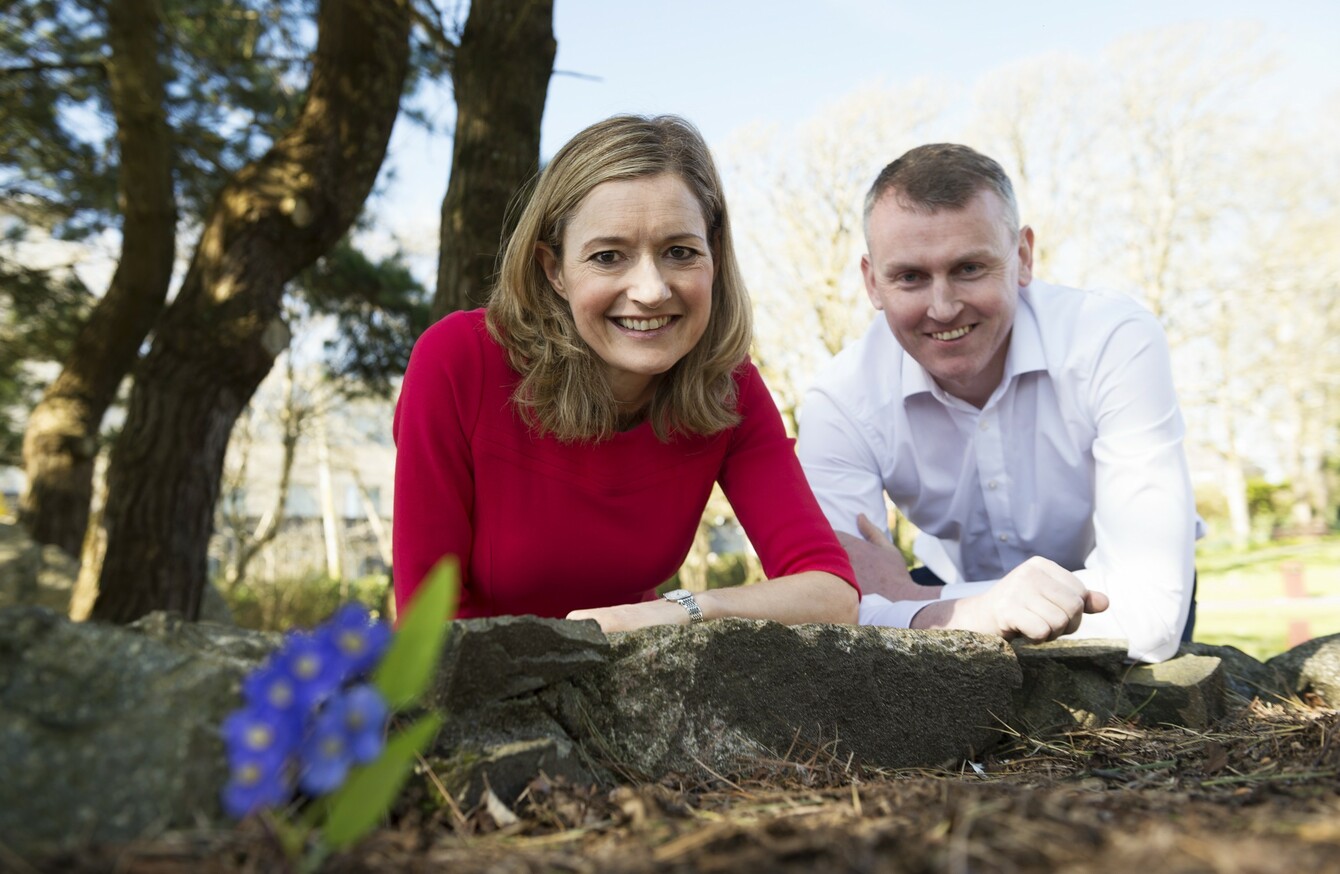 Dr Ruth Smith and Dr Noel Howard in the Circle of Life Garden in Salthill
Image: Andrew Downes, XPOSURE
Dr Ruth Smith and Dr Noel Howard in the Circle of Life Garden in Salthill
Image: Andrew Downes, XPOSURE
A DOCTOR HAS spoken out about donating a kidney to his colleague in a bid to raise awareness about organ donation.
Dr Noel Howard (39) and Dr Ruth Smith (46) work together in a medical practice in Salthill, Galway.
Smith was diagnosed with chronic kidney disease in her mid-20s and "knew that it was probable that dialysis treatment was coming down the tracks".
The mother-of-three recalls: "I took control of my condition and managed to stave off dialysis until the beginning of last year when my kidney function had deteriorated to a point where it needed intervention.
"I then started to undergo peritoneal dialysis which I took through the night for eight hours at a time. By nature I am a positive person and I was content that while I was feeling quite tired, I was able to continue doing what I love to do, caring for my patients.
"I was determined that my health would not impact on my children as I continued to bring them to and from school and their activities. However, I did worry about the unknown and how my kidney condition would progress and that if I became very ill how it might impact on my family life."
Within weeks of telling Howard she had to start dialysis, he told her he would go forward to be screened to see if he was a suitable donor.
Obviously this came as a huge surprise to me, and myself and my husband Alan were completely overwhelmed by their profound act of kindness.
"My husband Alan also went forward but wasn't a compatible donor. However, Noel was deemed to be compatible after rigorous testing including blood and tissue typing as well as psychological assessment. The transplant went ahead at Beaumont Hospital last September."
"I can honestly say that I didn't realise how unwell I had been feeling up until the transplant as I had just been plodding along. I feel so much better now.
"My family and I have so much to be thankful for and it's thanks to Noel that I am at this point where I can look forward to the future with my family and continue to enjoy working as a doctor, a job I love to do," she said.
'An easy decision' 
Howard, a father of three, has cared for numerous kidney patients over the years and has seen first-hand the life-changing impact a transplant can have.
For me, donating a kidney was an easy decision to arrive at. I wanted to help my colleague and friend as I had seen how organ transplantation transformed the lives of some of my patients.
"My family have always been very pro-organ donation. [My wife] Róisín's cousin had cystic fibrosis and died while on a transplant waiting list. I felt, that rather than just talking about it, that this was my opportunity to step up and try to make a difference.
"After meeting the team in Beaumont I was confident to put my trust in them. The operation was a success and both Ruth and I were back to work within a number of weeks," he said.
Smith and Howard are sharing their story in support of the Irish Kidney Association's Organ Donor Awareness Week, which is running until 8 April.
Organ donor cards can be obtained by phoning the IKA on 1890 543 639 (lo-call) or by texting the word DONOR to 50050 (free). People can also download the IKA's digital donor card here.