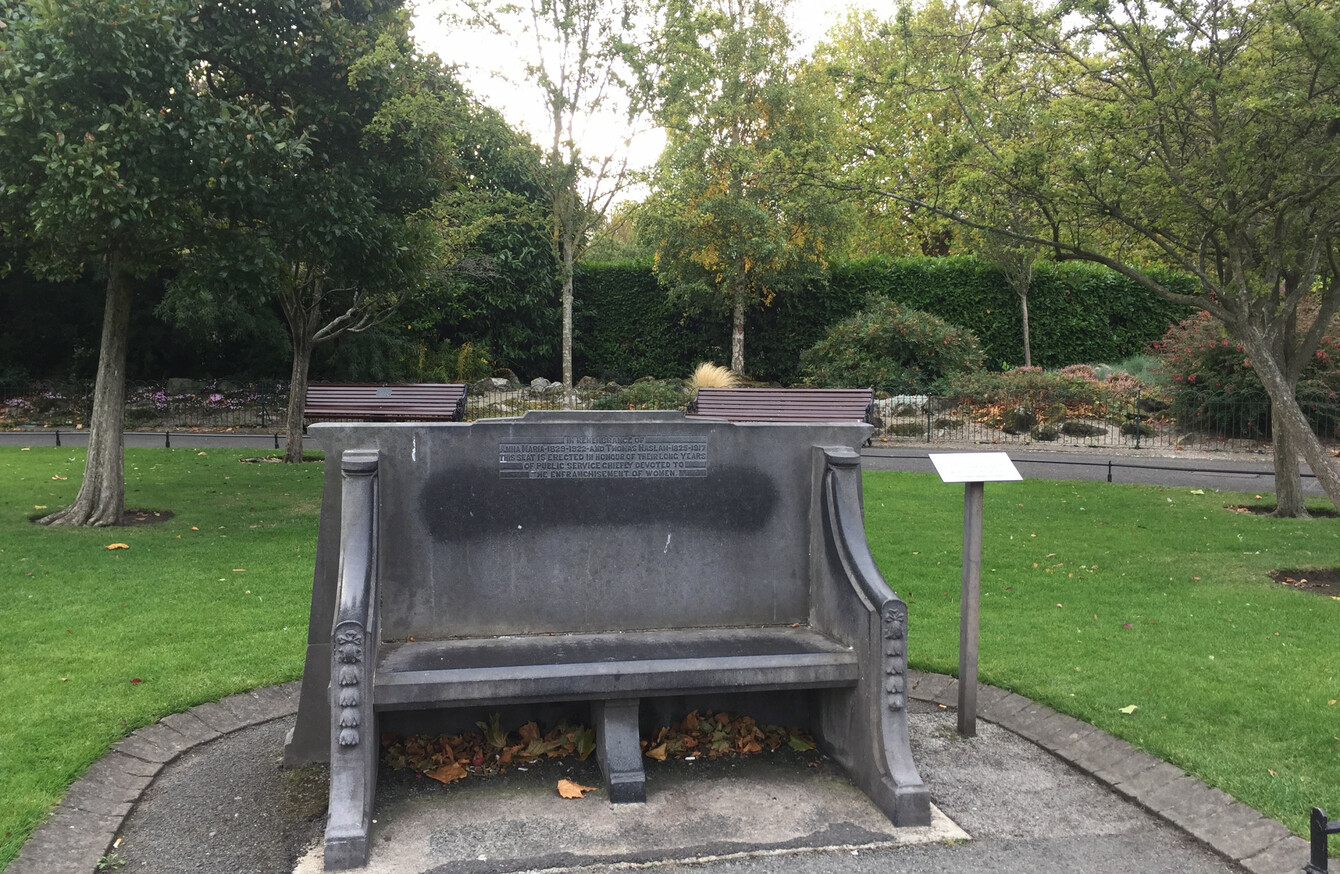 Image: Zara Hedderman
Image: Zara Hedderman
F YOU PASS through the centre of St Stephen's Green, where local office workers and tourists gather on seats surrounding the fountain, you'll find a stately limestone bench.
And if you go closer, you'll see an inscription on the back commemorating two little-known names, Anna Maria and Thomas Haslam, for "their long years of public service chiefly devoted to the enfranchisement of women."
So what is the story behind this bench, at the very centre of one of Dublin's most famous landmarks?
Speaking to The Journal.ie, Maeve Casserly, historian-in-residence at Dublin City Council, shared the life stories of Anna and Thomas Haslam. 
Born in Cork in 1829 to a Quaker family, Anna Maria Fisher married Thomas Haslam in 1854. The couple moved to 125 Leinster Road, Rathmines four years later. Based in the capital, they were extremely proactive in advocating equality in Ireland.
Amongst their achievements, the couple "were founding members of the Dublin Women's Suffrage Association," Casserly says. This "started out as an educational society in 1876. They hosted public lectures, published pamphlets and petitioned Westminster MPs to bring in legislation to allow women great political power."
Casserly adds that the Haslams were integral figures in the Rathmines community. "Anna was a member of the committee of Rathmines night school, and active in the St John's Ambulance organisation, the Rathmines Literary Society, the Friends' Education Society, the Sanitary Society, the Fresh Air Society, the Irish Housewives' Association, and the Irish Society for the Prevention of Cruelty to Children."
The bench, made by Albert Power using Kilkenny limestone, was installed in St Stephen's Green in 1923, 12 months after Anna passed away.
Casserly says that the bench was commissioned by "friends or colleagues from the Irish Women's Suffrage and Local Government Association, previously known as the Dublin Women's Suffrage Association".  
One reason why the Haslams may not be a household name, Casserly suggests, is that they were "non-militant, therefore they aren't, perhaps, as well remembered as others in the suffrage campaigns for making bold political statements like smashing windows or going on hunger strike."
Expanding on their relative obscurity, Casserly has another observation: "They were unionists, so their role in Irish history may not have been a comfortable one to highlight in the new Irish Free State."
Today, the limestone bench in Dublin's city centre dedicated to the work of the Haslams marks how far women's rights have come over the last century.