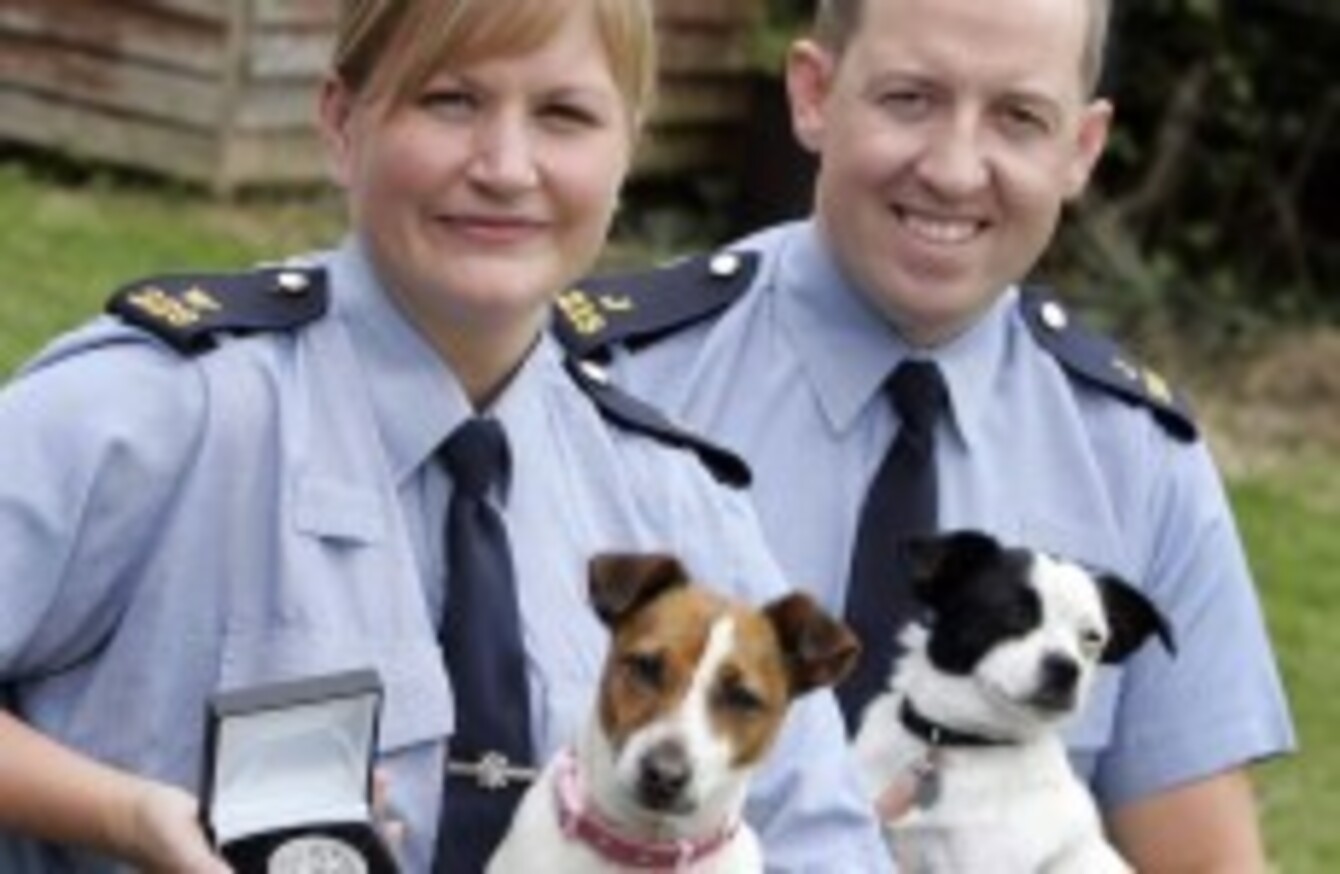 Two of the gardaí given awards yesterday
Image: Dublin SPCA
Two of the gardaí given awards yesterday
Image: Dublin SPCA
SIX GARDAÍ WERE awarded medals for their work in saving animals' lives yesterday.
The Dublin SPCA chose the six gardaí who received the Silver Medals, which were presented to them by Alan Shatter TD, Minister for Justice, Equality and Defence.
The specially commissioned commemorative silver medals were awarded to Garda Donal Lucey (Rtd), Garda Stephen Neylon, Sergeant William Kirwan, Garda Adrian Egan, Garda Jerome Tully and Garda Fiona Tighe.
The DSPCA said they have all shown bravery and foresight whilst working alongside Dublin SPCA Inspectors Tony McGovern and Liam Kinsella in investigating and initiating prosecutions to appalling acts of animal cruelty.
Gratitude
The event showed the country's oldest and largest animal welfare charity's gratitude to the gardaí, as well as demonstrating the long-standing excellent working relationship with the members of  the force.
The society believes such an awards ceremony has not occurred since 1931, and guests that were present for yesterday's historic occasion were Garda Commissioner Martin Callinan, Garda Chief Michael O'Sullivan and Superintendent Thomas Murphy as well as Deputies Olivia Mitchell and Peter Mathews.
Minister Shatter said at the ceremony:
It is not the first role that comes to mind when one considers the work of An Garda Síochána, yet our force are very much involved in the cracking down on cruelty against animals.  The Garda members and ex-member here before us have all been involved in bringing to justice those involved in what can only be described as truly horrific instances of disregard for animal welfare. These medals honour their work which has really taken them above and beyond the call of duty.
The Dublin SPCA call centre receives over 90,000 calls from concerned members of the public every year regarding animals in distress.
Rescues
Every animal welfare emergency response operation requires hours of research, resource and intelligence gathering, collaboration and ground work, while the rescue itself can be "as exhausting as it is harrowing".
But, in the end it's our love of animals and the dedication of the staff, volunteers, fosterers and supporters who all help us complete our mission; ensuring every adoptable animal has a safe haven in which to rest their heads and receives the love and care they so desperately desire and deserve.
Brian Gillen, CEO of Dublin SPCA said it was "a fantastic day for everyone involved".
According to what we can ascertain from our records, the last time one of these silver medals was awarded to a guard was in 1931. These  gardaí are receiving their medals today because the Dublin SPCA wishes to acknowledge their co-operation and assistance whenever it was required; also for their distinguished exertions in promoting the cause of humanity and prosecuting offenders being presented to them.
The Dublin SPCA website, which includes information on how to donate to the association, can be visited here.
The ceremony was covered on RTE's Morning Ireland, where Garda Stephen Neylon described how he helped to save the life of a terrier who lost an eye after being beaten by a baton. Those responsible were prosecuted.
"It is something that will stay with you," he said, adding: "It is important that people see that there is some sort of justice."
Dublin SPCA Silver Medals

Dublin SPCA Silver Medals.

Dublin SPCA Silver Medals

Dublin SPCA Silver Medals

Dublin SPCA Silver Medals.

Dublin SPCA Silver Medals

Dublin SPCA Silver Medals

Dublin SPCA Silver Medals

Dublin SPCA Silver Medals