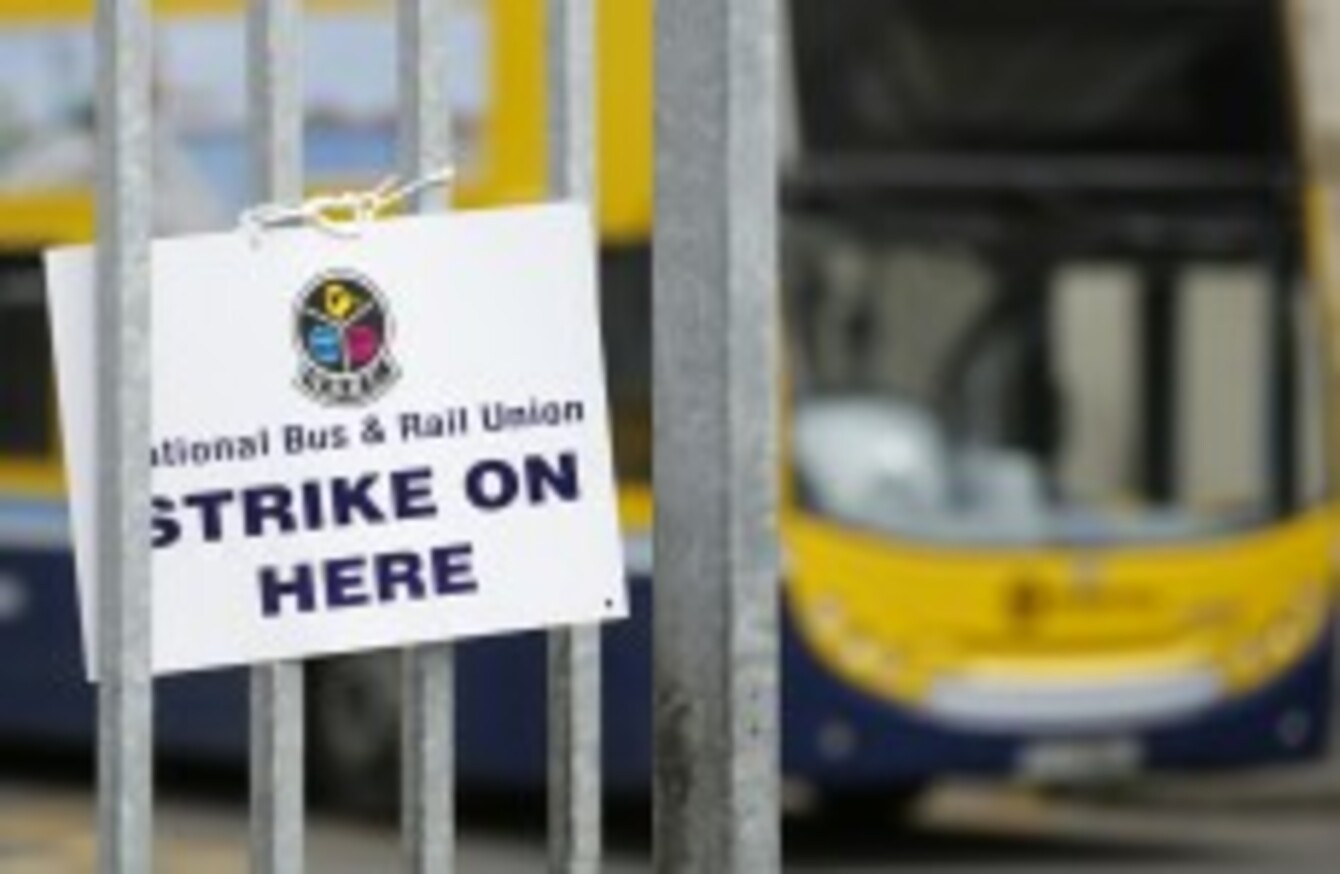 Image: Sasko Lazarov/Photocall Ireland
Image: Sasko Lazarov/Photocall Ireland
SOURCES WITHIN ONE of the unions representing Dublin Bus workers has accused the company of "forcing" strike action in order to save on its wage and fuel bills over the bank holiday weekend.
Sources within the National Bus and Rail Union told TheJournal.ie that the timing of Dublin Bus's decision to implement cost saving measures was "convenient" as providing transport services over the entire bank holiday weekend would have been expensive. One source claimed:
That's the real reason that they did it at that time, instead of a massive wage and fuel bill they actually made a saving there.

We believe that this has been sanctioned by levels of the government as well, as a quick solution to funding issues.
Drivers working on Sunday would have been paid double time and those operating the service yesterday would have received three days' pay for it. "People might think that's excessive but about a third of that is taken in tax and that doesn't change the fact that the company would have to pay that out," the source said.
Management at Dublin Bus told both NBRU and SIPTU on Monday last week that it would implement the cost saving measures laid out in Labour Court recommendations, from Sunday, 4 August, despite opposition from the unions who criticised the company for giving workers such short notice.
Bus drivers at the semi-State body went on strike on Sunday, and only called a halt to their action yesterday afternoon after intervention from the Labour Court. Bus services are to resume as usual this morning.
'Greater proportionality'
The recommendations included cuts to overtime and sick leave for workers and while the source said that they are obviously unhappy about this, it is not the sticking point for the striking employees.
"We want to see greater proportionality," they said. "The average wage of a driver is €33,000 with a maximum of €40,000 with overtime. If you add up all the internal things and take an average of the payments it could total €150 a week that workers are losing and two or three years ago that wouldn't have been much but they've already faced cuts over the last few years."
Workers want to see senior management, who are earning between €70,000 and €250,000 a year, face harsher cuts to level the playing field.
"This is a kick in the teeth for people who are struggling on the wages they're on, it's a bone of contention, and if the company addresses this in a meaningful way it would go in some way to appeasing this anger," the source explained.
The NBRU source said that striking workers were "aware of the impact" they had on the public and are "not proud of it".
Speaking before the strike ended yesterday, the source said:
We don't want to be out here but we've been left with no other option now. We've actually been surprised at the level of support from the general public, obviously there has been a bit of abuse and that's understandable but for the most part people going past us have been great.
A spokesperson for Dublin Bus denied that the date for implementation of changes had been chosen to save money.
"The reason for implementing on a Sunday is that Sundays are when rosters change and payroll also runs from Sunday to Saturday," they said. "We always implement roster and scheduling changes on Sundays."