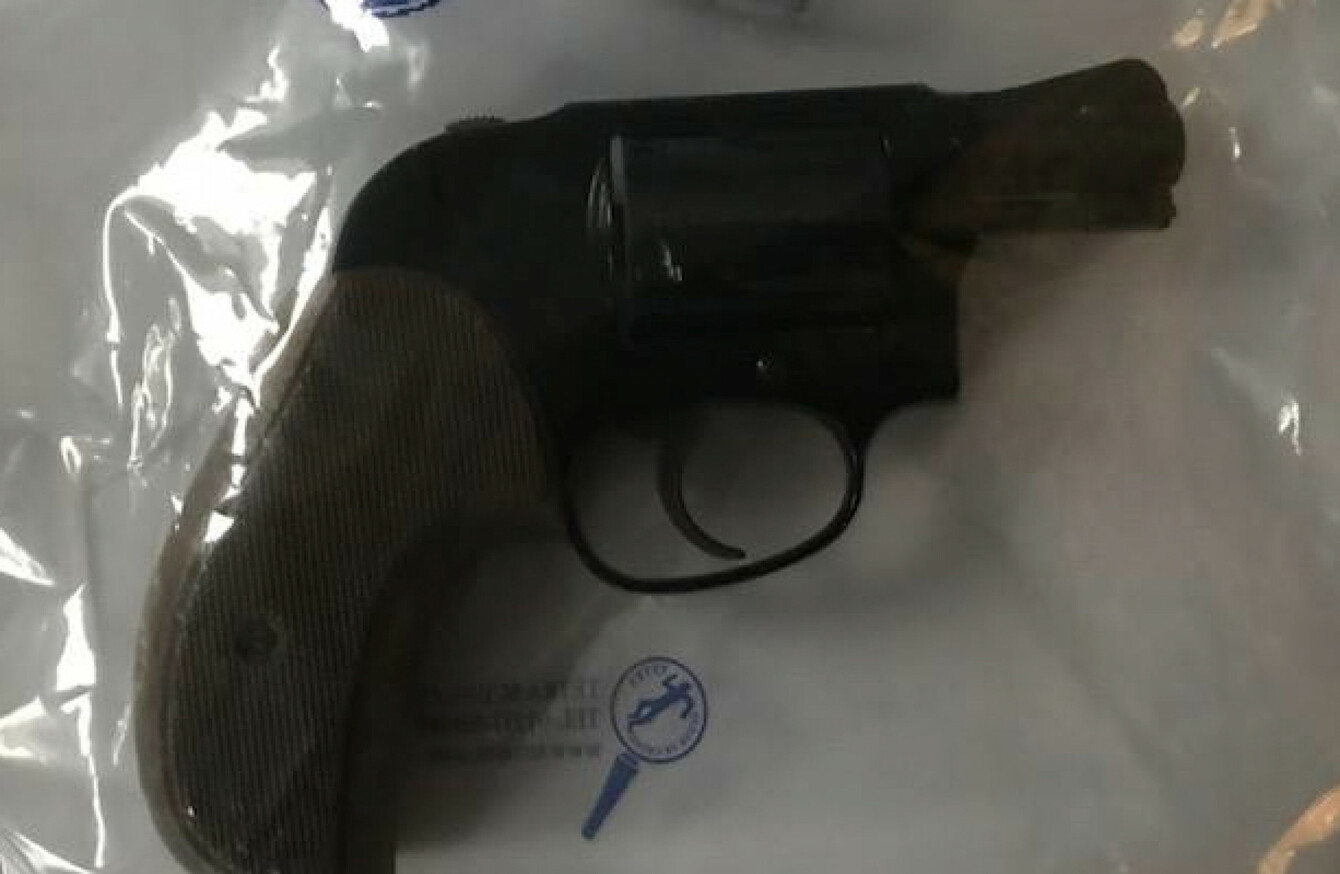 The type of gun rented out to criminals.
Image: Garda Press
The type of gun rented out to criminals.
Image: Garda Press
DRUG DEALERS ARE now renting guns in Dublin as a cheaper way to intimidate people in the capital, TheJournal.ie has learned.
Young men across the county – but especially in west Dublin – are now renting small, unloaded firearms for a period of time before returning them to their owners. 
There has been a sharp increase in the number of people using this service, according to security sources and local representatives. 
Many young drug dealers do not want to own a weapon as it heighteng the risk of their home being searched and the gun found. 
Instead, well-known firearm providers in Ballyfermot, Ronanstown and Clondalkin are allowing people to take the guns for a week for a fee of around €200. The weapon is then returned to the owner, cleaned, and ready to be used again.
According to well-placed sources, renting a gun makes more sense for very low-level drug dealers. 
In most cases, these weapons are used for intimidation purposes, particularly in debt collecting scenarios. 
Gardaí are aware of the practice but their focus is on stopping the guns coming into the country, as well as seizing the ones that are in use. 
Most of the firearms are transported along with drug shipments and are then brought to safehouses where they are cleaned before being moved to their destination.
The majority of the guns in Ireland's criminal scene are small firearms such as snub-nosed revolvers and other handguns.
Stand-off
Last week, TheJournal.ie attended the scene of an armed stand-off in Ronanstown, west Dublin, where convicted rapist Stephen Doherty had barricaded himself in his home with a gun. 
At the police cordon, a young mother told us that gun crime in the area was spiralling out of control. A week prior to the stand-off, a 30-year-old man was shot around 500 metres from where the latest incident occurred. The woman told us: 
They're selling them like sweets. All the young fellas want to have them. A few hundred bob. No problem. Animals.
In many cases, the guns for rent are either kept on wasteland or are hidden in areas where large scale dumping occurs.
Chair of Dublin City Council's Joint Policing Committee, Daithí De Róiste, said that he is concerned with the growing trend and has heard of it happening in his community in Ballyfermot. 
He has spoken with concerned locals who fear that the firearms are becoming too easily accessible.
He told TheJournal.ie: "I'm not saying this an epidemic or anything like that and I don't want to scaremonger but I also have to be realistic. This is happening. There's ways of getting guns very easily in Dublin – especially around certain areas that have a higher crime rate. 
"I've heard the going rate is €500 for a gun that actually shoots. I say this because I've heard from a number of people about lads going down and renting guns for less than that. The gardaí around my area are doing a brilliant job with what they have and they can only deal with what's in front of them.
"Renting the guns seems to be the new thing for the young lads who can't afford to buy one. It's obviously something that needs to be tackled."
In 2006, gardaí introduced a two-month amnesty for weapons. In that period over 220 guns were surrendered to gardaí.