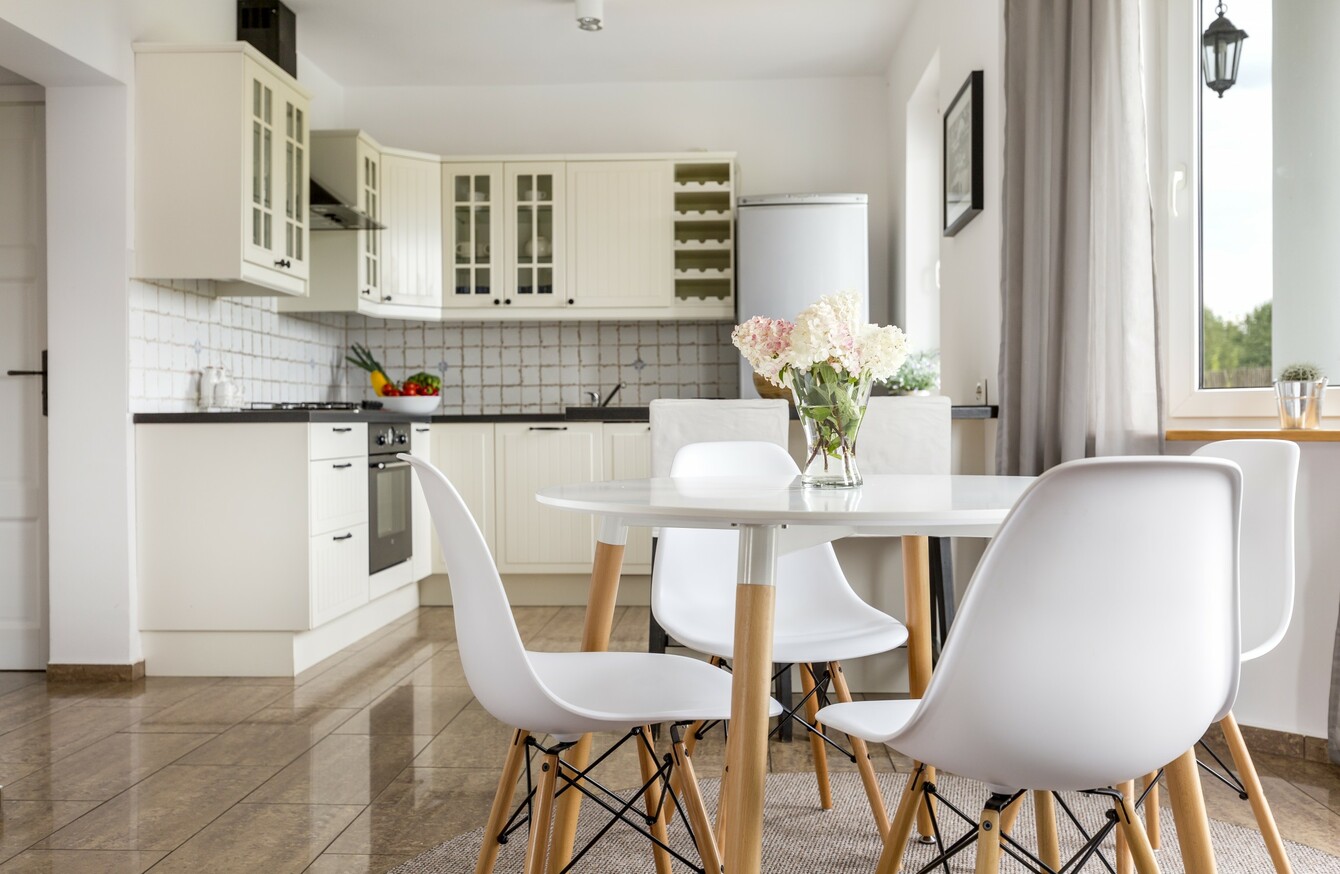 Image: Shutterstock/Photographee.eu
Image: Shutterstock/Photographee.eu
EVEN IF WE have the luxury of a separate dining room, let's face it, most people are more likely to congregate in the kitchen area to eat daily meals and host casual occasions.
From dinner parties or nights of homework, to family meals with messy toddlers, there's no denying the kitchen is one of the busiest rooms in the house. Durable and tough furniture is essential to make this room work for you. 
This week, we've searched the corners of Instagram for seating ideas that can withstand it all – and will feel right at home in the kitchen.
Monochrome moment: By adding contrast to a predominantly white room, @adventuresindecorating highlights the dining area with these sturdy, high-backed chairs.
Find similar chairs at Industry & Co.
A classic touch: We love the mix of bench and chair style seating in this space created by @catherinewilman.interiors. Wood is always a good choice when it comes to durable furniture that will stand the test of time. Going for a classic shape means the look won't date too quickly, either.
Check out Nisbets.ie for chairs like these.
Clean and clear: Ideal for a smaller area to create the illusion of more space, these contemporary, clear chairs will be a real talking point around the dinner table. @tthese_beautiful_thingss adds cosiness with soft furnishings to avoid a look that's too clinical or cold.
Find Victoria Ghost chairs at Avalon Design. 
Material world: If the space calls for it – and you don't have too many grubby mitts around – velvet is an elegant and cosy choice. Here, @est_living mixes rich blue with gold finishes to draw in the surrounding fixtures and light fittings.
Pick up similar blue and gold dining chairs at Buyitdirect.ie.
In the fold: @vorbildarchitecture allows for more space, if it's needed, by incorporating foldable chairs that could be stored beneath this large wooden dining table. Their smooth finish make them easy to wipe clean, too. 
Find similar pale blue chairs at IKEA.
Bistro chic: @sweetchaoshome goes for the French bistro look with this set of weaved chairs. Choosing cleverly shaped seats for a circular table means this space can accommodate up to six people with handy access to the kitchen.
These chairs from Finnish Design Shop share the same style.