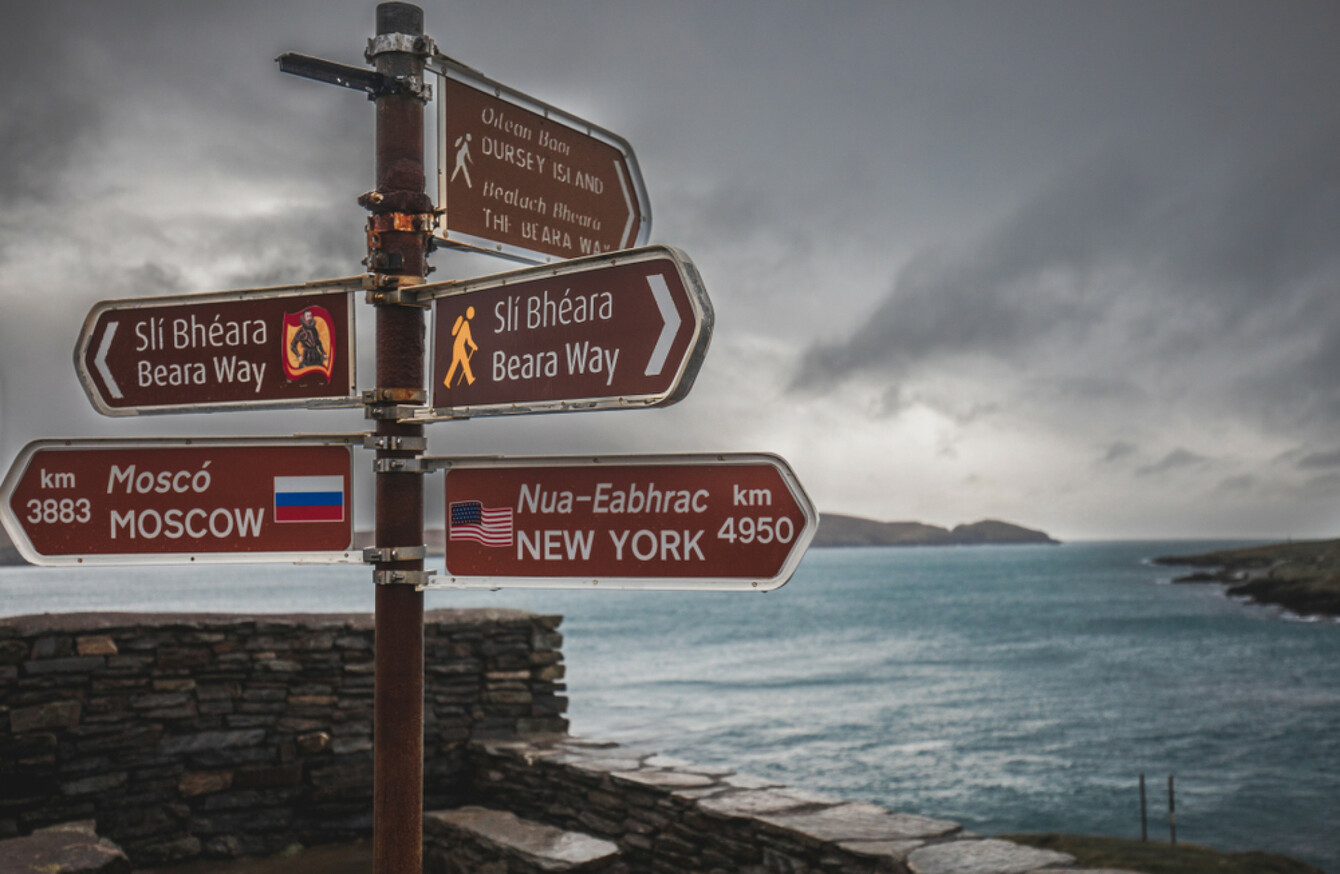 Image: Shutterstock/Fabiano's_Photo
Image: Shutterstock/Fabiano's_Photo
AT THE TIP of the Beara Peninsula on Dursey Island, Co Cork, is a signpost that would quite literally make you do a double take.
On either side of the post is a sign directing those along the Beara Way walking route, but it's what's beneath them that's highly unusual. 
To the left is a sign that states the distance to Moscow (3883km), while to the right is a sign that states the distance to New York (4950km).
Each sign features its country's flag, as well as its translation as Gaeilge – Moscó and Nua-Eabhrac.
A spokesperson from DurseyIsland.ie told TheJournal.ie that the signposts were erected by Beara Tourism "about 15 years ago" to highlight the Beara Way. 
"It's really popular and, as you can imagine, people take a lot of photos posing in front of it," they said.
Measuring just 6.6km long and 1.5km wide, Dursey Island is the most westerly of West Cork's inhabited islands – and one of the final sights of land seen by many of those who travelled to America by sea years ago.
"Dursey Island was the last bit of Irish soil visible to passengers travelling to the United States by boat including, of course, the Titanic," says Anne. 
"The story goes that islanders could hear the music being played on that ill-fated boat as it sailed past the island."
The island, which has a population of just six people according to Discover Ireland, is accessed via Ireland's only cable car from Ballaghboy.
There are no hotels, hostels, restaurants, bars or shops on the island but despite this, it remains a popular spot for tourists thanks to its natural beauty.