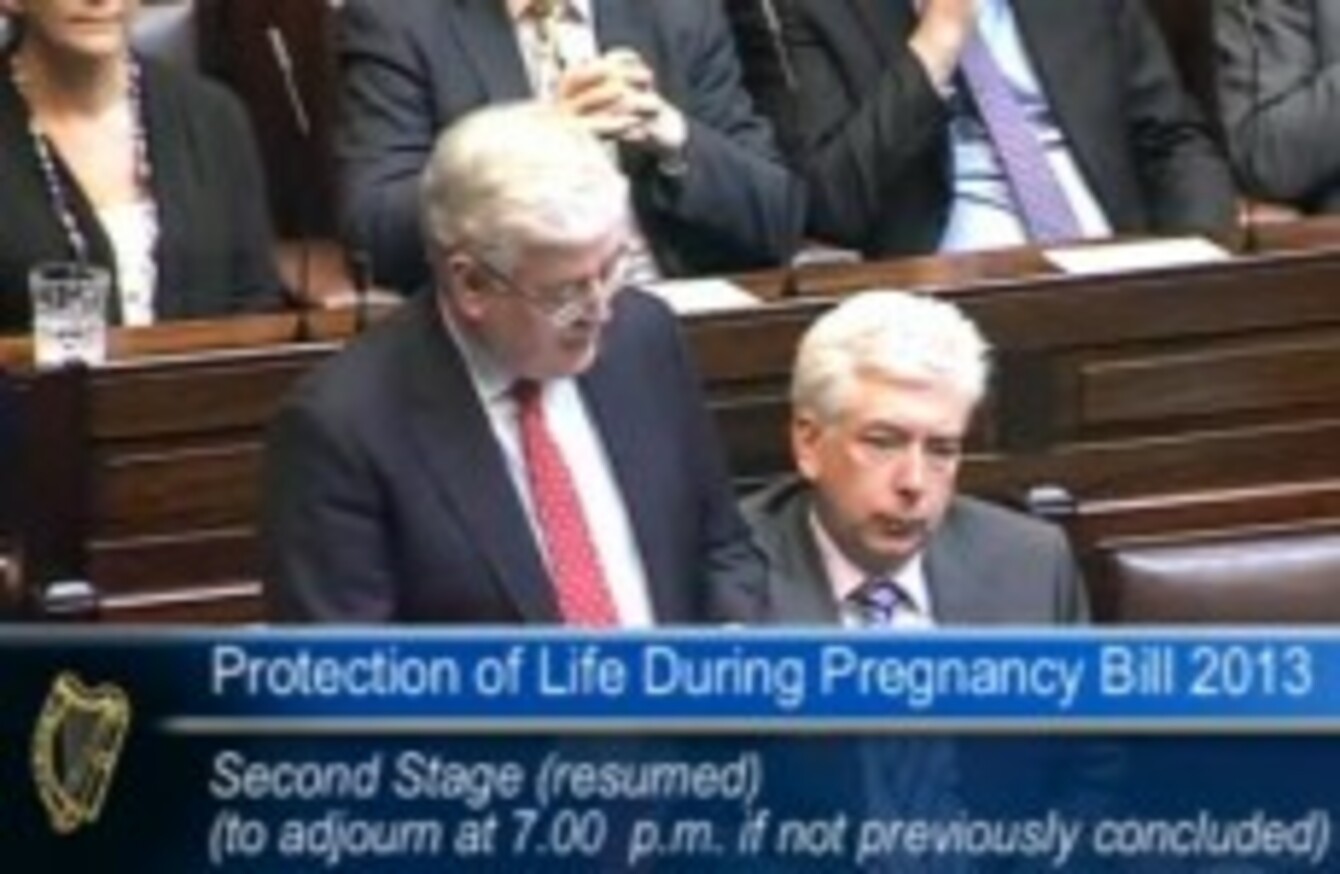 Tánaiste Eamon Gilmore speaking in the Dáil this afternoon
Image: Oireachtas
Tánaiste Eamon Gilmore speaking in the Dáil this afternoon
Image: Oireachtas
TÁNAISTE EAMON GILMORE has said that the proposed abortion legislation will "fall short" on hard cases – but that he and his Labour colleagues will be voting for it.
In an impassioned speech in the Dáil during today's eight hours of debate on the Protection of Life During Pregnancy Bill 2013, Gilmore spoke about how we live in a changed Ireland, and how this bill reflects that change.
The Labour leader also paid tribute to the elected representatives and activists who have been "denounced from the pulpit" in their own communities over the abortion issue, as well as saying that Taoiseach Enda Kenny had been subject to "vitriol".
Protecting women's lives
Gilmore told the Dáil:
We are aware… of the deeply held personal beliefs of many in Irish society, on both sides of this debate; differing beliefs that are reflected within my own party, as in other parties. What we should be very clear about, however, is that at its heart, the core purpose of the Bill is very simple. It is about protecting women's lives.
He said that every year 70,000 women give birth in Ireland, and that though for the vast majority the outcome is a welcome one, "women do not, today, know for certain, that if their pregnancy results in a life-threatening situation, they will be able to obtain all necessary medical care".
He said that the purpose of the bill is to give these women certainty "to which they are entitled, not just in law, but in all common decency", of knowing that if they become ill to the point where their life is at risk, their doctor will be able to save them.
He said the bill would not be a "vague assurance" and that it is "about trusting women when it comes to their own medical care, and providing for a very basic human right".
No amount of confusion, or scaremongering, or misinterpretation, changes that reality.
Gilmore went on to speak about the 1983 amendment that introduced a Constitutional ban on abortion, and the X Case and Miss C case that tested this ban.
Ireland as it was then
The Tánaiste said that some opponents of the bill "want to turn the clock back to 1983. To Ireland as it was then".
They want an Ireland where a woman's right to life is not self-evident, but to be parsed and weighed by lawyers. An Ireland that would risk the life of a suicidal 14-year-old rape victim, as though suicide was not fatal.
"But," he went on, "we are not that Ireland anymore".
#Open journalism No news is bad news Support The Journal

Your contributions will help us continue to deliver the stories that are important to you

Support us now
Gilmore said that the tragic death of Savita Halappanavar served to underline the urgent need for legislation "that should not have taken 21 years and six successive governments to introduce".
This country, and this Government, is not going back to the days when one Church determined the boundaries of women's lives. When one Church controlled the most intimate details of people's private lives. When one Church held sway over the kind of maternity care women could receive in our hospitals, with devastating results. Those days are over.
Perfect piece of legislation?
While saying he was proud that this government is enacting the bill, Gilmore declared that he does not believe it is a "perfect piece of legislation", and that he has no doubt that it will fall short in the face of hard cases.
It cannot offer a woman, facing the trauma of having to carry, for nine months, a baby that will never survive outside the womb, the compassion that she deserves. Nor can it offer compassion to a woman or a girl who is the victim of rape or incest, and pregnant against her will. But I, too, am a democrat. The people voted in 1983 to insert an equal right to life of a mother and her unborn child into our Constitution, and now, thirty years later, we giving effect to that right. Nothing more. But nothing less either.
Gilmore concluded by saying that "this is the right thing to do, for the women of our country" and he and his Labour colleagues will be voting for this bill tomorrow.