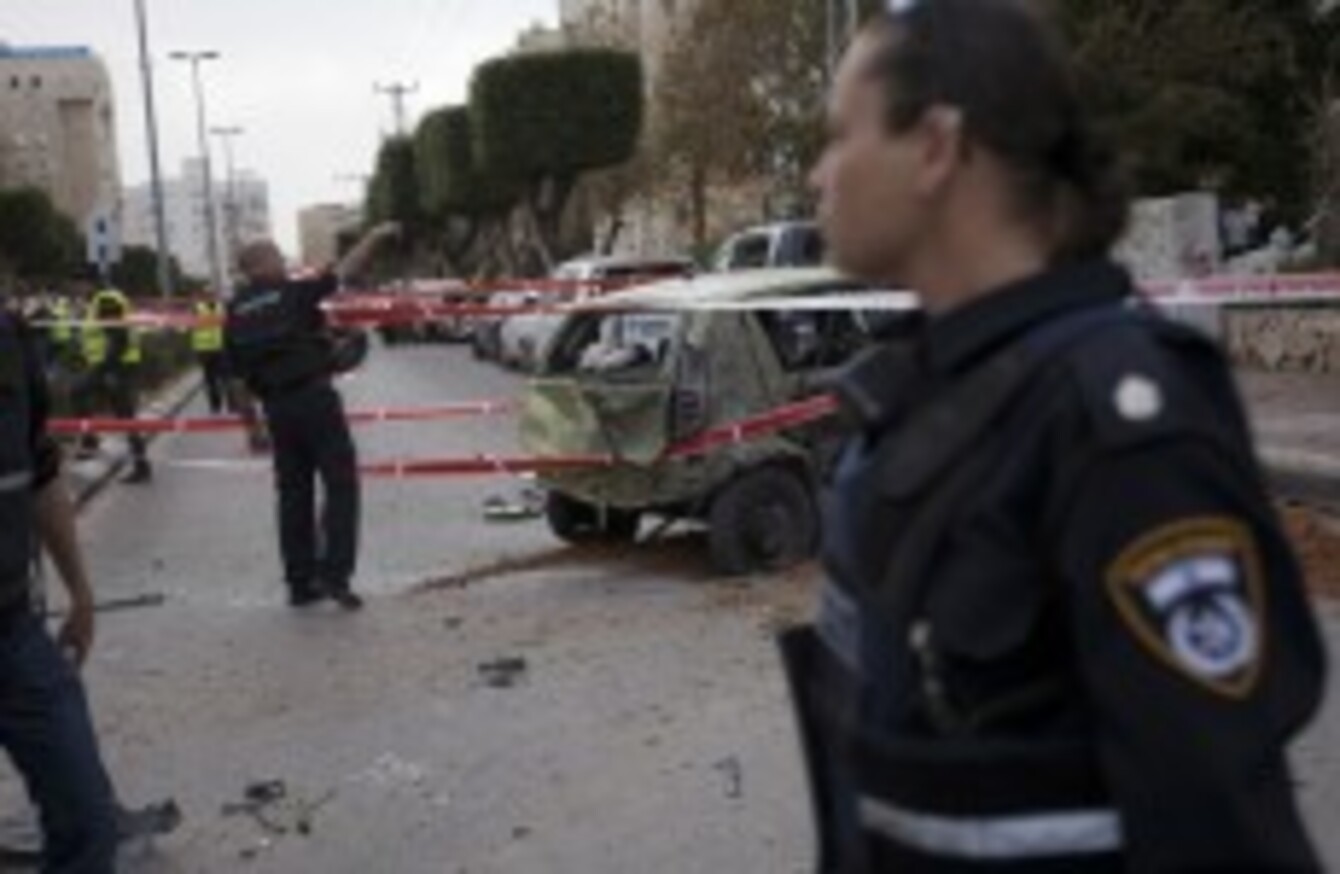 Israeli police officers after a rocket fired from the Gaza Strip hit the city of Ashdod in southern Israel earlier today
Image: AP Photo/Ariel Schalit
Israeli police officers after a rocket fired from the Gaza Strip hit the city of Ashdod in southern Israel earlier today
Image: AP Photo/Ariel Schalit
TÁNAISTE EAMON GILMORE has expressed concern over escalating tension in Gaza which has seen a large number of fatalities and injuries in the region in the past four days.
A total of twenty-one people, including eighteen militants, have been killed in Gaza since Friday in what has been the worst outbreak of violence the region has seen in months. The fighting was triggered by Israel's killing of a militant leader.
"I deplore the escalation of violence which we have witnessed in both Gaza and southern Israel since last Friday," the Tánaiste and Minister for Foreign Affairs said this evening.
"I have repeatedly made clear that I condemn extrajudicial killings of any kind as well as the disproportionate use of military force which results in large-scale civilian casualties".
The latest attacks occurred today when Israeli airstrikes killed three people in the Gaza Strip as Palestinian rockets continued to be fired at southern Israel.
The Minister for Foreign Affairs said he condemned both the indiscriminate firing of rockets from Gaza into Israel and the Israeli airstrikes:
Having recently visited the region, I know for myself that there remains no greater priority in the Middle East than ending the conflict between Israeli and Palestinian and promoting a comprehensive and just political settlement, based on the two-State solution. I therefore appeal on all sides to halt the violence and instead concentrate on the truly vital task of promoting the conditions in which substantive direct peace talks can resume and make real progress towards that peace agreement which is so urgently needed.