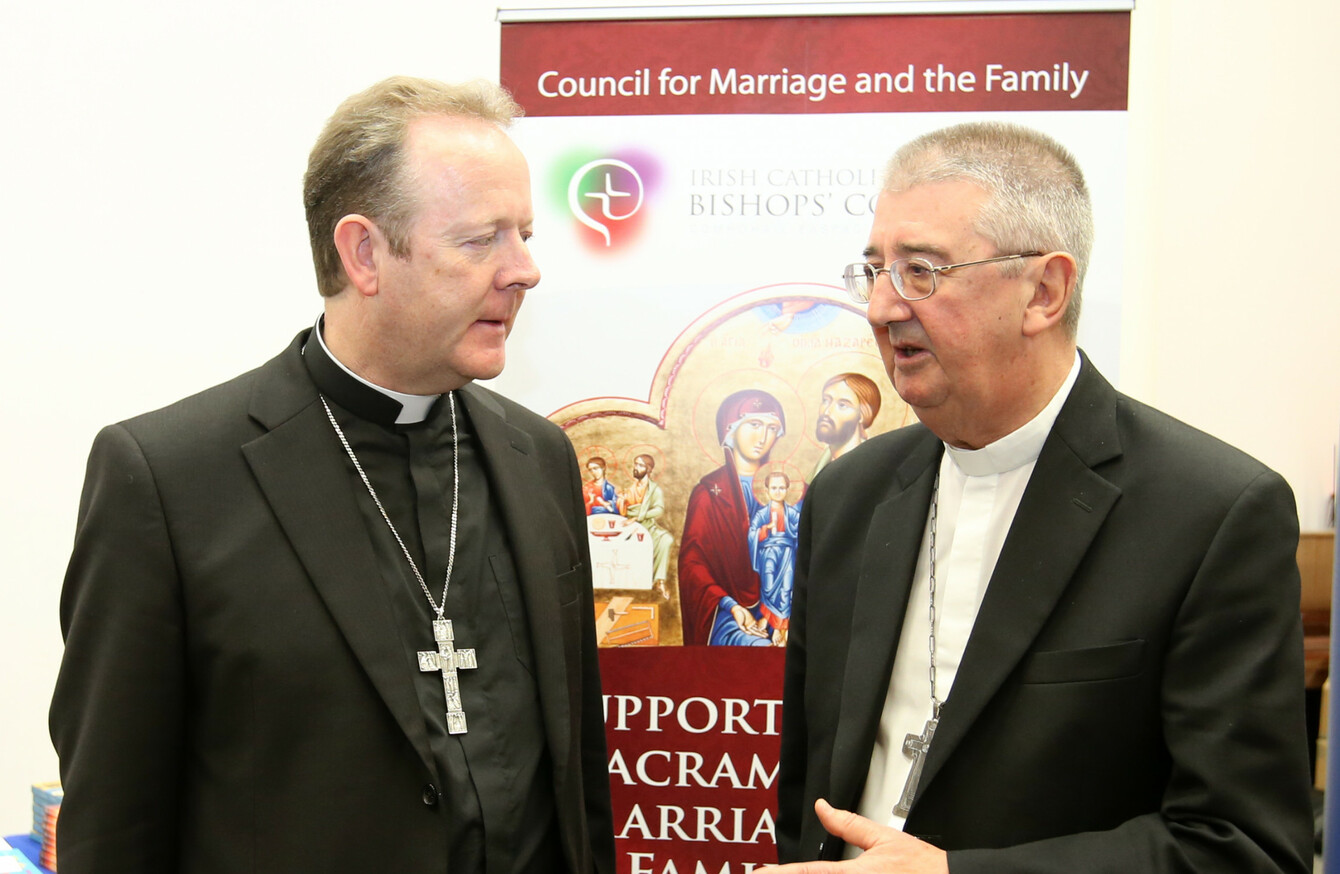 Archbishop Eamon Martin (left) and Archbishop Diarmuid Martin.
Image: Sam Boal/RollingNews.ie
Archbishop Eamon Martin (left) and Archbishop Diarmuid Martin.
Image: Sam Boal/RollingNews.ie
ARCHBISHOP EAMON MARTIN, the leader of the Catholic Church in Ireland, has said he is "very deeply saddened" by the outcome of the Eighth Amendment referendum.
Ireland on Friday voted by 66.4% to 33.6% to remove the amendment from the Constitution, which gives equal status to the mother and the unborn, paving the way for the legalisation of abortion in some circumstances.
Speaking to RTÉ Radio 1′s This Week, Martin said the decision has "obliterated the rights" of the unborn and will lead to the introduction of a "liberal" abortion regime.
The expected legislation would allow abortion without restriction up to 12 weeks of pregnancy and in very limited circumstance thereafter, such as when the mother's life is at risk, as outlined here.
Martin, the archbishop of Armagh, said he was not surprised by the outcome of the vote, noting that the Church must work to regain members who have "drifted away".
Martin said members of the clergy were "very actively involved" in "affirming and explaining the Church's teachings on the right to life of all people" in the lead up to the referendum.
He thanked the "courageous" people who made a "huge effort" in campaigning for a No vote, adding that the pro-life movement in Ireland is more important now than ever.
"I was really humbled in particular by the lay women and lay men, many of whom are parents themselves, who really became the voice of unborn children."
Pope Francis' visit 
Martin said that, while there is a "very committed minority of people who are deeply committed to their church", there is a larger group of people who "self-identify as Catholic but have perhaps drifted away from religious practice".
He said there is "a third group of people who have rejected the Church and are quite hostile to its teachings".
Martin noted that the Church's place in society has "changed dramatically" in recent years and said that the referendum outcome "affirms that Ireland is now conforming to western, liberal democracy".
When asked about the impact the referendum result may have on Pope Francis' visit to Ireland later this year, Martin said the pontiff is "well aware of the way that Ireland has changed".
#Open journalism No news is bad news Support The Journal

Your contributions will help us continue to deliver the stories that are important to you

Support us now
He noted that Francis previously expressed regret to the Catholic Archbishop of Dublin Diarmuid Martin that Ireland was "once such a vibrant missionary church" but "has changed so dramatically".
Martin said that the Catholic Church might be becoming a minority in Ireland, but that people are working to ensure its views don't become "irrelevant".