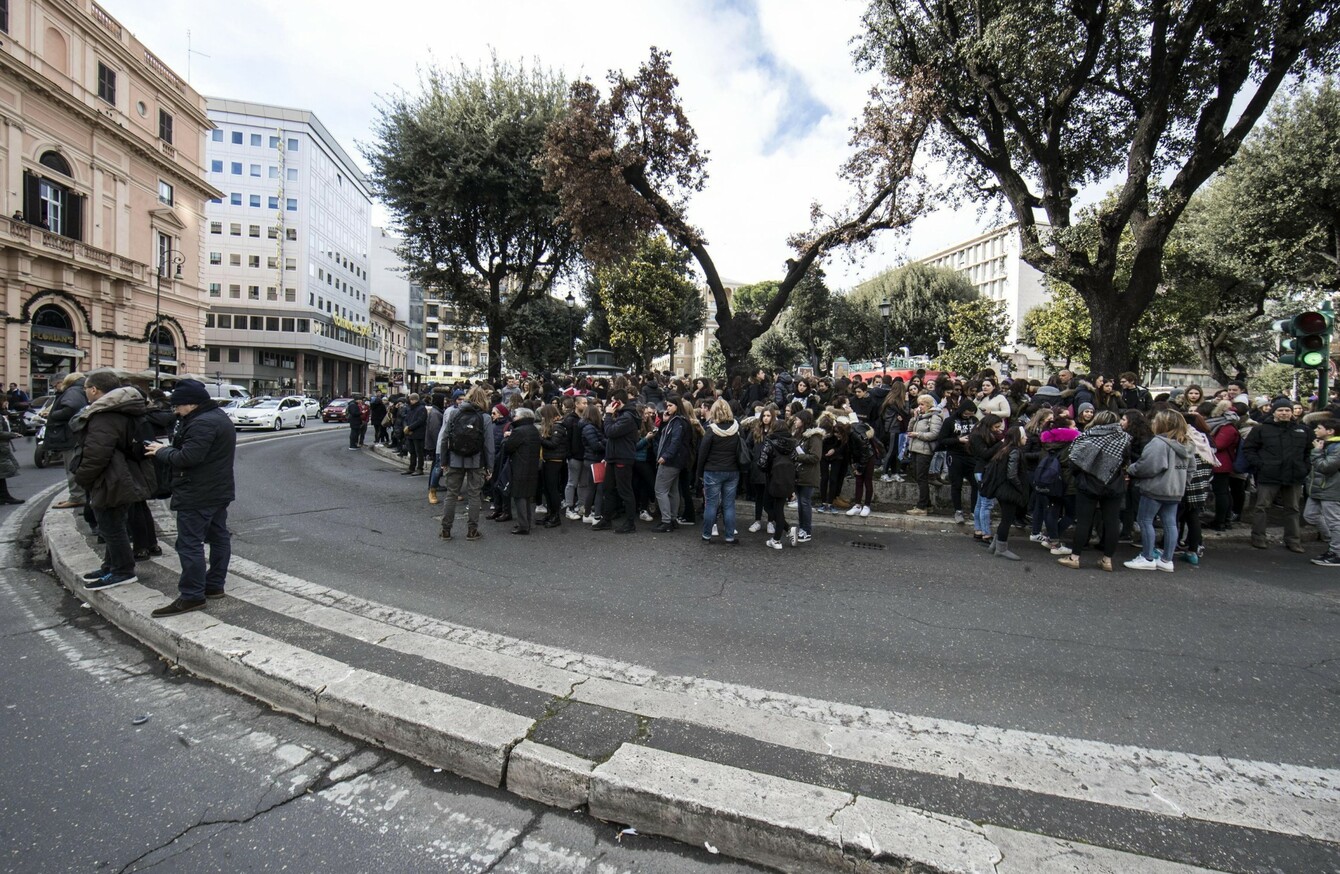 Students and teachers stand outside a highs chool after it was evacuated following three earthquakes which hit central Italy in the space of an hour
Image: AP
Students and teachers stand outside a highs chool after it was evacuated following three earthquakes which hit central Italy in the space of an hour
Image: AP
THREE STRONG EARTHQUAKES shook central Italy in the space of an hour today, striking the same region that suffered a series of deadly quakes last year.
The quakes also further isolated towns that have been buried under more than a metre of snow for days.
The country's Prime Minister Paolo Gentiloni said it appeared no one was killed, but that it was a "difficult day" for Italy.
The first tremor, with a preliminary magnitude of 5.3, hit Montereale at about 10.25am (9.25am Irish time), according to the US Geological Survey.
A second quake with a magnitude of 5.7 hit the same area about 50 minutes later, and 10 minutes later a third was measured at magnitude 5.3.
Isolation
Several towns and villages in the quake zone had already sounded the alarm in recent days that they were without electricity and were isolated from highways due to the unusually heavy snowfall that has blanketed much of central Italy.
The quakes only made matters worse, knocking out some mobile phone service, hampering emergency responses and sending quake-weary residents into panic.
"The situation is really getting extreme," said the mayor of Canzano, Franco Campitelli.
"It's snowing hard. We're without electricity. We hope the army gets here soon with snow plows or we risk being completely isolated," he told Sky TG24.
The quakes, which had their epicentres in the L'Aquila region, were felt as far away as Rome, 150 kilometres to the southwest.
In the Italian capital, the subway was closed as a precaution, parents were asked to pick up their children from some schools, and offices, banks and shops were evacuated temporarily.
But elsewhere in Rome at the Vatican, Pope Francis' general audience today went off without a hitch.
Mayor Maurizio Pelosi of Capitagno, near the epicentre of today's quakes, said even before the earth shook many roads into and out of the town were blocked due to the snow.
A hotel worker in town, Giuseppe Di Felice, told state-run RAI radio people couldn't get out of their homes.
"It's apocalyptic," he said.