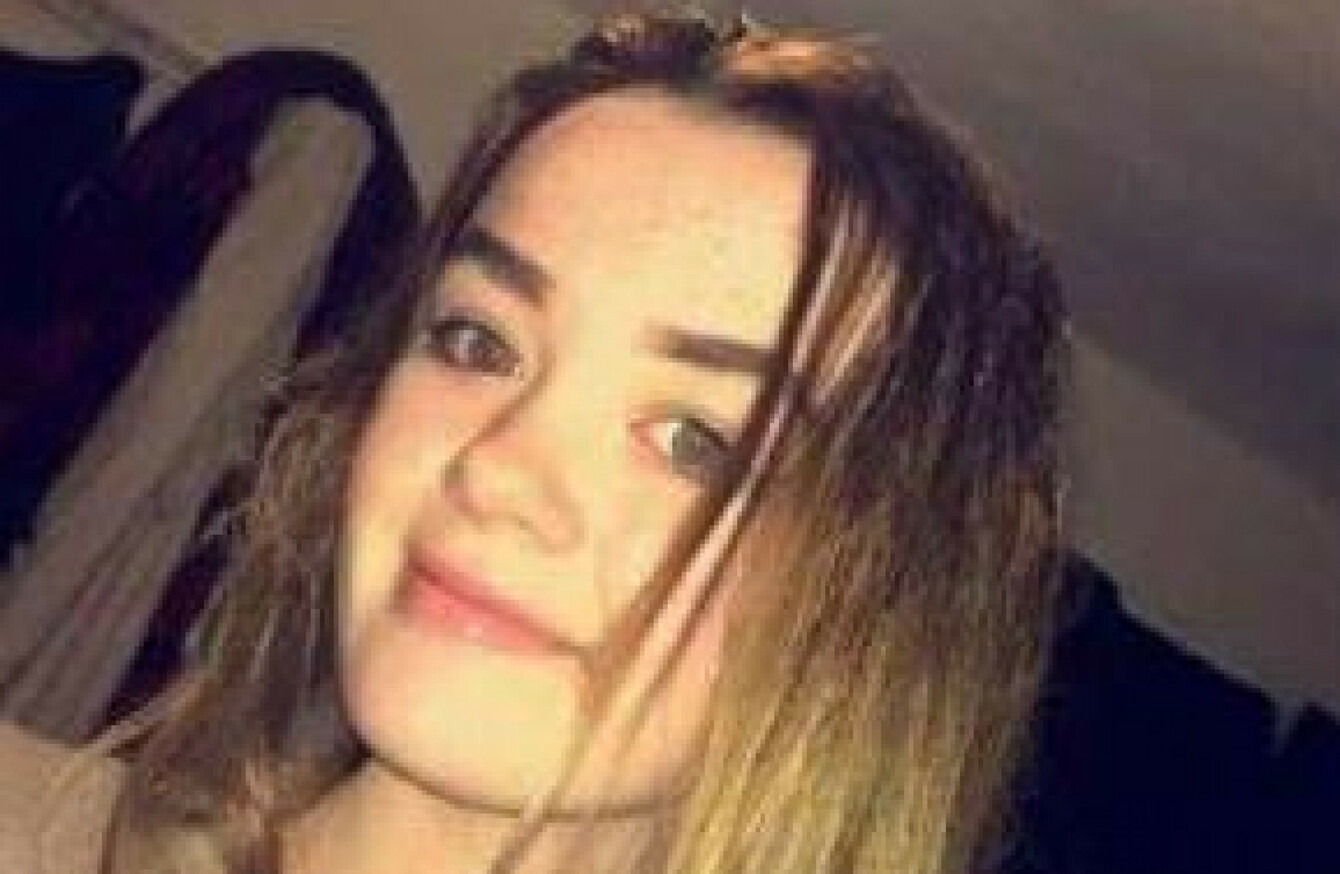 Image: Garda Press Office
Image: Garda Press Office
EXTENSIVE LAND AND water searches are continuing today in the Carrick-on-Suir area for a missing 14-year-old girl.
Elisha Gault has been missing from her home in the Co Tipperary town since Saturday night.
An initial public appeal was made on Sunday and her friends and family have issued numerous appeals.
Elisha is described as being:
5′ 10″ to 6′
With blue eyes and dyed blonde hair
She was last seen at her home at 10pm on Saturday.
Numerous search and rescue teams have joined gardaí in their efforts to find Elisha.
Civil Defence volunteers were deployed early on Sunday morning to Carrick-on-Suir for the search operation. Land search teams from Tipperary and Waterford Civil Defence, along with Cork South and West, Dublin and Galway also joined the search.
Today, the Civil Defence has deployed a canine unit, two boat crews and two ground crews to the Carrick-on-Suir area. Drone units from the Civil Defence HQ have been sent out to the area.
Nenagh search and rescue, the Coast Guard and Waterford Marine search and rescue are also helping in the search.
Fresh appeal
Speaking to local radio station Tipp FM this morning, Garda Superintendent Willie Leahy issued an appeal both directly to Elisha and to the general public.
First and foremost I am appealing to Elisha, that if she's listening to the programme or, indeed, if any of her friends are listening, she can make contact with ourselves at Clonmel Carrick-on-Suir Garda Station or a member of her family to let us know that she's ok.
"Then, I'm appealing to her circle of friends. We have visited a lot of her friends in the past number of days but in the social media age that we have with Instagram and Snapchat, in case we haven't gotten in contact with all her friends, I'm appealing for them to contact us," Leahy said.
Leahy also said that gardaí have been examining CCTV footage from the Carrick-on-Suir area.
He said gardaí are anxious for two young people, a male and female around Elisha's age, who were seen at Dillon Bridge yesterday morning just before 9am to make contact.
"We are anxious for them to contact Carrick-on-Suir Garda Station to speak to us in relation to who they were and what they were doing on Dillon Bridge," Leahy said.
"At the time those people were on the bridge yesterday morning a silver Nissan Qashqai travelled from the Carrickbeg area in towards the centre of town and we believe they would have seen that male and female on the side of the street," he said.
In their renewed appeal yesterday, gardaí said they were requesting:
That all householders, businesses and landowners in the Carrick-on-Suir area check their gardens, outhouses, sheds and buildings
That any associates or friends of Elisha Gault that have not yet spoken to gardaí make contact with Clonmel Garda Station to leave their details
That any private houses in the vicinity of Carrickbeg/Dillon Bridge check their CCTV and provide to gardaí at Clonmel/Carrick-on-Suir
Anyone with dash-cam footage from their vehicles who travelled through Carrick-on-Suir on the night of 17th/18th March to get in contact
Anyone with information can contact:
Clonmel Garda Station 052 617 7640
The Garda Confidential Line 1800 666 111
Or any garda station