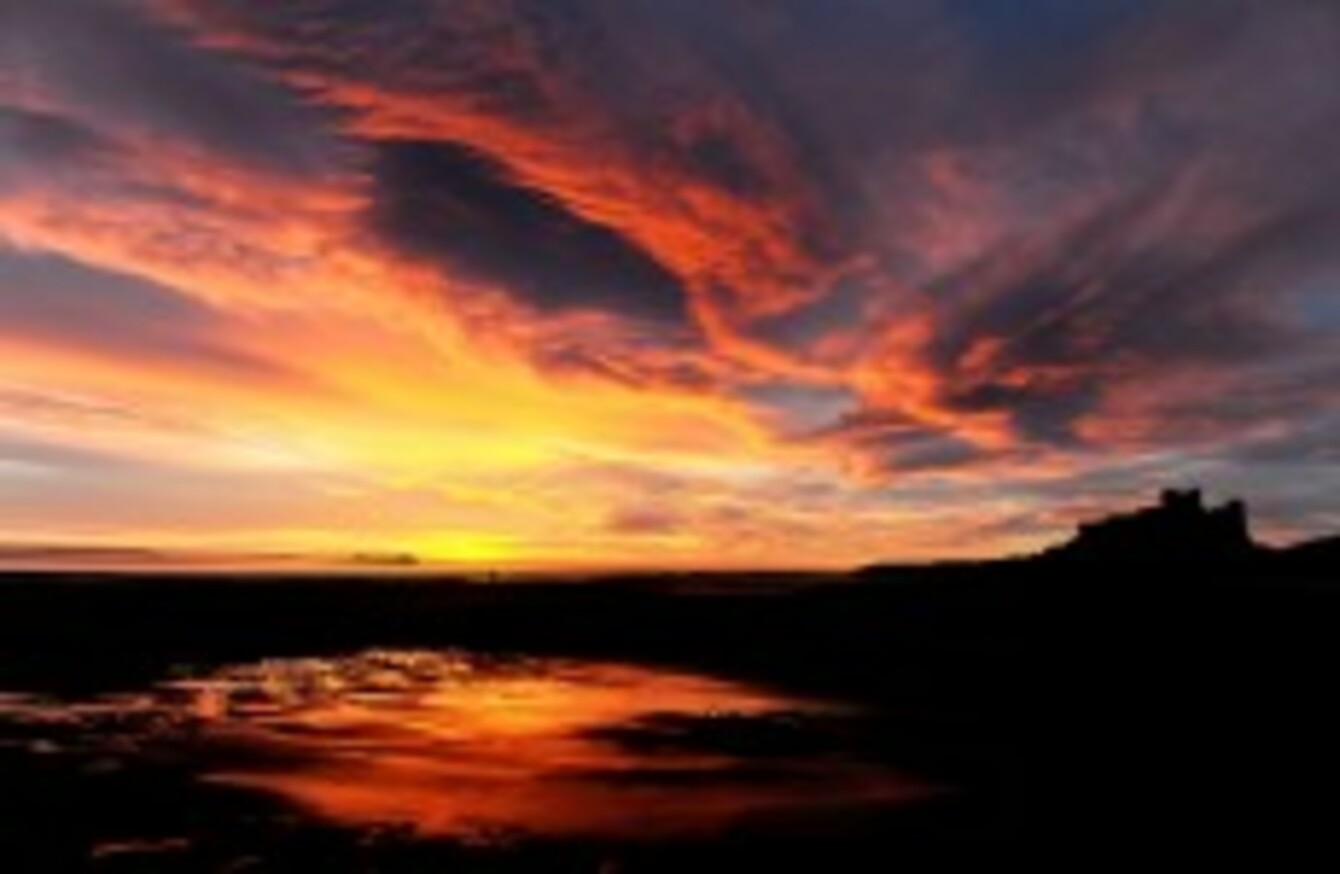 Red sky in the morning... There's more to getting the weather forecast right than relying on old shepherds' wisdom...
Image: Owen Humphreys/PA Wire
Red sky in the morning... There's more to getting the weather forecast right than relying on old shepherds' wisdom...
Image: Owen Humphreys/PA Wire
FORECASTING THE WEATHER is, as we know, a tricky business. Forecasting in Ireland serves a huge challenge most of the time.
Ireland being a small island, we are exposed to a dominant Atlantic Ocean with its low pressure systems that sometimes have a roaring jet stream way above in the atmosphere producing storms, and a warm gulf stream that keeps our climate temperate with little extremes in temperature most of the year. Our predominant winds are southwesterly and in this flow, we have mild and moist winds bringing in cloud and rainfall most of the time.
The accuracy of forecasts decrease significantly with time in Ireland. Over the years, I have used percentages to determine forecasts over the short range (up to 5 days ahead):
A forecast is 73 per cent accurate for 24 hours ahead of time
2 days ahead – 60 per cent accuracy
3 days – 35 per cent
4 days – 20 per cent
5 days – 10 per cent
When taking the above guide into consideration, we are generalising using the predominant south west flow bringing in cloudy mild weather with rain, drizzle or severe weather in the form of storm depressions, the timing of this rain and intensity among other variables that are forecast. This guide could serve well most of the time but now and again we may get a blocking high pressure system that dictates the weather and is an easy forecast to give.
A forecast to state fine and dry, mild/cold or cloudy and dry mild/cold depending on the time of year can be accurate right out to five days but we can only guestimate air temperatures still so not entirely accurate to forecast say three days' time for example. Our weather is usually mobile with wind and rain moving in off the Atlantic and so it becomes a challenge to forecast rainfall amounts, intensity and temperature with wind speed at stages within the short range period. So with the present day technology although improving, the forecasts for Ireland are more difficult to predict even within this short range.
We can categorise weather forecasting into 4 sections. They are:
Nowcast
Short range
Medium range
Long range
Nowcasting
From present to 12 hours is key for looking at extreme weather and is the most accurate of forecasting. We can forecast thunderstorms in this range and give a better indication of where their most likely to break out. We can predict heavy snow showers and where exactly these will mostly hit and disrupt travel. A storm depression – using the very latest model runs – can forewarn if winds speeds are likely to increase in a given area and if there will be heavy and flooding rains which could lead to flash flooding.
The Irish Weather Network excels in this area with some human input injected into the forecast and many of our members and personal weather sites on the mesomap around the country giving current and imminent reports of severe weather. Flash warnings are given within this timeframe.
The short-range forecast
From 12 hours to 120 hours (Five days). Short-range forecasts are used by the professionals in their bulletins. With the time they have on the TV, they cover the rest of today, overnight and a look at the next day depending on the time the forecast is issued. They will give you a brief graphic outlook for five days' time at the bulletin's end like Met Éireann do.
Once a week they do a weekly forecast which covers the five days in greater detail as more time is allowed then. As explained above, the accuracy in this timeframe will obviously decrease and this is why we hear or read, "this is too far away to be certain" during the bulletin.
The IWN do the forecasts covering the current day and the day ahead with a brief outlook as it is our understanding how quick the forecast can change, we would like to target our audience with as much accuracy as possible.
The medium-range forecast
This covers from six to 10 days. Most of the numerical weather predictions (NWP) or model go as far as 10 days out. It can be a useful tool for looking for trends way off beyond the reliable timeframe, and at a probable scenario downwind. However, the accuracy of a weather pattern coming to pass is unlikely for that given day but a set-up of sorts could possibly materialise but with a different weather component attached.
For instance, a dominating Atlantic front predicted for 12 days' time, throwing up stormy conditions and rain, could lead to a rainfall event but no stormy conditions if the low pressure comes nowhere near us. There could be a complete opposite of what had been predicted, the models can be that fickle.
In the met world, this is the key area for the super computers to grasp onto – who knows, in 30 years' time, the accuracy of this timeframe may be in the short range instead of the medium range. On the IWN, we use several models to agree and then we watch a potential event unfold but most of the time, each NWP model and the model run disagree and the guessing game continues. There is a slang amongst weather forum of calling this period FI or Fantasy Island. Whatever it says now, hardly ever happens – but sometimes it may just.
Long-range forecasts
Usually beyond 10 days but can go as far as 3 months or more away. Keeping with science, there are several methods used around the globe on long-range forecasting or LRF. Unfortunately some people have even set up phoney businesses to make a profit focusing on these LRF. Some close down quickly enough but on the IWN, we follow them closely to prove that they are inaccurate. (We have even rolled the dice on a LRF ourselves but, with all our experience, it was still inaccurate.)
Rainfall and temperature averages are used in these forecasts but most, if not all, are always wrong. Some of these forecasts can come close with one of these variables – but then the other is way off. As mentioned, it is near impossible to forecast for this island beyond five days most of the time. Beyond 10 days is just pure guesswork.
Some institutions around the globe, who are dedicated to their research and funded by governments, use past and current climate models to predict trends in the atmosphere with the El Nino and La Nina South Pacific Ocean effect. These still can't pinpoint down the effect these might have on small locations like Ireland. Likewise the Maunder Minimum, or low sunspot activity on the surface of our sun affecting our climate, warrants credibility but anything that is trying to predict accurately further ahead than three months or so has yet to be proven.
We firmly believe the technology is not there just yet and these types of forecast are used for publicity, sensationalised and should not be heeded as there is little science to back the theory up.
Karl Mehlhorn is a meteorologist who runs the Irish Weather Network. You can check them out on Facebook, follow them on Twitter and sign up for regular forecasts. The site has a live weather map of Ireland which is available here.
If you're interested in owning a weather station yourself, they've written this handy guide.