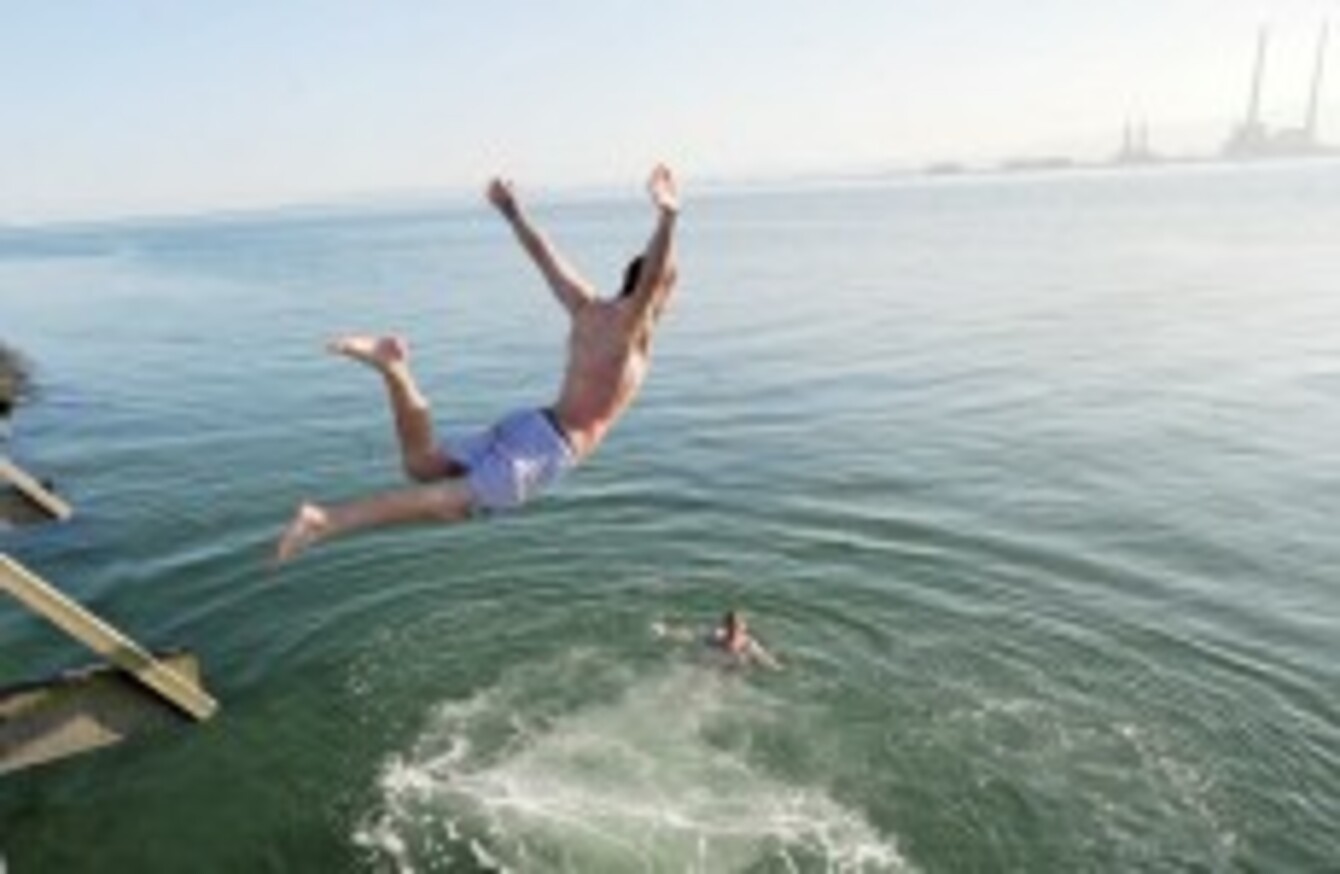 Jonny McKeown from Artane throws himself into the sea off Bull Island in Dublin yesterday
Image: Laura Hutton/Photocall Ireland
Jonny McKeown from Artane throws himself into the sea off Bull Island in Dublin yesterday
Image: Laura Hutton/Photocall Ireland
THE REASON WHY we have this dry, settled and warm weather in March is the question on some peoples minds. The answer is simple: it's perfect weather synoptics.
What this all means is that our island of Ireland is a dot in a vast ocean and too far off the European continent – so to get weather to be either extreme or unusual for any time of year, the setup has to be perfect. This is why we don't get too many heatwaves, too many severe cold spells, drought or severe thunderstorms as we are dominated by a nearby Atlantic. But every so often the weather can offer us some very pleasant weather or some very turbulent and extreme weather and to get these conditions, the weather synoptics have to be perfect.
For example December 2010, when we had the severe record breaking cold and heavy snowfall that saw the country and our infrastructure grind to a halt, was a perfect cold setup. Most of the time these miss us – even by just a couple of hundred miles, for example the Siberian cold spell in January/February 2012 which stayed in the UK and over most of Europe.
More common in Ireland are strong winds, and also heavy rainfall in a short space of time – like the record breaking rains in Dublin and other parts of the east in October 2011, which caused severe flooding.
So why the warm and settled spell now? It is all to do with high pressure and where the high pressure is situated relative to Ireland.
Clearer, drier air
March has been mostly dominated by high pressure. But at this time of year, if an Azores high pressure builds north towards Ireland, the winds which move clockwise around the high steer up mild moist winds. When these winds move over cooler waters around our shores, it condenses into an inversion layer which is a thin blanket of Stratus cloud a few hundred meters off the surface. With little wind to dislodge this cloud, the blanket is stubborn and remains day and night with little difference in temperature or diurnal range.
The change really came around St Patrick's Day, when we had a turbulent airmass – but clearer drier air now in the mix gave us a glimpse of the sun alongside heavy showers. This then moved away and high pressure started to build from the continent slowly and made its way north-west into the North Sea off the east coast of the UK.
This high pressure originating over Europe had drier air and with a continent slowly warming up now drew in a milder and drier airmass across Ireland from the south-east as shown below. Haze can appear also. Dust particles and some pollutants from the continent rise in the atmosphere and create a haze when the wind is south easterly; a more east wind will bring clearer air in across the country.

Image Courtesy of NASA MODIS Rapid Response Team

You can also see the Stratus forming off the west coast as the warm airmass meets cooler waters of the North Atlantic, which is similar to what we get when the winds originate from our south at this time of year as explained above.
With the current positioning of this blocking high pressure, the warmest temperatures will be felt across more western and northern parts of the country as long as the block is sustained in the current position which has been several days now. Each day that goes by, the days will gradually get warmer and warmer as the predominant wind is sourced from a continent which has been increasing in temperature. This will continue until the block is dislodged.
Unfortunately, the windward coasts of the east and south have seen lower temperatures due to the winds off a cool sea - but even here, the temperatures have been above the monthly average.
With this kind of drier airmass with little cloud about, there is no insulating blanket so all the heat escapes into space quickly - after all, it's still only March. The diurnal range in temperature (or the difference between the maximum temperature by day and the minimum temperature by night) can be 20°C or more with frost forming. This can be a gardener's worst nightmare with sunny warm days leading to a false sense of security as frost can burn delicate plants when temperatures dip quite low at night.
So the question on everyone's lips: is a glorious summer on the cards now? Wrong, this means absolutely nothing about a fine summer. Since September 2011 every month has seen temperatures been above average or even way above average so a warming trend is growing - but this still means nothing about a fine summer for 2012. We don't know what it will be like the week after next, let alone in three months' time. All we can do is enjoy what we have right now and wish for a good summer which is well overdue.
April 2011 was fine and warm, but all three summer months of 2011 were below average temperatures with a selected few days of fine and warm weather. We will keep you posted on the Irish Weather Network on how the months are shaping up.
Karl Mehlhorn is a meteorologist who runs the Irish Weather Network. You can check them out on Facebook, follow them on Twitter and sign up for regular forecasts. The site has a live weather map of Ireland which is available here.
If you're interested in owning a weather station yourself, they've written this handy guide.