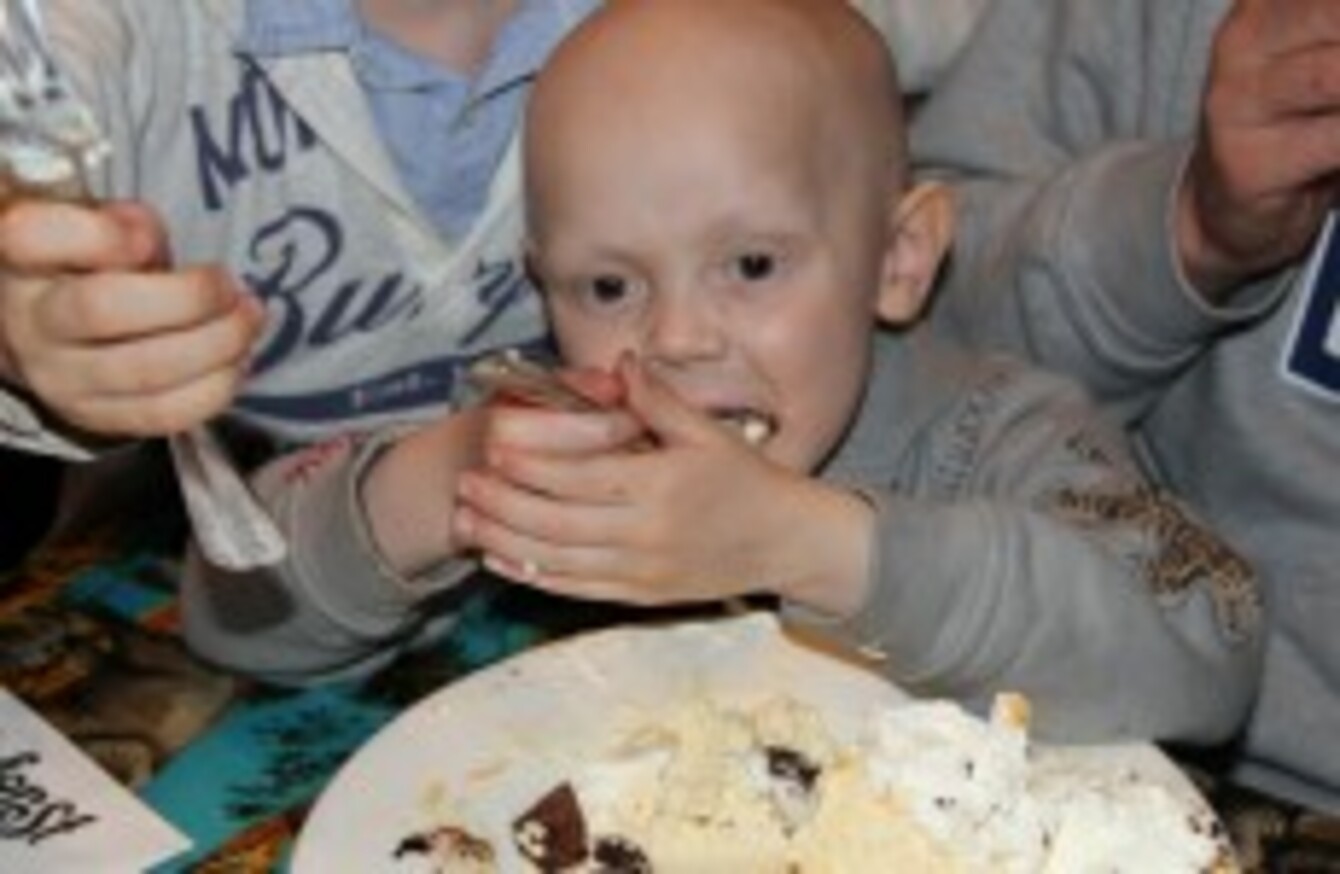 Mannix Kane, who was diagnosed with a rare form of cancer last year
Image: Kane family
Mannix Kane, who was diagnosed with a rare form of cancer last year
Image: Kane family
THE PREGNANT MOTHER of a four-year-old boy who was diagnosed with cancer says she will borrow €10,000 in order to have umbilical stem cells harvested which could potentially save his life.
Noleen Kane, whose son Mannix is in remission after being diagnosed with rare clear cell sarcoma last year, says that she was told when she was 20 weeks pregnant that the procedure could take place at Holles Street.
She engaged the services of  a private company to provide the necessary equipment and to take responsibility for storing the stem cells retrieved from the cord blood.
Kane says her son's consultant at Our Lady's Hospital in Crumlin supported her wishes to bank her unborn baby's stem cells because there was a high risk of Mannix relapsing. However, she says that three weeks ago she was told by Holles Street that she must contact the Irish Blood Transfusion Service with regard to the matter.
She is now having to consider having a private birth in Mount Carmel Hospital where the procedure can be carried out.
Mirenda O'Donovan, spokesperson for the IBTS has told TheJournal.ie that the service does not make decisions about when the procedure should take place. She said that when the Bone Marrow Transplant Team at Our Lady's Hospital in Crumlin makes a formal request for umbilical cord blood to be collected, the service puts the arrangements in place for a team at the relevant maternity unit to be trained in the procedure, and that the IBTS then takes on the responsibility of storing the stem cells.
With regard to Noleen Kane the IBTS said:
In this instance no such formal request was made to the IBTS.
Martina Keoghan, Noleen Kane's aunt told TheJournal.ie that the family cannot understand the confusion and that her niece is devastated. She said that engaging the services of a private company to store the stem cells in addition to paying for a private birth could cost in the region of €10,000, and that the family will borrow the money if necessary.
Noleen Kane, who is now 38 weeks pregnant, says she is at her wits end and that she has been "back and forth between Holles Street and Crumlin trying to get all of this sorted but to no avail":
To think that my little boy who has fought so hard to stay alive throughout all of his treatment may one day need these stem cells and this opportunity to bank the cells will just be thrown away.
Holles Street has not returned a request for a comment on the matter this afternoon, while the HSE told TheJournal.ie that it was a policy matter for the Department of Health to comment on. A spokesperson for the Department of Health has told TheJournal.ie that it is being looked into.
In its Directory of Service Holles Street states that there is "insufficient scientific research to support the practice of taking routine cord blood for stem cell retrieval considering the implications involved in undertaking the actual procedure".
It states that it, along with the Coombe Women's Hospital and the Rotunda Hospital, does not support requests from the patients to take cord blood for stem retrieval unless it has been requested by the Irish Blood Transfusion Service for a particular medical condition.