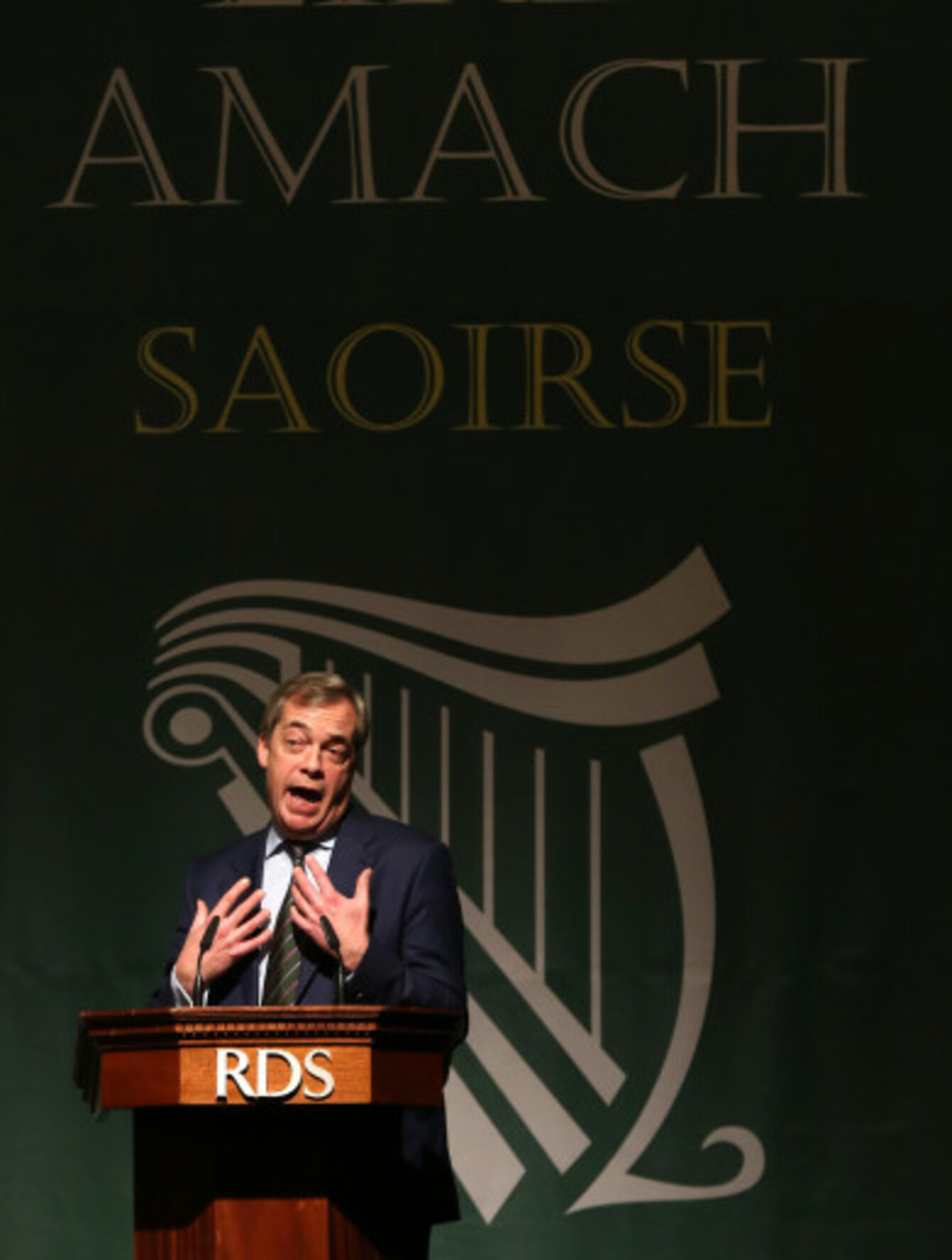 Farage speaking in the RDS today.
Image: Sam Boal
Farage speaking in the RDS today.
Image: Sam Boal
BRITISH MEP NIGEL Farage is in Dublin today advocating for Ireland to leave the European Union in an 'Irexit' conference at the RDS.
Farage is speaking at the 'Irexit: Freedom to Prosper' conference along with a number of other Irish commentators including Cormac Lucey and John Waters.
Speaking on RTÉ's Marian Finucane show ahead of his appearance at the Irexit conference, Farage said that Ireland has "paid a very big price" for its membership of the EU.
Farage linked Ireland's membership of the Euro currency to the credit-fuelled housing bubble and said that Ireland's economic development was not thanks to EU membership.
"When I was doing business here and I'm talking late 80s, early 90s here. I wasn't doing business in Dublin because you were part of the European Union," Farage said.
I was doing business in Dublin because several of my friends moved their business here. Why? Competitive corporation tax, good education system, a shared language with London. There were lots and lots of reasons actually that Ireland massively improved its economic performance over those years.
"Objectively, Ireland's economy improved at the same time as it was a member of the EU, I don't think the EU had much to do with it," Farage said.
#Open journalism No news is bad news Support The Journal

Your contributions will help us continue to deliver the stories that are important to you

Support us now
The former Ukip leader also claimed that the leaders of the European Union want to  abolish individual nation states.
"Mr Juncker, Mr Tusk, all the bosses and the vast majority of the European parliament. When Juncker stood up a few weeks ago to give his state of the union speech, to say basically by 2025 this is it, a United States of Europe, it received overwhelming, huge standing ovations from most of the members," Farage said.
The Irexit conference is being organised by the Eurosceptic European Parliament grouping the EFD, which does not have any Irish MEPs.