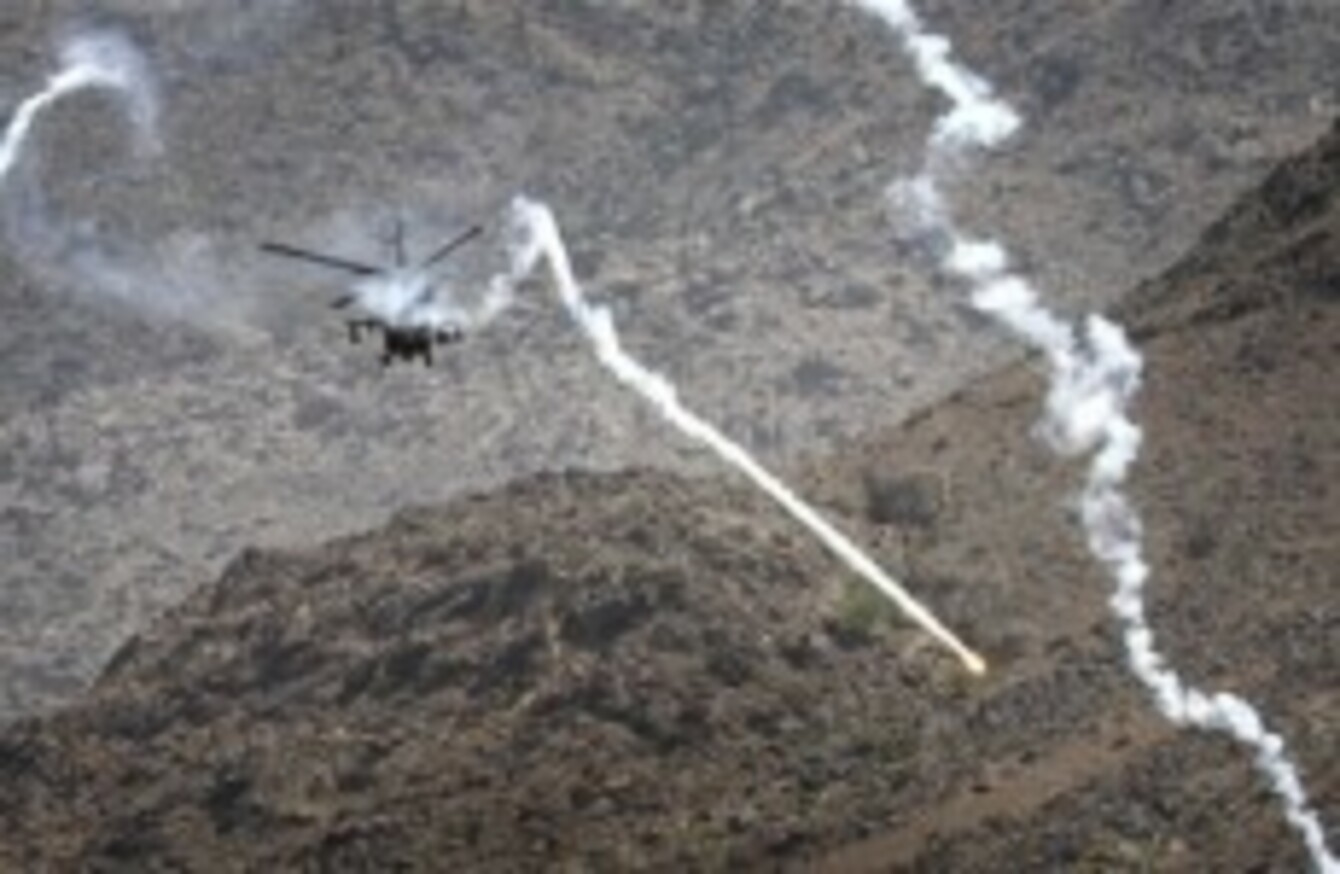 A coalition helicopter fires flares around a building, unseen, believed occupied by Taliban fighters in Kuz Kunar, Nangarhar province east of Kabul, Afghanistan, on Sunday 17 July
Image: AP Photo/Rahmat Gul
A coalition helicopter fires flares around a building, unseen, believed occupied by Taliban fighters in Kuz Kunar, Nangarhar province east of Kabul, Afghanistan, on Sunday 17 July
Image: AP Photo/Rahmat Gul
INTERNATIONAL AND AFGHAN troops battled heavily armed insurgents holed up in caves and bunkers that served as a way station for foreign fighters crossing into the country from Pakistan, the U.S.-led coalition said today.
The two days of fighting killed more than 50 of the militants, it said.
The foreign fighter encampment is located in a rugged, mountainous part eastern Afghanistan's Paktika province. Insurgents from the Haqqani network, which is affiliated with the Taliban and al-Qaida, used the camp as a staging area for fighters brought over the border to carry out attacks across the country, the coalition said.
International forces and Afghan troops, including Afghan special forces, battled insurgents armed with rocket-propelled grenade launchers, heavy machine guns and AK-47 assault rifles.
The joint force recovered stockpiles of weapons, including mortars, RPGs, machine guns, crates of ammunition, AK-47s, grenades and other military gear, the coalition said.
Paktika province, along the eastern border with Pakistan, is a known haven for the Afghan and Pakistani wings of the Taliban, and al-Qaida affiliates.
In the north, a vehicle carrying the deputy governor of Kunduz province struck a roadside bomb Friday in Khan Abad district, injuring three of his bodyguards, said Sarwar Houssaini, a spokesman for the provincial police.
Insurgents have targeted several government officials recently in Kunduz and surrounding provinces.
Last month, the police chief in Kunduz escaped unharmed when a suicide bomber blew himself up outside a mosque.
In May, a suicide bomber infiltrated a high-level meeting in neighboring Takhar province and killed northern Afghanistan's top police commander, Gen. Mohammed Daoud, provincial police chief Shah Jehan Noori and two German soldiers. The German NATO commander in northern Afghanistan, Maj. Gen. Markus Kneip, was wounded.
In October 2010, a suicide bomber killed Kunduz Governor Mohammad Omar and 15 others at a mosque in Takhar.
- AP