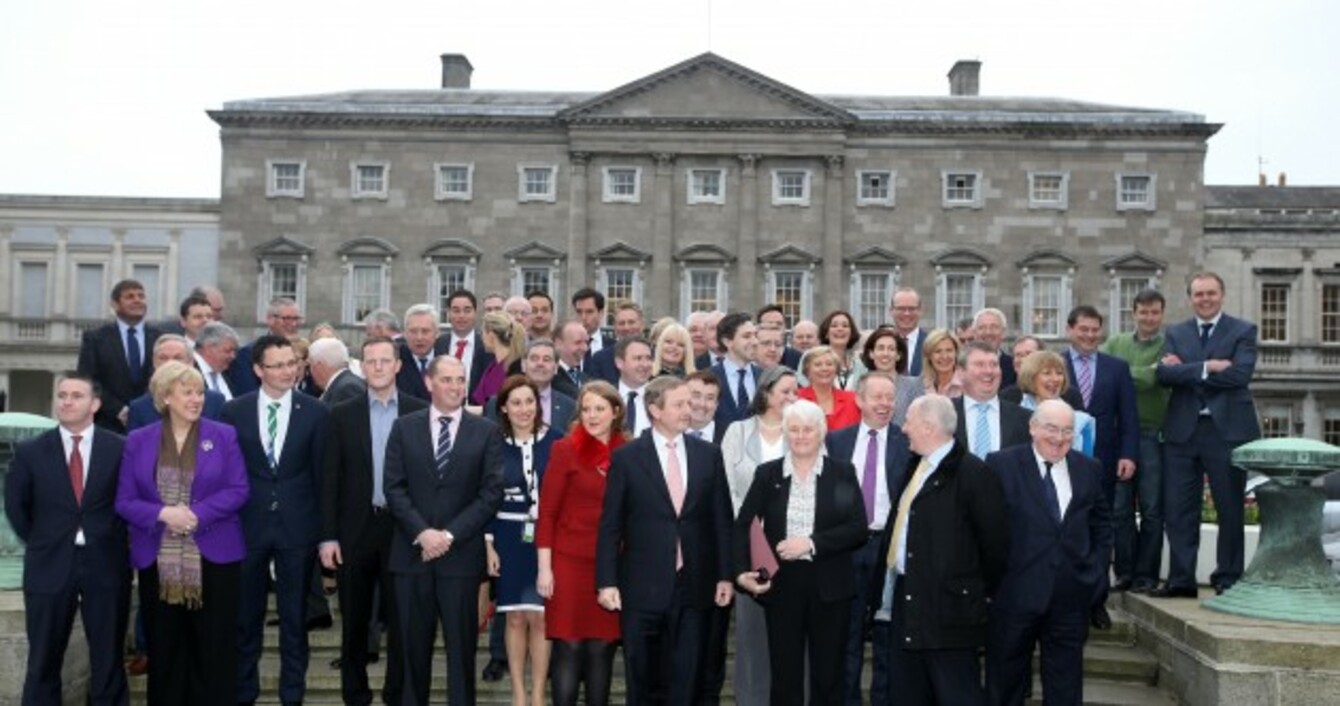 CELEBRITY OPERATION TRANSFORMATION has kicked off, making everyone up and down the country think twice about their diet.
One of the main obstacles to keeping healthy is having temptations so easily accessible, particularly at work.
Politicians might also be able to relate to this. The days can be long and hectic, with little time to plan out meals. So, what do deputies in Leinster House eat?
TDs have a couple of options of where to dine while at work in the Dáil.
The first is the exclusive, airy and formal setting of the private members dining room. This restaurant is for TDs and their guests only.
Guests can only dine here by invitation of a deputy. A few famous faces, like actor Chris O'Dowd, have passed the threshold.
What can you expect?
Table service, white tablecloths, candles, silver cutlery, fancy menus (with the Oireachtas harp printed on them) and food being served on special Houses of the Oireachtas china.
What's on the menu?
On Wednesday of this week, members of the Dáil could choose from starters such as, leek and potato soup €2.50, flaked Cashel blue cheesecake with pickled pear €4.95 and baby spinach and orange salad with rapeseed oil €4.95.
This could be followed by a choice of mains, such as:
Roast sirloin of beef with red wine jus €8.95
Baked salmon, preserved lemon and roasted red peppers €7.95
Chicken and mushroom vol au vent €7.95
Vegetable and bean chilli with rice €7.95
Desserts on offer that day, include:
Lemon pie with fresh cream and fruit coulis €4.25
Warm apple crumble with custard €4.25
Despite the nice offerings, few TDs actually eat there. The members' restaurant is generally used for entertaining.
Many choose to dine outside Leinster House, while many grab breakfast, lunch or dinner in the self-service cafeteria. This is located just down the corridor from the private members' restaurant (they share the same kitchen).
This area is where the life is, with politicians, civil servants, gardaí, ushers and journalists all fuelling up for the day.
The canteen opens for breakfast on sitting days at 8.30am and 9.30am on non-sitting days.
Much of the same food in the formal restaurant is on offer in the canteen, however, on Wednesday there were additional choices at lunchtime, such as seafood fettuccine with Parmesan.
The menu can change for dinner service. In the mornings, there is everything on offer – sausages, pudding, eggs and sausages. A full Irish is up for grabs for less than €4.
It doesn't sound like this would be great for the arteries. Perhaps this is one of the reasons why the idea was floated to bring calorie counts to Leinster House in 2013.
The then, Minister for Health, Dr James Reilly, presented research to the Oireachtas Joint Sub Committee on Administration outlining the health benefits of calorie counts.
A spokesperson from the Houses of the Oireachtas told TheJournal.ie at the time that the initiative would be implemented over the coming months in the three catering outlets in the Leinster House complex – its self-service restaurant, private members' restaurant and coffee dock.
It was welcomed by some, such as Fine Gael's Jerry Buttimer, who said public representatives should "lead by example".
However, calorie counts were not implemented.
The canteen does display a "Healthy Option" notice on meals that are known to be the wiser choice.
There is also a notice board highlighting the healthy options available, like porridge, prunes and fruit salads, which have the calories listed next to them.
There are also vitamin-packed juices and this week, small protein-power balls were available.
It is worth noting there is a large salad bar in the self-service area, which has a wide array of salads, chicken skewers, cold cuts of ham, roast beef and chicken (as well as the odd sausage roll).
However, only a foot away from the salad bar is the dessert stand, which has nearly every cake you can think of. (On Wednesday there was a massive bowl of fruit salad next to a carrot cake.)
Other options for the workers in Leinster House include the coffee dock in the modern LH2000 building. This is only for coffees, snacks and pastries. (Interesting side note: the coffee machine plays a Mozart song as it makes your coffee).
There is also the Dáil bar. There are actually two bars in Leinster House. Like the restaurant, there is a private members bar. This is for TDs only. The guest bar mirrors the members bar, and tabs are often run up, as is widely reported every year.
Food is available in the bar. The soup of the day costs a mere €2.50, while a toasted BLT costs €6.50. A homemade 8oz beef burger with chips will set you back €8.00.
If you feel like a drink while you're there, a pint of Guinness in the Dáil bar will cost you €4.40, as will a pint of Smithwicks. Long necks like Budweiser and Miller will set you back €5.00, while a measure of gin, rum or vodka costs €4.50.
The cheapest bottle of red and white wine costs €20, while the Chateauneneuf-du-Pape Domaine Duclaux costs €50.
So, are there any plans for any ministers to get on board with Operation Transformation this year? It wouldn't be the first.
A statement on behalf of the Minister of State for Health Promotion Marcella Corcoran Kennedy to TheJournal.ie stated:
The minister is not taking part in the RTE Operation Transformation programme but is a keen supporter of the Programme's aims to get people to pro-actively look after their health, to have a well balanced diet and to take part in physical activity.
On a general note, it is important that people use the choices available to have well balanced and nutritious meals including fruit and vegetables.