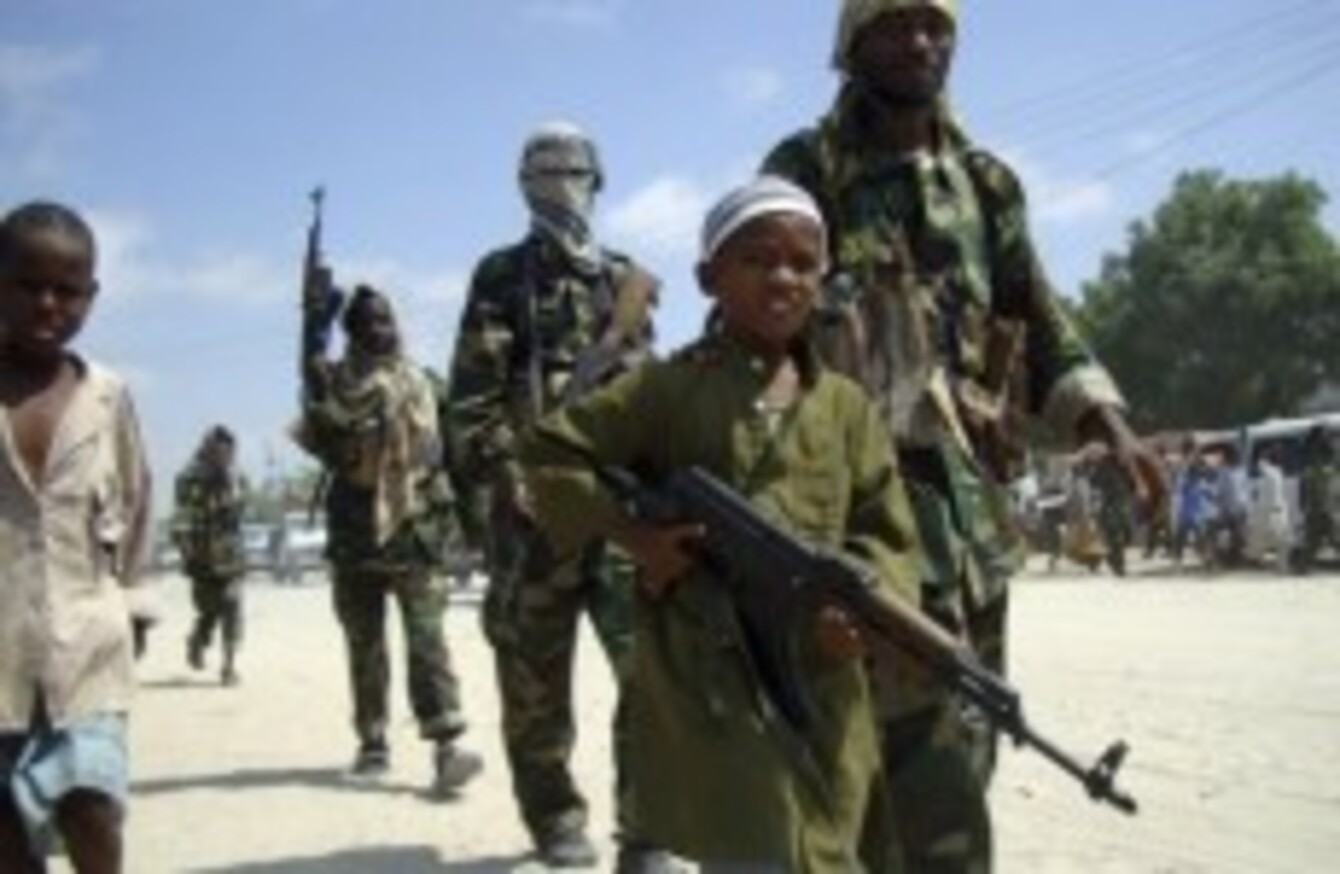 Jan 2010: A young boy leads a group of al-Shabab fighters in Mogadishu's Suqaholaha neighbourhood.
Image: AP Photo/ Farah Abdi Warsameh/PA Images
Jan 2010: A young boy leads a group of al-Shabab fighters in Mogadishu's Suqaholaha neighbourhood.
Image: AP Photo/ Farah Abdi Warsameh/PA Images
HUMAN RIGHTS WATCH has released a new report on child soldiers in Somalia which heavily criticises both the transitional government and militant fighters for failing to protect the rights of children during the ongoing conflict.
Somalia has been without an effective central government since 1991, and the militant Islamic group al-Shabab has attacked and threatened foreign humanitarian workers operating in Somalia. African Union soldiers have joined efforts to fight the militant group, which has been blamed for recent attacks in neighbouring Kenya.
"For children in Somalia, nowhere is safe," said Zama Coursen-Neff, deputy children's rights director at Human Rights Watch. "Al-Shabab rebels have abducted children from their homes and schools to fight, for rape, and for forced marriage."
Coursen-Neff said that the militant group has stepped up the abduction of children in the last two years. Some of these children, aged as young as ten, are sent to the front lines as fighters and as human shields to protect al-Shabaab fighters.
HRW also says that al-Shabab has forcibly imposed a harsh interpretation of Islam on the school curriculum in areas under their control and has banned English, science and other subjects. Teachers who resisted have been killed and many children have dropped out. The militants have also deployed fighters and weapons in schools, the report says.
This man told HRW that militants had combed his school for children to take with them. They threatened the teachers not to question their actions, he said. In the below video, he says that many of the children taken from his camp by al-Shabab died:

(Video via HumanRightsWatch)
The 104-page HRW report details the unlawful recruitment of child soldiers and other violations of the laws of war regarding children by all parties to the ongoing conflict since 2010. The group is calling on Somalia's transitional government, African Union forces and al-Shabab to release any children who are in their armed forces and to protect children who were formerly associated with the fighting forces.
Late last year, the president, defence minister, and prime minister of the troubled state's Transitional Federal Government (TFG) committed to ending the recruitment and use of children in its armed forces, according to the United Nations.
The UN's special representative of the Secretary-General for children and armed conflict Radhika Coomaraswamy said that completion of the action plan agreed between the government and the UN would ensure that the government's forces were child-free. It would also allow the UN to remove the TFG from a "'list of shame' of parties that commit grave violations against children", she added.
However, HRW says that the TFG has not held anyone to account for this abuse of children, and it has detained children who were perceived to be supporters of al-Shabab instead of protecting them in accordance with international standards. HRW also says that the TFG and militias associated with it continue to use child soldiers in their ranks.