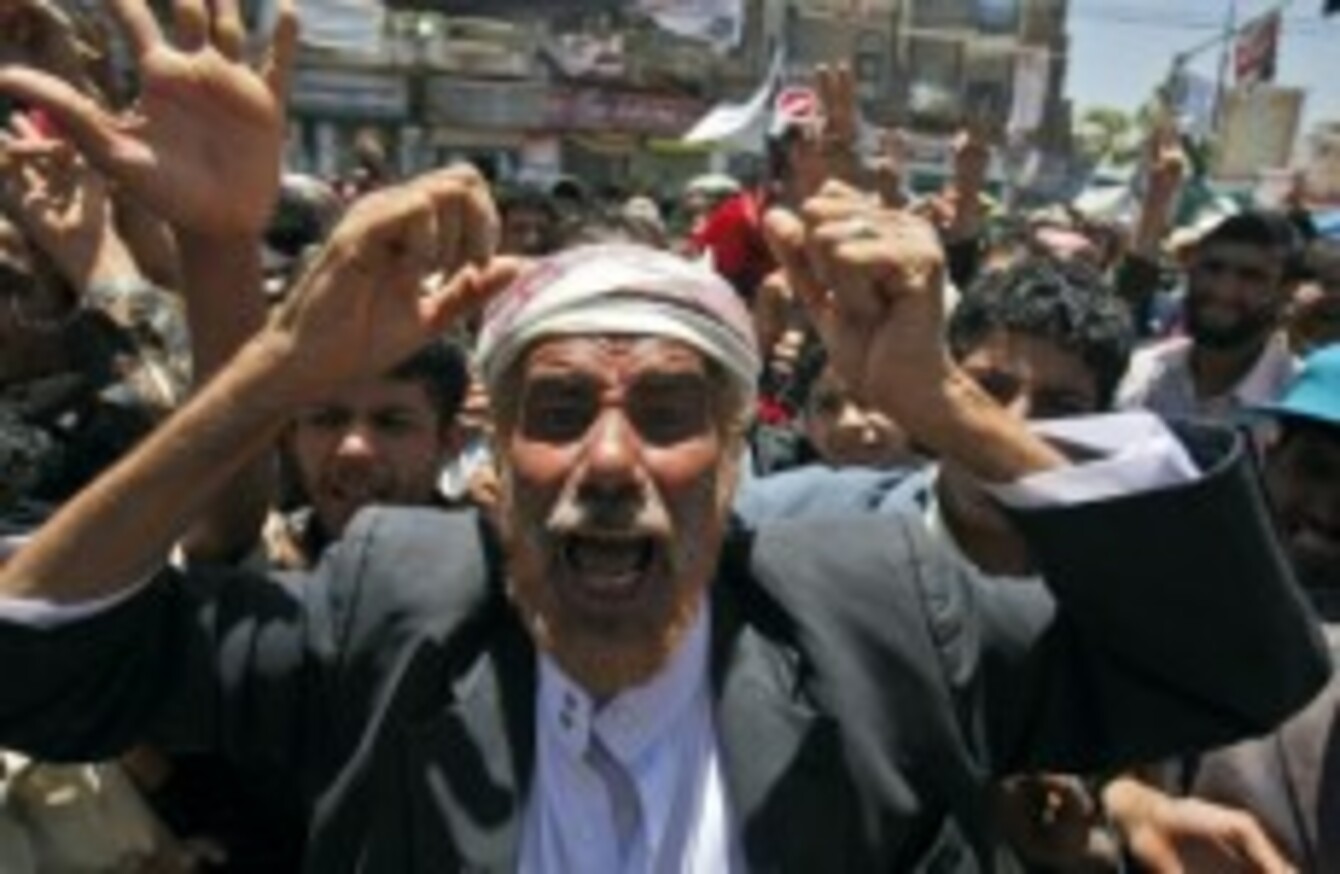 An anti-government protester during a demonstration demanding Saleh's resignation in Sanaa, Yemen, today.
Image: AP Photo/Muhammed Muheisen
An anti-government protester during a demonstration demanding Saleh's resignation in Sanaa, Yemen, today.
Image: AP Photo/Muhammed Muheisen
YEMEN'S EMBATTLED PRESIDENT backed away from a mediated deal that would have seen him step down in exchange for legal immunity.
Today, his forces killed four people while pushing hundreds of anti-government demonstrators out of a square where they had been camped, according to witnesses.
President Ali Abdullah Saleh said he did not want to sign the deal that was mediated by a bloc of neighboring Gulf countries, said his close ally, Abed al-Jundi. The secretary general of the Gulf Cooperation Council, Abdul-Latif al-Zayyani, flew to the Yemeni capital of Sanaa to urge Saleh to sign the deal.
It was a new blow to efforts to mediate the months-old crisis between the US-backed Saleh and tens of thousands of demonstrators demanding the ouster of their ruler of 32 years, inspired by protests sweeping through the Arab region.
Instead, the Gulf bloc chief al-Zayyani met with top leaders of Saleh's political party and parliamentary bloc, where he was informed that Saleh had some reservations over the deal. The Yemeni ruler had previously announced that he had agreed in principle to stepping down.
Al-Zayyani was not immediately available for comment.
Objections
Al-Jundi said Saleh objected to signing the agreement, saying it should be signed by the leader of his political party, the Ruling Party Congress. He added that Saleh also wanted to ensure that he would remain president to oversee a 30-day transition period after signing the deal.
A leading opposition member, Mohammed Basnadwa said they subsequently told the senior Gulf mediator that they would not agree to any deal unless Saleh signed it first.
While the meeting was being held, Saleh's forces, backed by tanks and heavy weapons, forcibly removed about 1,500 demonstrators from a square where they had been camping in the al-Mansour district of the southern port city of Aden for about two months. Four demonstrators were killed by gunshot wounds, said activist Wajdi al-Shaabi.
Several others suffered bullet wounds in the melee and then later when demonstrators angrily marched through several neighbourhoods denouncing the move, al-Shaabi said.
He said a building and a small hostel were on fire, sending plumes of smoke rising over the city. Gunfire and ambulance sirens could be heard throughout the city.
#Open journalism No news is bad news Support The Journal

Your contributions will help us continue to deliver the stories that are important to you

Support us now
Similar sit-ins have taken place in other cities. More than 140 protesters have been killed since demonstrations began.
Yemen is a close US ally, grappling with one of the most active al-Qaeda offshoots in the world.
Even before the uprising began against Saleh, the government of the impoverished country faced a southern secessionist uprising and a Shiite rebellion in the north.
- AP