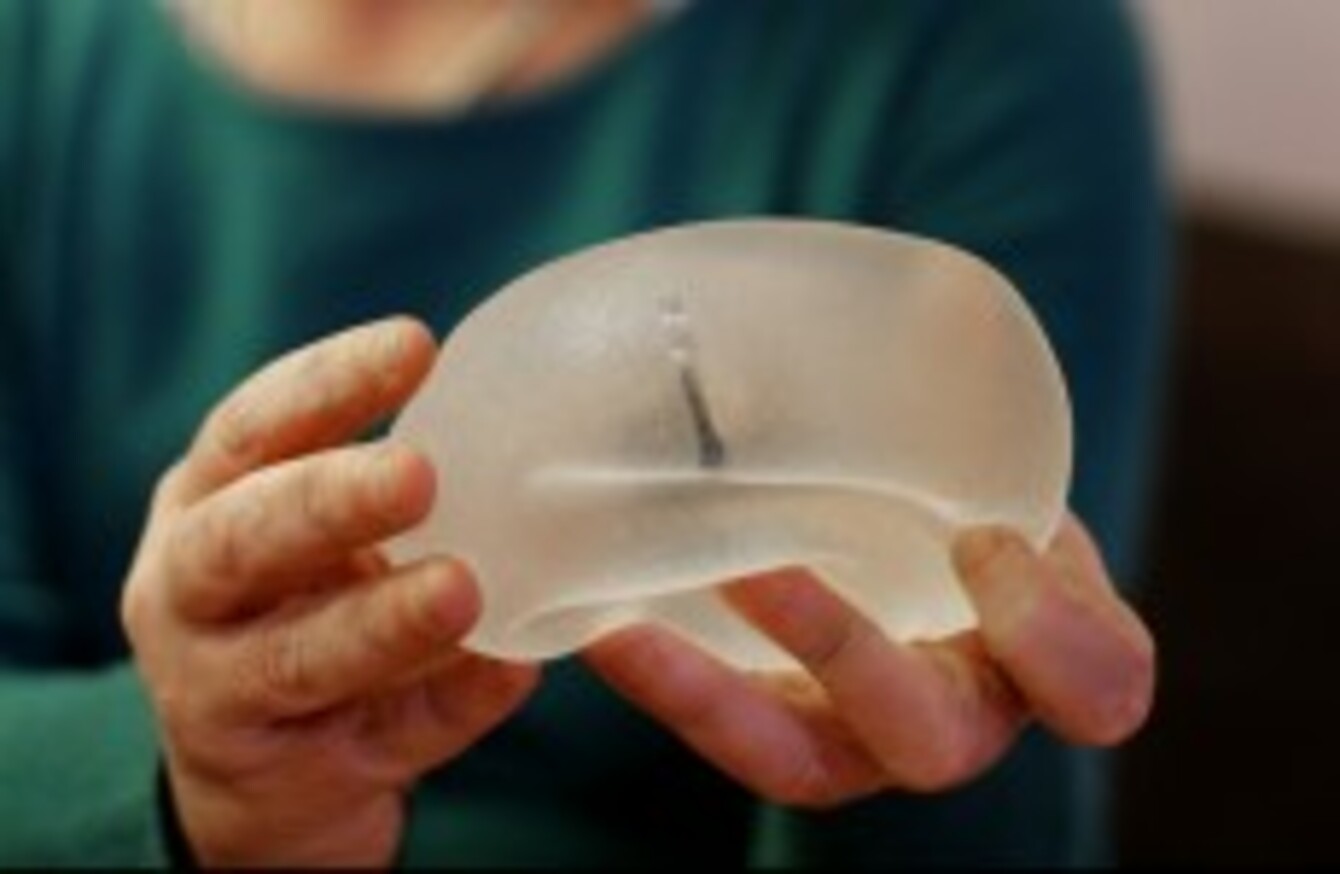 A French woman displays a PIP implant removed from her breast
Image: Christophe Ena/AP/Press Association Images
A French woman displays a PIP implant removed from her breast
Image: Christophe Ena/AP/Press Association Images
THE FRENCH GOVERNMENT has offered to pay for 30,000 women to have their breast implants removed amid mounting fears that the products could burst or split.
The move comes after a public furore in the country over the safety worries. Images of leaky, blubbery implants and women having mammograms have been splashed on French TV.
More than 1,000 ruptures pushed Health Minister Xavier Bertrand to recommend that the estimated 30,000 women in France with the implants get them removed at the state's expense.
The Poly Implant Prothese (PIP) products – made with low-quality industrial grade rather than medical silicone – were also implanted in around 1,500 women in Ireland.
However, the Irish Medicines Board has insisted that there is currently no evidence of health risks associated with the devices. It has advised any women concerned about their implants to contact the surgeon who carried out the operation.
The Irish operations involving PIP implants were only carried out in three private hospitals.
Despite recommending the removal, French health authorities said they had found nothing to link the implants to nine cases of cancer in women. The death last month of a woman who had the implants and developed a rare cancer had catalysed worries.
The implants, made by the French company Poly Implant Prothese, were pulled from the market last year in countries around Europe and South America where they had been sold.
The financial burden of the French government's decision falls on the state health care system, which estimated the removals could cost €60 million at a time when the country is teetering on the brink of another recession and struggling with debt.
In recommending removal, the government noted the risks associated with major surgery and general anesthesia.
Because of those risks, many women may decide against removal. The government said those women should be examined every six months
- Additional reporting by Michael Freeman