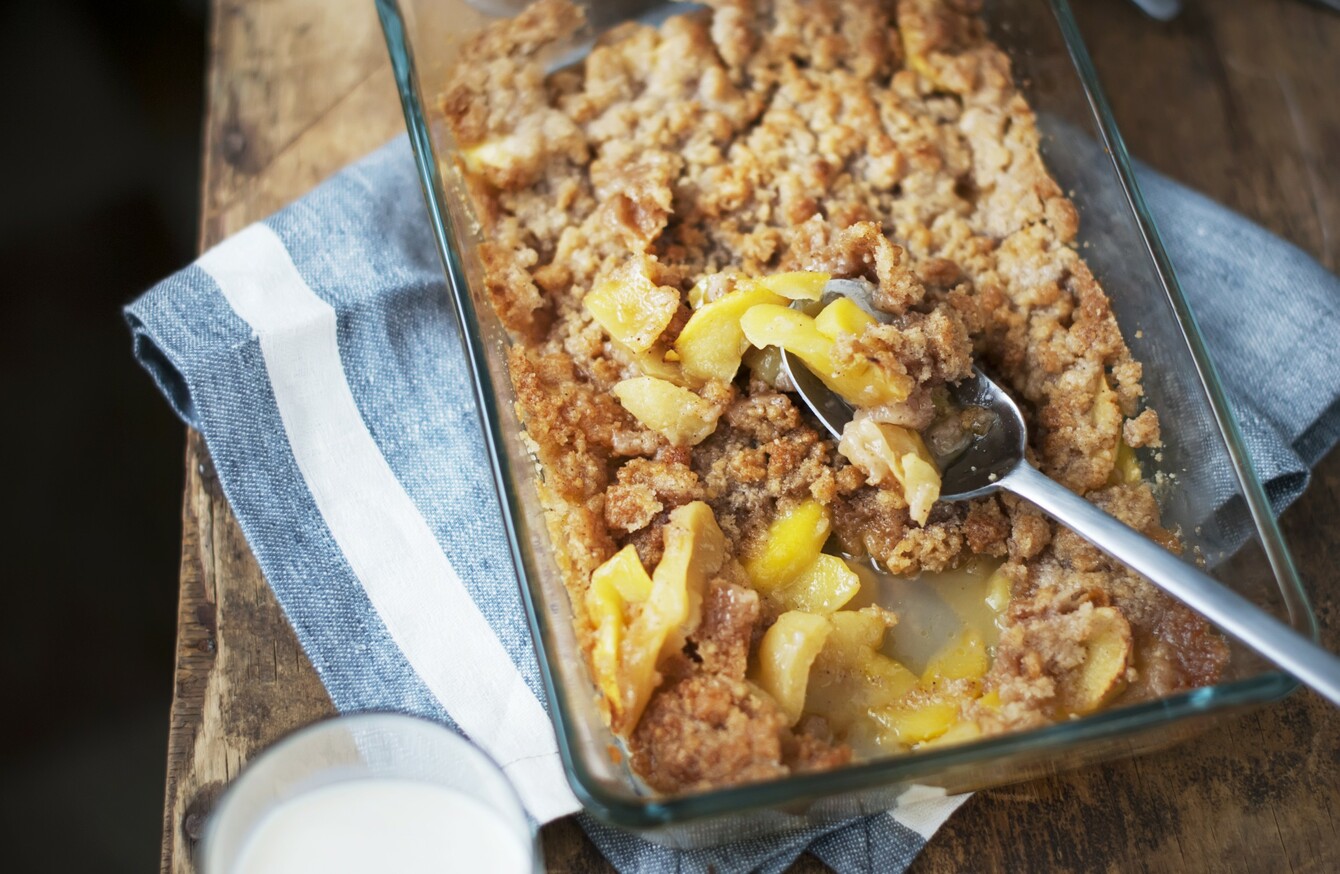 Image: Shutterstock/Olga Pink
Image: Shutterstock/Olga Pink
DARE WE SAY, the nights are starting to get shorter and cooler and we're already starting to crave comfort food – one pots, pies, casseroles and, of course, crumbles. Comfort food like this is simple to make, and with just a handful of ingredients cooked well, it's easy to create something delicious and nostalgic. 
Baking what's in season is wonderfully rewarding, whether you grow your own food, or simply buy whatever is at its seasonal best in the local grocery store. And while it would be impossible to eat solely seasonal food all of the time, we can at least make the most of certain foods at particular times of the year. 
There are few things more satisfying that a carton of juicy strawberries in summer, and similarly, fruits like apples, gooseberry and pears are at their very best coming into autumn. Why not make the most of this time of year and add a fruit crumble to the menu this weekend? Here are six recipes for crumbles that might pique your appetite. 
1. Plum Crumble with Honey and Rosemary, from Everything Looks Rosie: Rosemary and honey take this crumble to the next level and bring out the naturally sweet flavour in this seasonal fruit. Serve warm with a spoonful of mascarpone for an impressive dessert.
2. Gooseberry Crumble, from Saucepan Kids: This five ingredient crumble is a lovely way to make use of seasonal gooseberries and retains its flavour well even after freezing. It's a great one to make with the kids – if you have a gooseberry patch at your disposal, this would be doubly fun for children to add the collection of the main ingredient as well. 
3. Apple and Mixed Berry Crumble, from I Love Cooking: The classic combination of apple and berries topped with a crisp, buttery crumble is hard to beat. For the ultimate comfort treat, serve with hot custard. This recipe, created by Edward Hayden, calls for cooking apples, which retain a nice texture when baked. 
4. Poached Fig and Pear Crumble, from Figs and Fennel: With a touch of spice and flavours of rose and pistachio, this crumble recipe incorporates a delicious Persian twist. The crumble topping is more like granola, and is totally flour free, giving a lighter alternative to the traditional buttery crumble topping. 
5. Berry Crumb Cake, from Natasha's Kitchen: Crumb cakes require a little more effort than a regular crumble, but are most certainly worth it. With a fruity sponge base and a crumble topping, this mixed berry crumb cake definitely ticks all of the boxes.
6. Gluten Free Apple Crumble, from The Little Green Spoon: This crumble can be whipped up in a matter of minutes, and with a topping consisting of oats, almonds, maple syrup and coconut oil, it's both gluten and dairy free. This recipe provides classic comfort food with a healthier twist!