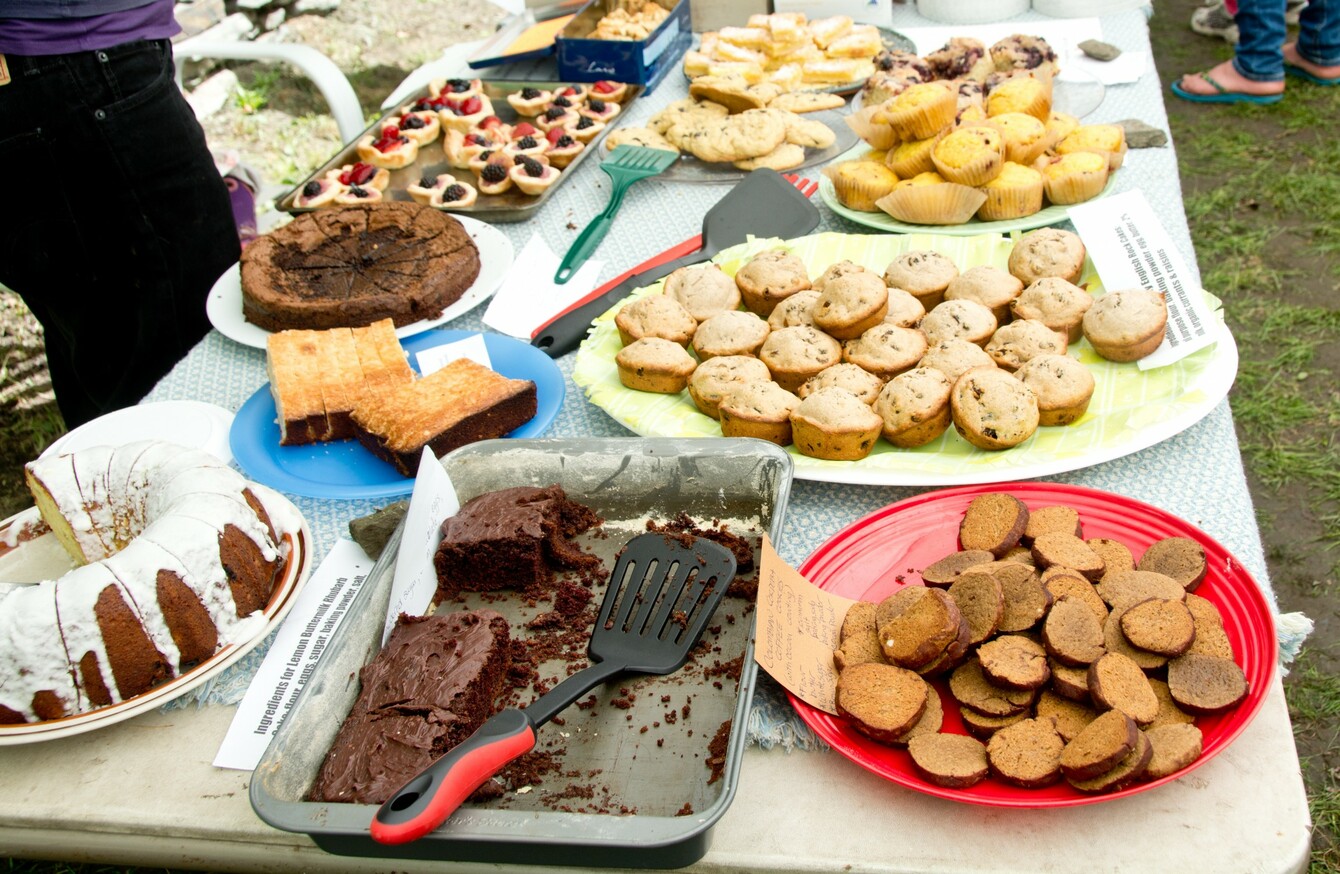 Image: Shutterstock/Erika J Mitchell
Image: Shutterstock/Erika J Mitchell
NOW THAT IT'S almost time to go back to school, we're anticipating the bake sales that are yet to come. Bake sales are a great way to raise money for a good cause, and also provide a fun activity for the kids to get involved in.
But we all know the dread that can sink in once the word is mentioned. We're here to reassure you that baking doesn't have to be as complicated as it might seem on GBBO!
Once you master a few basic baking techniques and build up a collection of a few cake and brownie tins, you'll be bake sale ready. A word to the wise: just don't make the mistake we've been guilty of in not weighing things correctly. Baking is a science, so with the exact measurements things are much less likely to fail.
We've rounded up some of our favourite simple cookies, brownies, and fruity cakes that are destined to impress without taking hours of effort and a pastry course to make.
1. Summer Fruit Madeira Cake, from Farmette: If you're looking to pull out all the stops, this summer fruit madeira with plums and blackcurrant is perfect. For a slightly simpler version, you could bake this in loaf tins and leave out the icing altogether.
2. Chocolate Banana Cake, from Wholesome Ireland: This half cake, half banana bread recipe is not just delicious, but a great way to use up any leftover chocolate or overripe bananas. Better still, it can be made in advance and frozen for up to two months!
3. Blueberry, Lemon and Yogurt Cake, from Chef Shane Smith: With a combination of tangy lemon, sweet blueberries and creamy yogurt, this cake is full of fresh, summertime flavours. This cake serves ten easily, so it's a good bet for a bake sale. Dust it with powdered sugar to make it look even fancier.
4. Tres Leches Cake, from Donal Skehan: Sticky and sweet, this Mexican classic would make the ultimate tea time treat. The baked cake gets turned out and doused with evaporated milk, heavy cream, and condensed milk, creating a moist, decadent dessert. Make sure to whip the egg whites until they're really stiff to achieve that ultra light texture. 
5. Easy Chocolate Brownies, from The Little Loaf: This quick and simple brownie recipe is great for when you need to make something last minute. The recipe calls for both cocoa and cooking chocolate, making them especially chocolate-y. Your kids will definitely want to get involved in the mixing of this recipe, and the good news is that it's simple enough they can certainly bake along with you. 
6. Best Ever Chocolate Chip Cookies, from The Boy Who Bakes: No bake sale is complete without epic cookies, and this tried and tested recipe from The Boy Who Bakes sounds just perfect. You could mix things up and use white chocolate in place of the dark chocolate used in this recipe, to make them all the more appealing to potential kid customers.