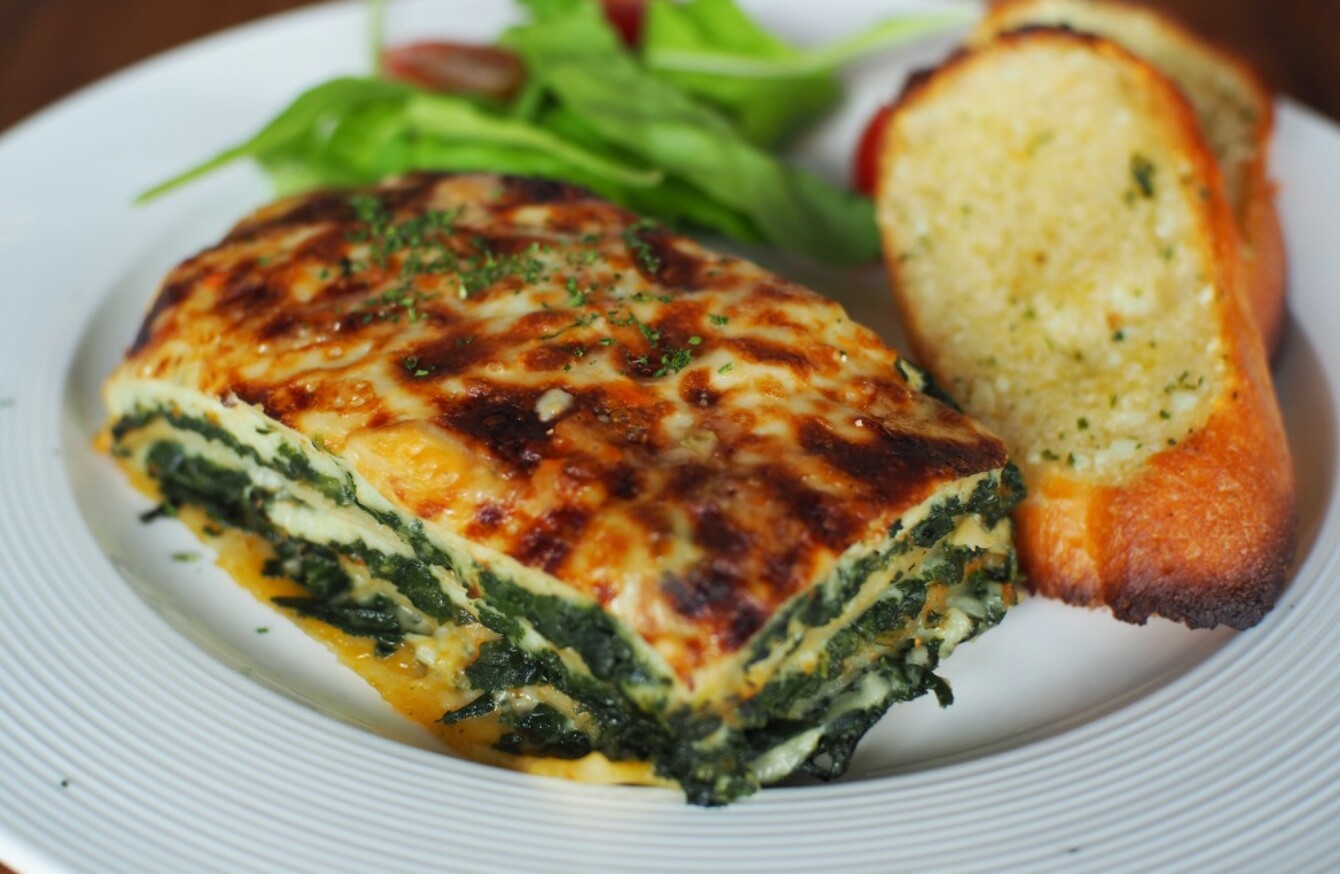 Image: Shutterstock
Image: Shutterstock
LASAGNE IS ONE of the most famous dishes in Italian cuisine – a layered dish of pasta, meat, sauce and cheese, baked in the oven until bubbling and delicious.
One of the best things about lasagne is its versatility, and as time has gone on, chefs and cooks have created so many different and creative takes on this classic recipe, from pork sausage and fennel to chicken and pesto. I have yet to come across a non-traditional lasagne that doesn't sound delicious.
If you're in the mood to spice up your traditional lasagne recipe with some new ingredients or flavours, here are five recipes that should do the trick. 
A note on lasagne sheets: you'll layer them in uncooked. After baking, insert a fork or knife to test whether the pasta has cooked through. Add another five minutes of baking time if they're a little too al dente for your taste. 
Check out some of our favourite twists on the classic recipe below…
1. Creamy Pesto Spinach and Mushroom Lasagne: This creamy, flavour-packed dish is perfect for entertaining and won't take all day to prepare. In a frying pan, fry chopped mushrooms, garlic and onion for about five minutes, then add in two bags of spinach. Stir until the spinach has wilted, then tip in a tub of cream cheese, a spoonful of pesto and a generous pinch of salt and pepper. Stir to combine, then add one third of the mixture to a lasagne dish and top with pasta sheets. Repeat this process until all of the mixture has been used, then top with bechamel sauce and some grated cheese. Bake for 20 minutes, until bubbling, and serve straight away with a rocket salad.
2. Italian Sausage Lasagne: Using good quality sausage is key to this recipe; if you can't find Italian sausage, use any other variety with a high pork content. Start by removing the sausage meat from the skin, then fry in a pan on a high heat. Use a fork to break up the meat as it cooks to avoid it clumping together. Add in some crushed garlic, finely chopped red onion and fennel seeds, and stir for two minutes. Then pour over a tin of chopped tomatoes, some tomato puree and season with salt and pepper. If you don't like fennel seeds, sage would also compliment the sausage really well, as in this version from Recipes of a Normal Mom. Simmer for five minutes, then tip some of the mixture into an ovenproof dish to layer up the lasagne, alternating sauce with lasagne sheets. Once all of the sausage mixture has been used up, top the lasagne with a mixture of creme fraiche and parmesan cheese, then top with grated mozzarella. Bake for 30 minutes, and serve with fresh bread.
3. Roasted Vegetable Lasagne: Toss a mixture of roughly chopped peppers, courgette and aubergine in some olive oil and roast in the oven for about 20 minutes until the vegetables are beginning to turn soft. Once they're ready, dish them into a bowl and season well with salt and pepper, then add a jar of passata, torn fresh basil and some grated parmesan cheese. Arrange a layer of the vegetable mix into an ovenproof dish, then top with lasagne sheets. Repeat this process until all of the vegetable mix has been used up, then top with white sauce and a generous handful of grated cheese. Bake for 20 minutes until the top is golden and the mixture is bubbling.
4. Chicken Lasagne: Fry some bacon lardons in a saucepan and, once golden, add sliced chicken breast. Once the chicken is browned, lower the heat and add chopped onions, peppers and crushed garlic. Fry for a few minutes until the onion has softened, then add a tin of chopped tomatoes, tomato puree and some chili flakes. If you're looking for an extra-indulgent lasagne, check out this recipe from Dean Edwards, which adds chorizo and a dash of white wine at this point. Allow to simmer for 10 minutes then remove from the heat and start to build the lasagne. Put a layer of the chicken ragu into an ovenproof dish, followed by a layer of lasagne sheets, and a layer of white sauce. Repeat this, then top with mozzarella cheese and some fresh basil leaves. Bake for 20 minutes, then remove from the oven and serve sharing style with plenty of garlic bread and a dressed salad.
5. Super Healthy Lasagne: Combining a mixture of vegetables and lean turkey, this recipe is super healthy but still packed with flavour. Gently fry some finely chopped celery, carrots, onion and garlic in a large saucepan for about 10 minutes until soft. Turn up the heat, and add lean turkey mince, stirring to break it up. Once the turkey is cooked, add chicken stock, a tin of chopped tomatoes, tomato paste and some chicken stock. Simmer for 10 minutes, then layer it up with some sheets of pasta in a lasagne dish. Top with low fat cream cheese, freshly ground black pepper and a little parmesan, and bake for 30 minutes. Serve with sweet potato wedges or a mixed leaf salad.