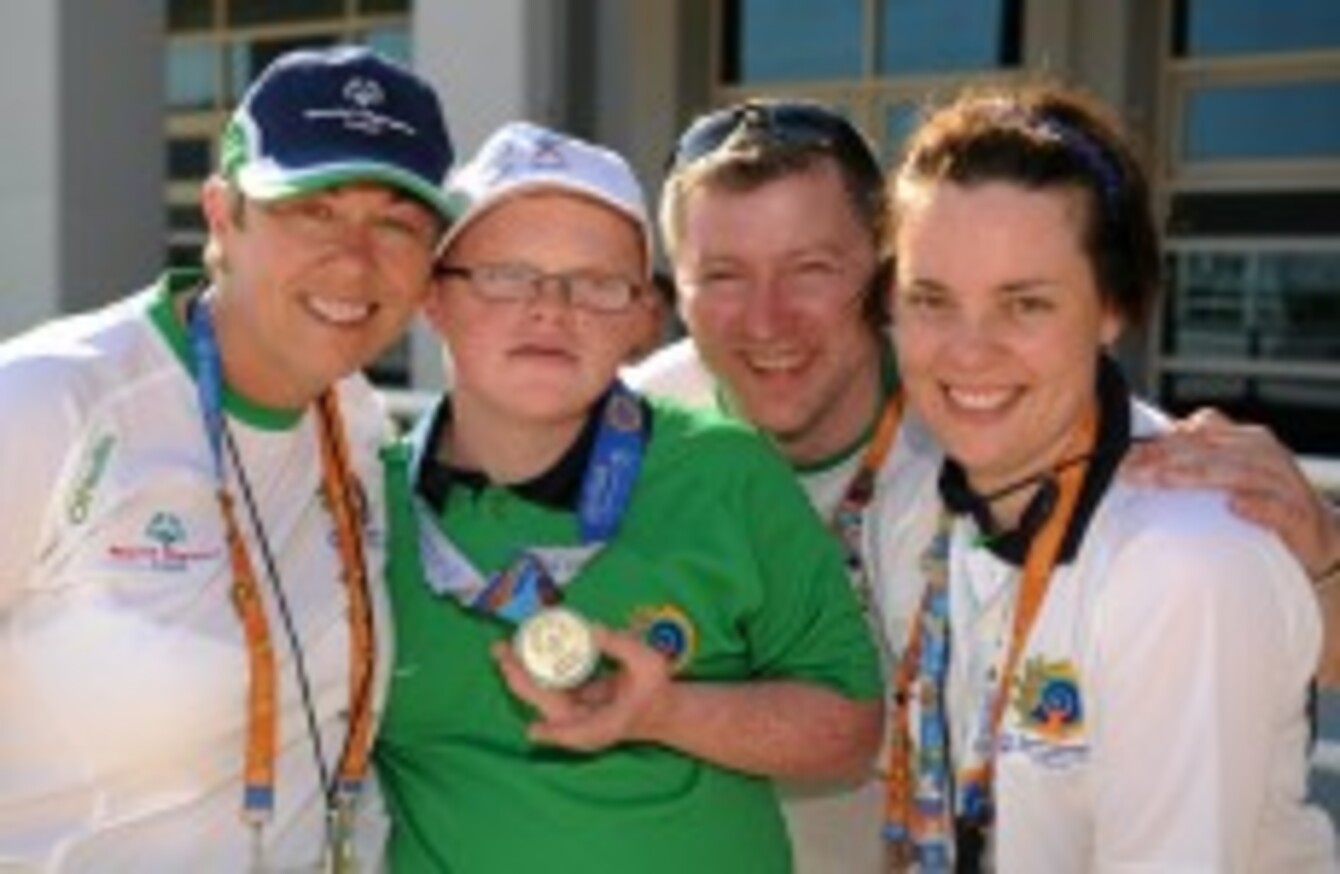 Fergal Gregory, 12, celebrates his gold medal win with coaches
Image: Special Olympics Ireland
Fergal Gregory, 12, celebrates his gold medal win with coaches
Image: Special Olympics Ireland
IRELAND'S SPECIAL OLYMPICS athletes continued their winning run in Athens yesterday, racking up ten more medals.
Two further golds were among the prize haul, which brought Team Ireland's medal total to a heavyweight 44. Yesterday spectators and supporters watched Irish competitors succeed in a number of track and field events, with Martin Mahood from Bangor, Co Down winning silver in the men's shot put.
Amy Quinn, from Bray, Co Wicklow, also took home silver in the women's softball throw event – while Ciara O'Loughlin from Inagh, Co Clare won silver in the women's shot put and Eileen O'Loughlin came fourth in the same event. In the men's softball throw, John McKiernan from Bawnboy, Co Cavan won bronze. Gary O'Brien from Portmarnock, Co Dublin, shot out of the blocks to nail silver in the men's 400m event with a personal best record time.
In further equestrian events yesterday, Conor MacGearailt from Athy, Co Kildare won bronze in English Equitation.
Aquatics competition was another strong point for Team Ireland. Caitriona Kearney from Bagnelstown, Co Carlow came fourth in the 50m backstroke, while Diarmuid O'Flynn from Kilkenny finished fifth in the men's event. But the proudest moment came when the youngest athlete in the Irish squad, 12-year-old Fergal Gregory, landed gold in the 25m butterfly.
In bowling, Ciaran Mallon from Newry, Co Down won a second gold medal while Michael Hardiman from Tallaght, Co Dublin came in fourth and Deirdre Gannon from Westport, Co Mayo came sixth.
The women's basketball team showed the French how it's done, romping home in a 17-3 victory. In football, the men's 11-a-side squad had a nail-biter against Australia, with Michael Neville from Sixmilebridge, Co Clare scoring in the final minute to secure a 3-2 win. The team will now face Great Britain on Saturday.
In five-a-side football, the men overcame East Timor 2-0, while the women's team narrowly lost out to home nation Greece.