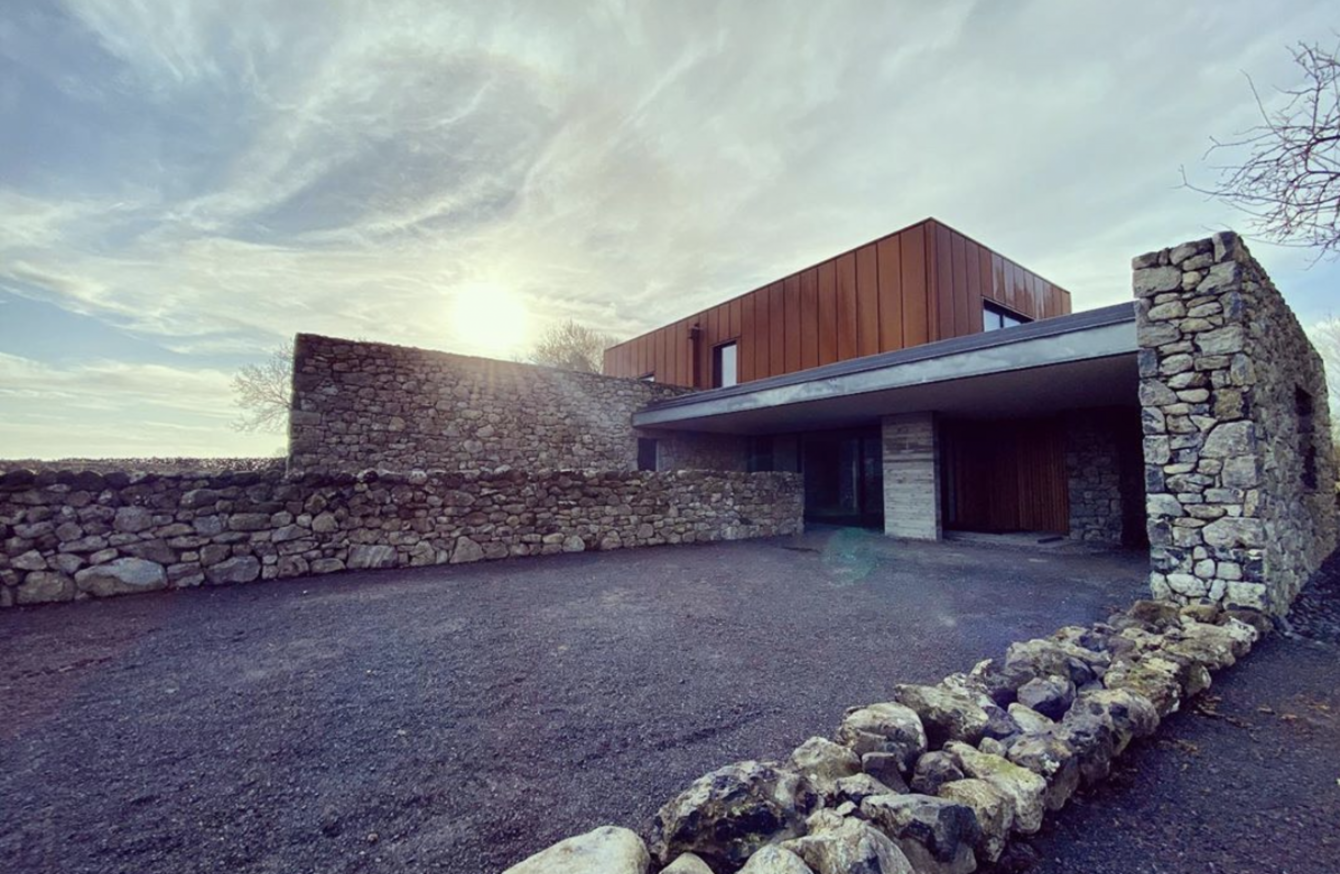 About your home
Where? Galway 
What type of house? A detached self-build, with a modernist twist
How many bedrooms and bathrooms? Four bedrooms, three en-suites and a main bathroom
When did you move in? December 2019
About you 
Name: Tanya
Age: Still in my thirties, by the skin of my teeth!
Occupation: I work in the commercial development industry
Who else lives there? My husband, Noel and our two daughters, Florence and Henri
What made you choose this home over others? 
Both myself and my husband grew up in families who are in the building trade, so a self-build was not a daunting prospect to us; you could say it's in our DNA. Although in saying that, I commend anyone that undertakes a self-build, especially via the direct labour route (where you manage the build yourself) without having building experience.
This house has been in our heads for well over 10 years and we were so lucky that we engaged with amazing architects who could take the vision from our heads and put in on paper. We have a passion for modernist and mid-century design as well as high quality craftsmanship – we wanted a house that is totally bespoke to us as a family.
What is your favourite place in your home?
As we only moved in before Christmas, it's hard to say what my favourite place is quite yet, but for now it's the open place space we have downstairs. The large windows on three sides take full advantage of the beautiful west of Ireland vistas.
It's a joyous space that's great for family get-togethers, with pared-back materials including polished concrete floors, plywood and oak, along with crisp white walls. This creates a lovely backdrop for the pieces of furniture and art we have collected along the way, which really bring our home to life.
Is there any part of the home you don't like?
Not one single corner! I think building our home in our late thirties comes with a sense of confidence, for us anyway. We don't second guess what space will make us happy – we're confident we know what design will work for us as a family and I think that really shows in the finished house.
Is there any part of your home that makes it unique?
I think the entire house is unique; it was designed specifically for the site it's situated on, to sit into, rather than onto the countryside. The materials we used externally are all materials you would expect to see dotted along the west: dry field stones, in keeping with the Connaught landscape, and a corten steel hat, reminiscent of rusted roofs and concrete columns, typical of a traditional farmyard. 
The interiors are also quite unique: we have a lot of bespoke, built-in furniture, from the beautiful green kitchen to the full hall of concealed ply storage, to the lovely media wall in the sitting room, which is where our family gathers to watch television together in the evening.
Our furniture is a curated collection of vintage, mid-century and some modern classic pieces. They all have a story to tell, like our mustard-gold armchairs, sourced from the Dublin Flea Market two years ago.
Take us through an average day in your house, room by room.
7:30am: The kitchen island is the hub of the house where we ready ourselves with breakfast and then sit on the long window seat and dress the kids for school. I was about to say 'while gazing out at the lovely views of the countryside,' but it's not as romantic as that – it's usually a dash to get in the car!
4-5 pm: When we get home in the evenings, we gather around the island again for dinner and the girls perch on the stools doing their homework. Our full-height kitchen was bespoke, so it suits all our family needs, from cooking to entertaining, with plenty of room for study and activities, too.
The playroom is open-plan off the kitchen, so the girls can usually be found pottering anywhere between there and their bedrooms – there's a secret door connecting their rooms, which they love to use when playing together.  
8pm: As we're still settling into the house, there are usually jobs to occupy us after the kids are in bed, but on the odd occasion that we have some time to ourselves, it has been nice to relax and enjoy the space, maybe watching a movie in front of the fire (which I don't have to clean – it's gas!). We have a lovely Persian rug in the living room, too, which adds warmth and colour. 
10pm: I must admit, I love the ascent up our oak stairs last thing at night with a concrete wall my Dad made for us. The dotted lights along the steps reflect the shadows of the concrete on the opposite wall.
The space upstairs feels completely different from downstairs as it has a parquet wood flooring, which is a nice departure from the concrete. Hopping into our lovely four poster bed and hitting that button to draw the blinds down when the day is done is quite a feeling.
Is there anything you'd do differently if you were doing it again?
Not a single thing – for now, anyway!