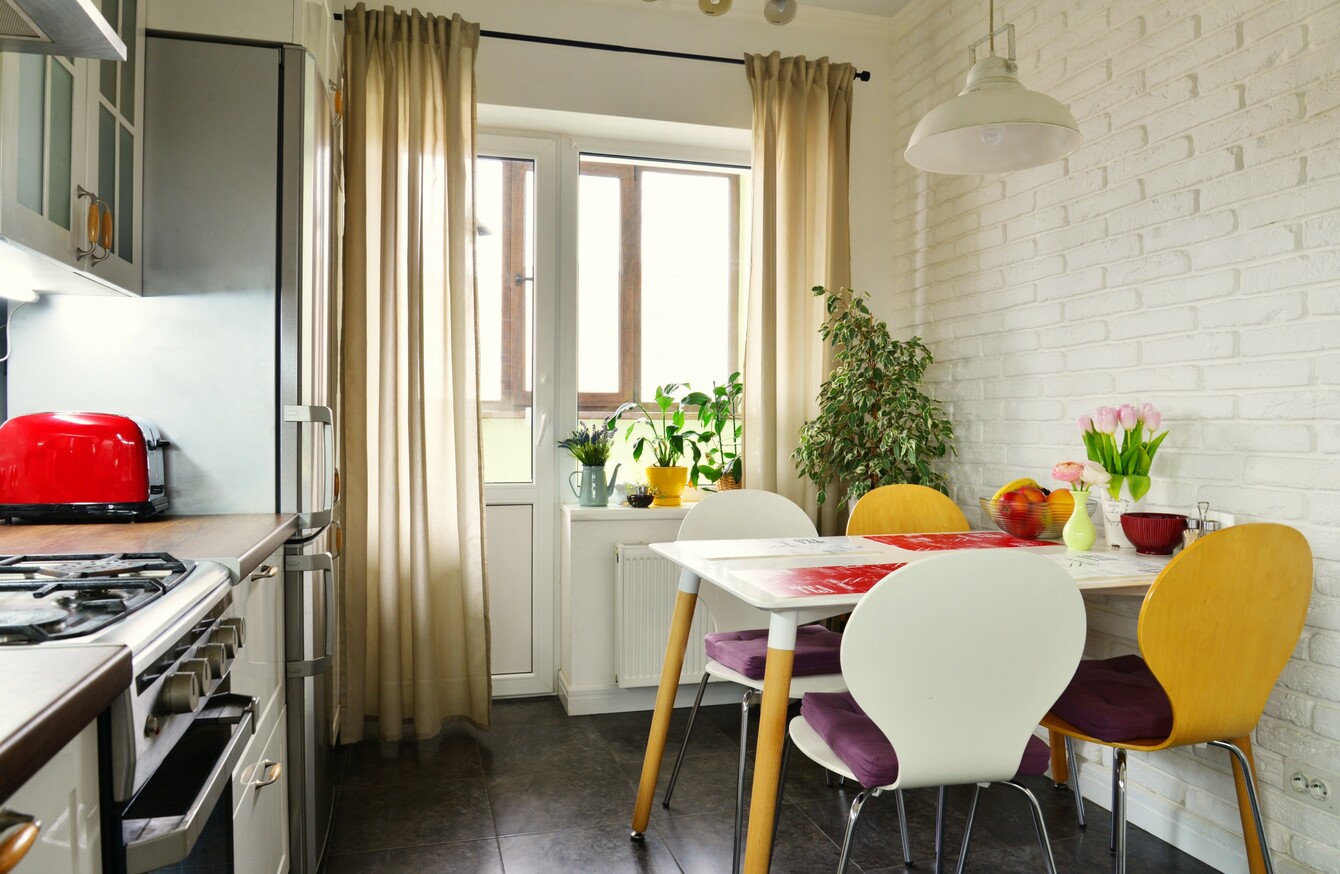 Image: Shutterstock/mama_mia
Image: Shutterstock/mama_mia
The visual effect of a great set of curtains is underrated. When they're the right colour, length, texture and fabric, curtains can entirely transform a room.
But what if your current drapes are doing the wrong job – making the room feel too dark, making a space seem too washed out, or just giving you an 'ew' feeling the moment you walk through the door?
Laura de Barra regularly brings her lifestyle and home maintenance expertise to the Glenveagh Home Magazine on TheJournal.ie. This week: changing up your curtains without shelling out for a new set.
A FEW WEEKS back I shared my tips and tricks for washing, drying and generally reviving tired or dust-covered curtains. But if you've tried all that and you're still not just happy with what you see, or not content with how the room feels, some of the below pointers should sort you out…
1. Take your curtains down and re-hang them
A common mistake I find with curtains is that they're not hung well. Take a look at your set, and make sure you have enough hooks in place. You'll know if you don't have enough if they are dropping in places or the edges have fallen. Replacing broken hooks or adding some extra ones can make an instant update in minutes! Curtain hooks can be picked up online super easily.
2. Curtains too short? Add an extra panel
Short curtains can look a little weak and let a room down but replacing them for this reason alone is a little wasteful. Before you go any further here, have a look on Pinterest for 'two tone curtains'. You'll see how nice this look can actually be and get some great inspiration.
Try sewing a panel on to the end of your current curtains (or get a quote to have this done professionally, should you doubt your skills) I find that a colour in the same tonal family works well, it's an easy match and the panel will look like it was always meant to be there.
3. Use dye to revive faded curtains
If your curtains are in full working order and are just faded or sun-bleached, dye may be the one for you. This is also an option if you hate the colour of your curtains and want to change it – though check with your landlord if you're a renter.
Unlined, cotton curtains will take dye best as they are less likely to get patchy. Always ensure your curtains are suitable for dying before you start, and follow all instructions on the dye pack.
4. Change up your curtains entirely (without getting rid of them)
Do you simply HATE your curtains? If there is no washing or sprucing that can make you love your drapes and you are stuck with them due to budget or living somewhere short-term, here's the perfect hack. It's one that has always worked for me.
Simply buy fabric in a colour or pattern you like (IKEA is great for affordable and good quality fabrics) and, using a needle and thread, hand tack it on to the original curtain. A hand tack is a simple, easily removable stitch – check out a tutorial on YouTube like this if you're not sure how to do one.
Think of adding the new fabric like covering a school book, and be sure to fold all corners, tops and bottoms in the same way. If your current curtains are ruched, loosen the hanging tape along the ruching first to flatten the fabric out before you sew. Covering is also a great hack for curtains that let too much light or air in while closed, as the extra layer adds a blackout effect and helps keep heat in. 
Once you move out you can undo and take the fabric with you – I usually tack using thread in a contrasting colour to make it easier to remove later.
5. Add some extra privacy so you don't need to rely on the curtains
Often closed curtains are necessary for privacy, especially if you live on the ground floor. If you don't want to have a curtain constantly in place, there are some really great options online in the form of privacy films.
These usually give the window a frosted or blurred appearance, so the rooms keep their natural light, but you also keep your privacy. You don't have to film the whole window, just to eye level is grand. You can also get non- permanent versions that peel off easily (just make sure the reviews on the product confirm this!)
Want more tips and hacks? Laura de Barra's new debut book, Gaff Goddess: Simple Tips And Tricks To Help You Run Your Home is on shelves now, published by Transworld Ireland. Buy it here or in all good bookshops, and follow Laura on Instagram for even more cleaning and lifestyle tips.