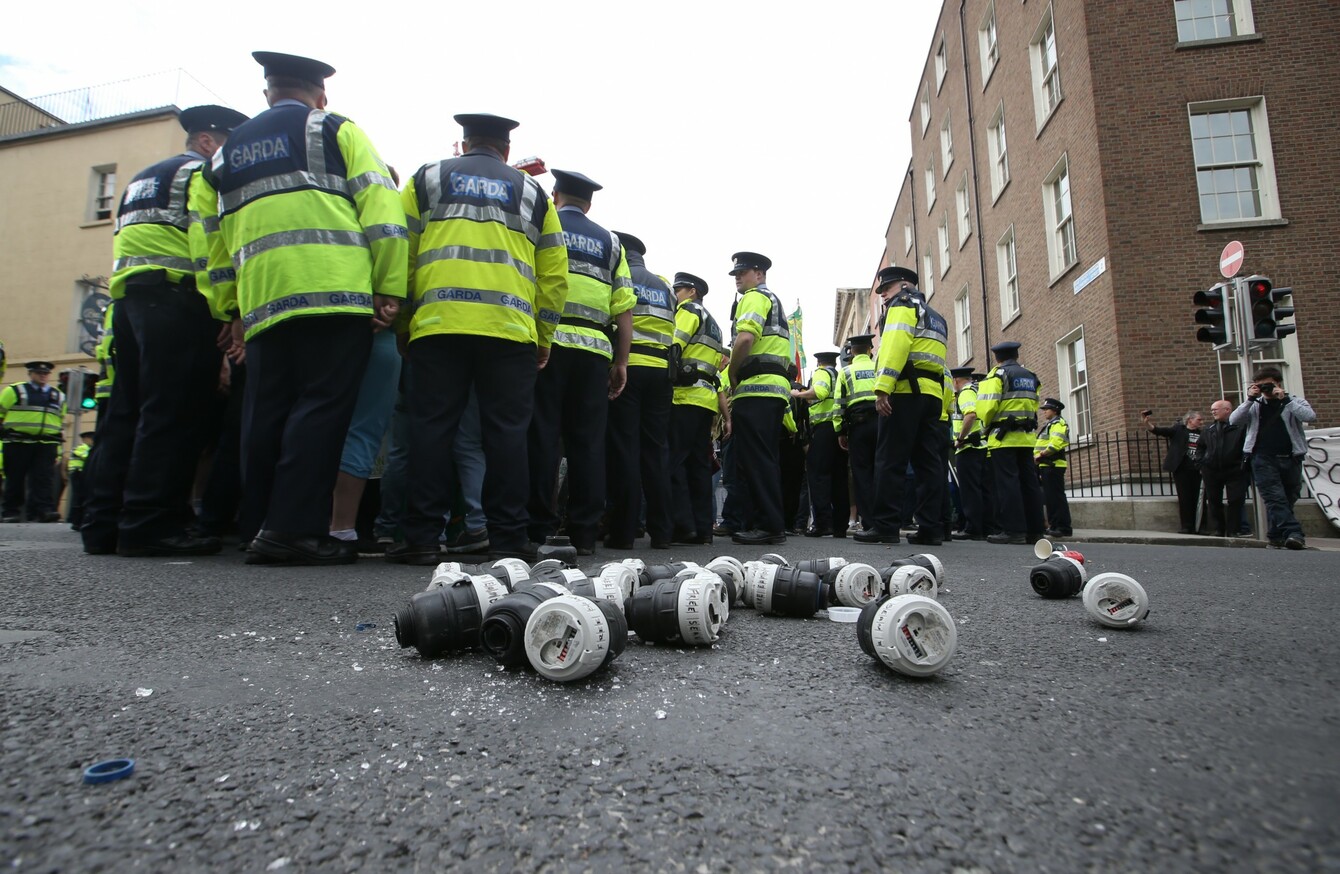 Image: Sam Boal/RollingNews.ie
Image: Sam Boal/RollingNews.ie
MIDDLE-RANKING MEMBERS of An Garda Síochána are calling for people who share pictures of them online with the aim of identifying them to be criminally sanctioned.
The annual delegate conference of the Association of Garda Sergeants and Inspectors (AGSI) starts later today in Killarney, Co Kerry, and two of the motions on the agenda relate to abuse levelled against members of the force on social media.
Particularly during smaller water charge protests in recent years, a trend developed of photographing or filming gardaí who were present and uploading the images to sites like Facebook and Twitter, where they were often widely shared. In some cases, commenters would name gardaí featured in the images and give details of where they were stationed or even where they lived.
One of the motions on this year's AGSI agenda directs the national executive to call on Minister for Justice Frances Fitzgerald to:
…introduce a criminal offence of photographing or otherwise capturing an image, moving or otherwise, of a member of An Garda Síochána in the exercise of their duty without the member's consent and to publish or otherwise post this image on any media with intent to identify this member.
A separate motion calls for the Commissioner to adequately protect and support members and their families who are being subjected to social media harassment and other forms of intimidation as a result of doing their job.
Other motions to be debated over the next three days include demands for uniform upgrades, training and improved facilities and a call for GSOC to change the way it informs members after the fact that they were being investigated.
Garda Commissioner Nóirín O'Sullivan will make an address tomorrow evening. The Minister for Justice was due to attend the conference, but on Thursday she informed the association she could not, citing commitments in the Dáil.
We'll have more from the conference in Killarney over the next three days. Follow @michellehtweet for updates.