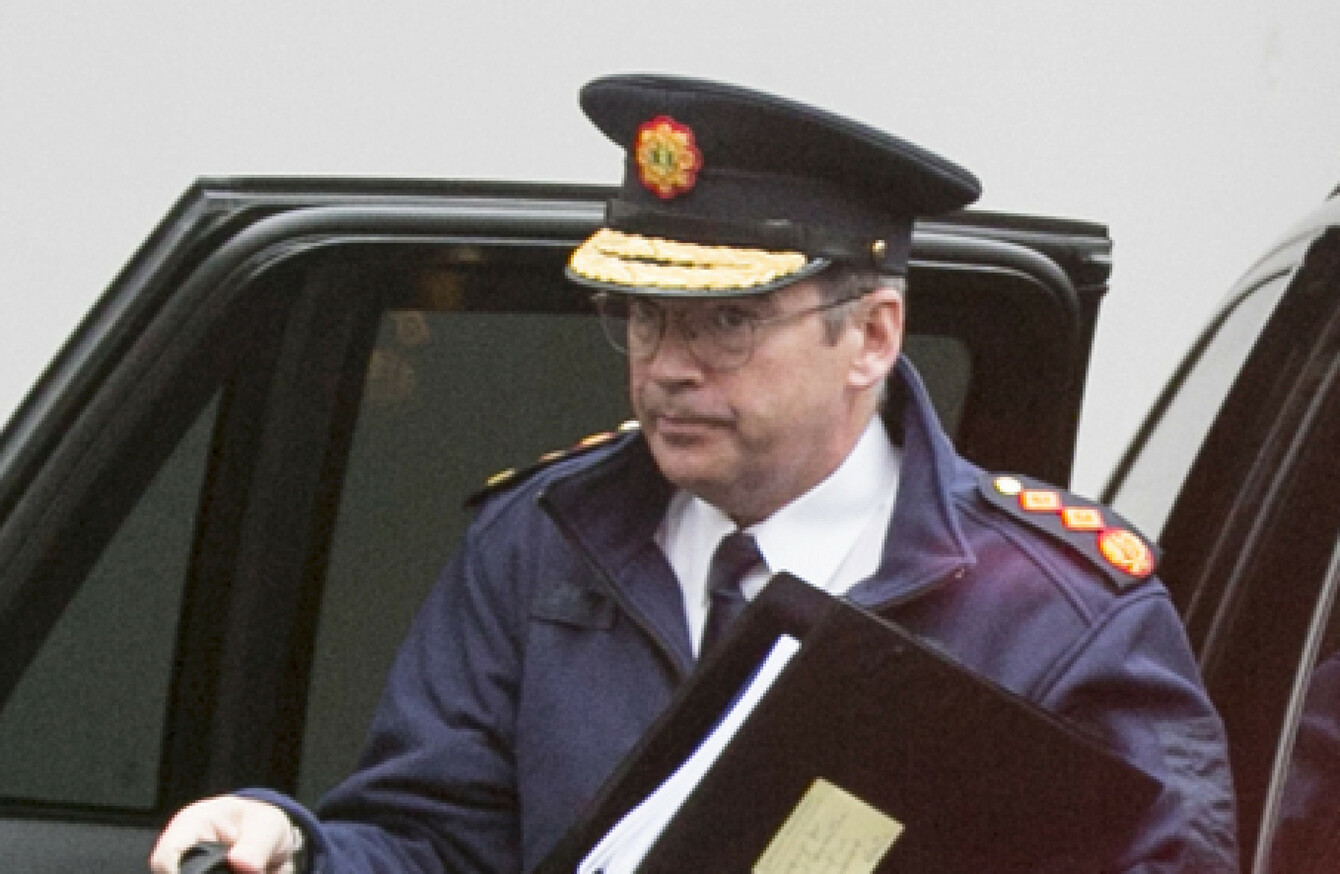 Image: Sam Boal
Image: Sam Boal
GARDAÍ HAVE INSISTED there was "no security incident" involving the Commissioner's vehicle at the force's Phoenix Park HQ on 25 March and that a malfunctioning security bollard was to blame for damage to the vehicle. 
It comes in the wake of calls for Drew Harris to clarify what happened in the incident, and why he was travelling in a PSNI vehicle rather than a Garda one. 
News reports about the incident first emerged at the weekend. The vehicle the Commissioner was travelling in was damaged after a security barrier rose from the ground as his armed escort arrived at Garda HQ, having travelled from the North. 
Although there were no major injuries, the episode brought controversy upon the Commissioner, who faced questions about his time with the PSNI before his appointment.
Opposition TDs and security analysts have called on the Commissioner to clarify what he was doing in a PSNI vehicle and whether his security arrangements on the day were appropriate, or even legal.
One early report on the incident asserted that Harris's vehicle had 'flipped over', while reports from a range of outlets, including TheJournal.ie, detailed how an emergency button was pushed by a garda on duty at the gates of HQ as they didn't recognise the car containing the Commissioner. 
The force stated on Sunday that normal procedures were followed during the armed escort and that both the gardaí and PSNI were satisfied with this. 
Today's statement issued by the Garda Press Office (and attributed to a Garda spokesperson) read: 
There was no security incident at Garda HQ on 25 March 2019. 
A newly installed bollard malfunctioned and caught the underside of the vehicle the Commissioner was travelling in.
This happened at a walking pace. No vehicles were flipped. The malfunction was quickly fixed and vehicular traffic went in and out of Garda HQ as normal that day.
As per our previous statement, normal movement procedures were followed in relation to the Commissioner.
It's understood the Commissioner would normally be transferred from a PSNI vehicle to a Garda one when travelling from the North, but it appears that in this case that didn't happen.
Speaking to this website yesterday security analyst Tom Clonan said that because of the change in jurisdiction, the border region is the most vulnerable area, a "weak link" for security.
"They should have been travelling by air, by helicopter," he said.
I don't know why they weren't. A few people have been killed over the years being moved from one vehicle to another.
Clonan also described how, as a former Deputy Chief Constable of the PSNI, Harris was a target for dissident republicans on both sides of the border.
As a high-ranking garda and former police officer, he said the Commissioner would have been travelling with the armed Close Protection Unit in Northern Ireland.
"There's no way they would have driven anywhere in Northern Ireland without him on board," he said.
"There were members of the PSNI Close Protection Unit carrying weapons in Ireland. And they are not allowed to do that under law.
It's a violation of our sovereignty, and an unlawful and illegal act.
In a statement yesterday, Justice Minister Charlie Flanagan offered his support to both police forces while also appearing to distance himself from the incident.
The Minister acknowledged the reciprocal arrangements between gardaí and the PSNI for those travelling between both jurisdictions, saying they are "practical" and "risk-based".
But he added: "Having said that, I understand that there has been a minor incident involving a car travelling at about walking pace.
"I am advised that the travel and security arrangements on this occasion were in line with standard practice."
- With reporting from Stephen McDermott