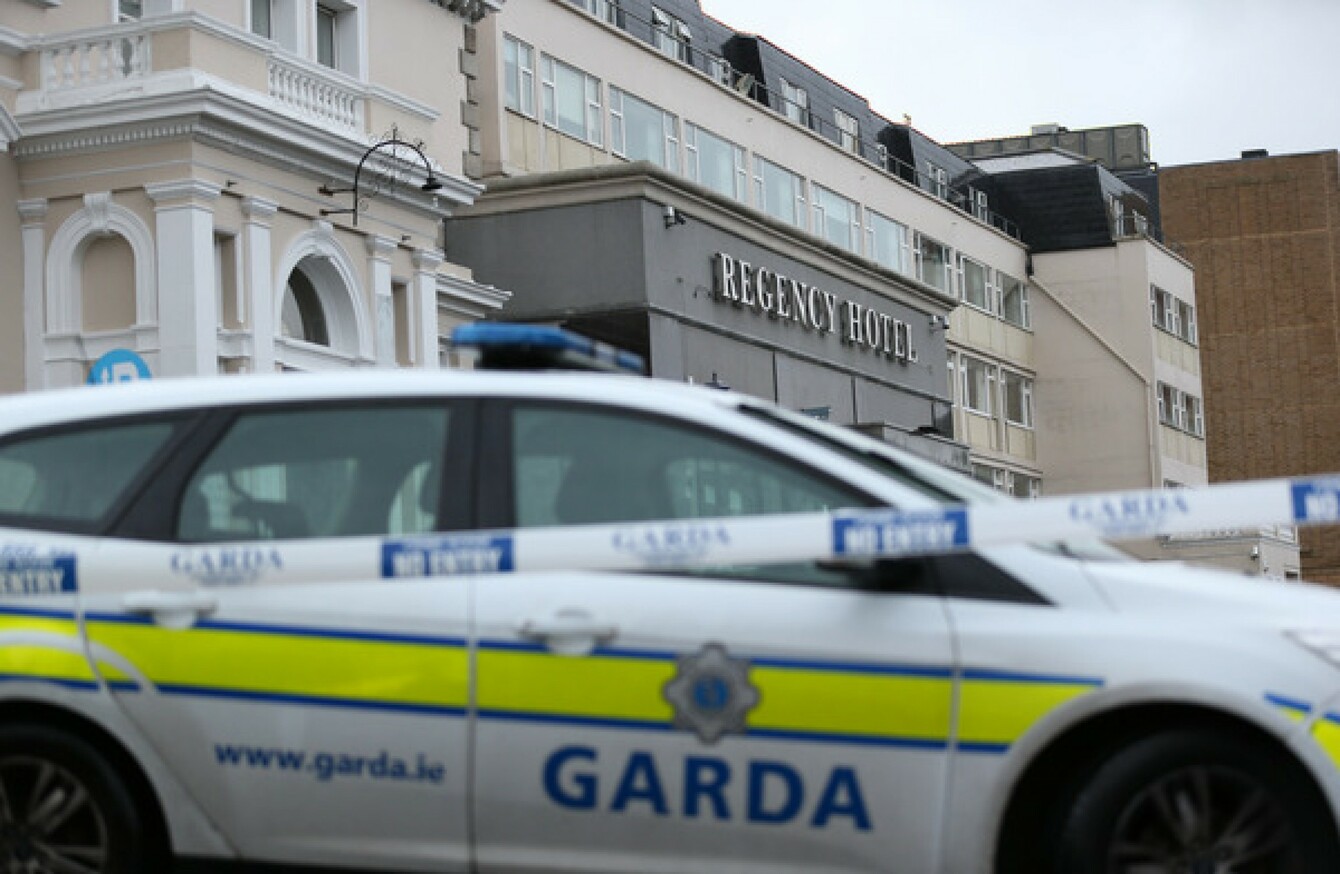 The Regency Hotel on the day of the shooting.
Image: Sasko Lazarov/RollingNews.ie
The Regency Hotel on the day of the shooting.
Image: Sasko Lazarov/RollingNews.ie
AS THE ONE year anniversary of the Regency Hotel shooting approaches this weekend, senior gardaí have said they are as determined as ever to disrupt the activity of organised criminals operating across the country.
Garda Commissioner Nóirín O'Sullivan spoke today of "major covert operations" and "painstaking investigations" carried out by gardaí which have resulted in drug, weapon and cash seizures and, ultimately, arrests.
"It's very difficult to put a number on organised crime gangs because of their nature and organised crime gangs are fluid in their nature. So what you have is coalitions of different people coming together, you have various levels within an organised crime gang," she explained at a briefing held today, 12 months after David Byrne was shot dead during a boxing weigh-in at the Dublin hotel.
"You don't necessarily always have a hierarchical structure, it can be almost a very fluid organisation with a number of facilitators. So, for example, people who may be able to facilitate by way of stealing cars, being able to provide a car to do something; people who may launder the money and proceeds of crime; drug distribution networks. We have different levels."
 These gangs, they facilitate, they cooperate between each other. Sometimes that facilitation and cooperation ends up in deadly feuds, as we have seen.
Detective Superintendent Tony Howard told reporters he wanted to reassure the public that "An Garda Síochána are very much on top of our game in terms of tackling organised crime".
He appealed to anybody considering retribution "to think twice", adding "nobody should take the law into their own hands".
Deputy Commissioner John Twomey, who was also present at today's briefing, gave details of the level of work that has gone into cracking down on organised crime this year and some of the results achieved:
8 people before the courts;
22,000 armed checkpoints under Operation Hybrid;
2,000 armed patrols;
456 firearms seized;
35 of these were "serious firearms" such as submachine guns and assault rifles;
€3.8 million worth of assets frozen;
€2 million recovered in tax;
€2.2 million in cash seized;
93 high-powered vehicles seized;
11,000 jobs completed by gardaí in total.
Assistant Commissioner John O'Driscoll said organised crime does not just manifest itself in the type of crimes associated with the feuding in Dublin city. He stressed the importance of tracking the funds of those involved.
"Whatever way people wish to invest their money – whether it's a Rolex watch, whether it is a herd of cattle, whether it is expensive cars – all of this needs to be targeted."