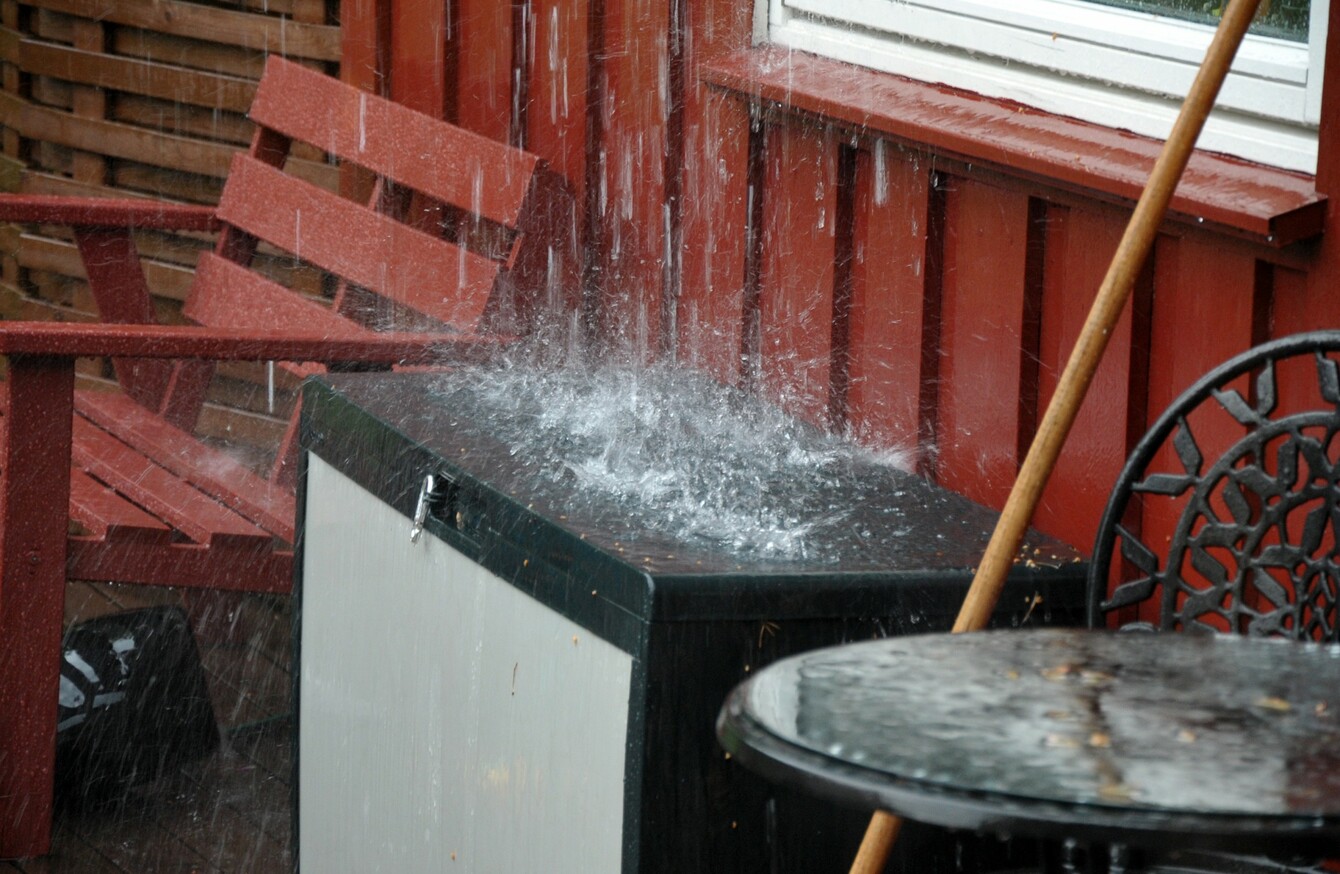 Image: Shutterstock/GracefulFoto
Image: Shutterstock/GracefulFoto
LAURA DE BARRA regularly brings her lifestyle and home maintenance masterclasses to the Glenveagh Home Magazine on TheJournal.ie. This week, she shares a how-to on storing and maintaining your garden furniture all winter long.
Summer has left without so much as a goodbye this year and the time has sadly come to pack away that garden furniture you bought during the mid-lockdown heatwave.
It important to get storage right, if you want garden furniture that's still usable next summer. Here is my masterclass in how to prep your garden furniture and accessories for a long cold winter.
The main things to keep in mind here are:
Only pack away items once clean and dry
Inspect and repair now, don't wait until summer
Always treat where needed, paying the most attention to bottom of chair or table legs
If you don't have inside storage, find an outside spot that's as sheltered as possible
Never store furniture on grass
Cover properly (you want good air flow as well as rain protection) and ensure nothing is at risk of being blow away
Before you even start thinking about packing up, clean down all furniture and accessories. Warm water and washing up liquid will be enough to lift the dirt and dust gathered in the summer months. Use a non-scratch sponge to ensure no damage to the surface of your furniture. Everything should be completely dry before packing up – especially umbrellas and any cushions as these will be more likely to get mouldy.
Wooden furniture can stay outside during winter if it really needs to, but to avoid damage from the rain, it will need to be able to dry out well after it gets soaked! If you cannot put her indoors, tilt chairs and surfaces to make sure rain can run off her easily and not settle and cause damage. If you are stacking wooden furniture to one side, make sure there is enough room around each item for air to circulate to avoid damp.
Soft woods need to be treated well to avoid water damage. If your furniture is pine, for example, it will need a treatment at least once a year. The online description of the furniture will tell you which treatment it needs (or ask in a DIY store).
Hard woods like oak don't need a treatment as they can take moisture, but they will change colour over time. As long as you keep her clean and not in very wet conditions, she will just fade to a greyish tone, but it is best to treat her with an oil a few times a year.
If you don't have a shed, make sure the furniture isn't in the most exposed spot and invest in a tarpaulin. These can be picked up for a reasonable price and will lengthen the life of your furniture. Make sure there is enough air flow inside, so that if it does get wet, it can easily dry out.
Plastic furniture
Again, you want to avoid giving moisture the opportunity to collect on surfaces for long periods ,so tilt and store accordingly. Sunlight will cause the most damage here, even in winter months, so make sure your furniture is sitting in a shaded spot that's sheltered from the wind, too.
Metal furniture
Like barbecues, these need to be away from rain as they can rust. If they need to stay outside, make sure they are treated and covered well. Before you store, remove rust, repair and treat as this will stop further damage. Just like all of the above it needs to be out of the wettest areas and checked frequently to ensure it is keeping dry.
#Open journalism No news is bad news Support The Journal

Your contributions will help us continue to deliver the stories that are important to you

Support us now
Rattan furniture
Rattan furniture is UV protected so can withstand sunlight, and its frame is usually aluminium so can also take rain and moisture. It's a pretty durable type of garden furniture but I would still cover it or move it to a less exposed spot for winter. Its weave can gather mildew and mould so make sure there is great air flow.
Cushions
These should always be stored inside. If you are storing in a shed, never store on the floor as this will be the perfect home for mice during the colder months. Store on shelves and with the covers off where possible to avoid mould, damp and pest damage.
Want more tips and hacks? Laura de Barra's debut book, Gaff Goddess: Simple Tips And Tricks To Help You Run Your Home is on shelves now, published by Transworld Ireland. Buy it here or in all good bookshops, and follow Laura on Instagram for even more cleaning and lifestyle tips.