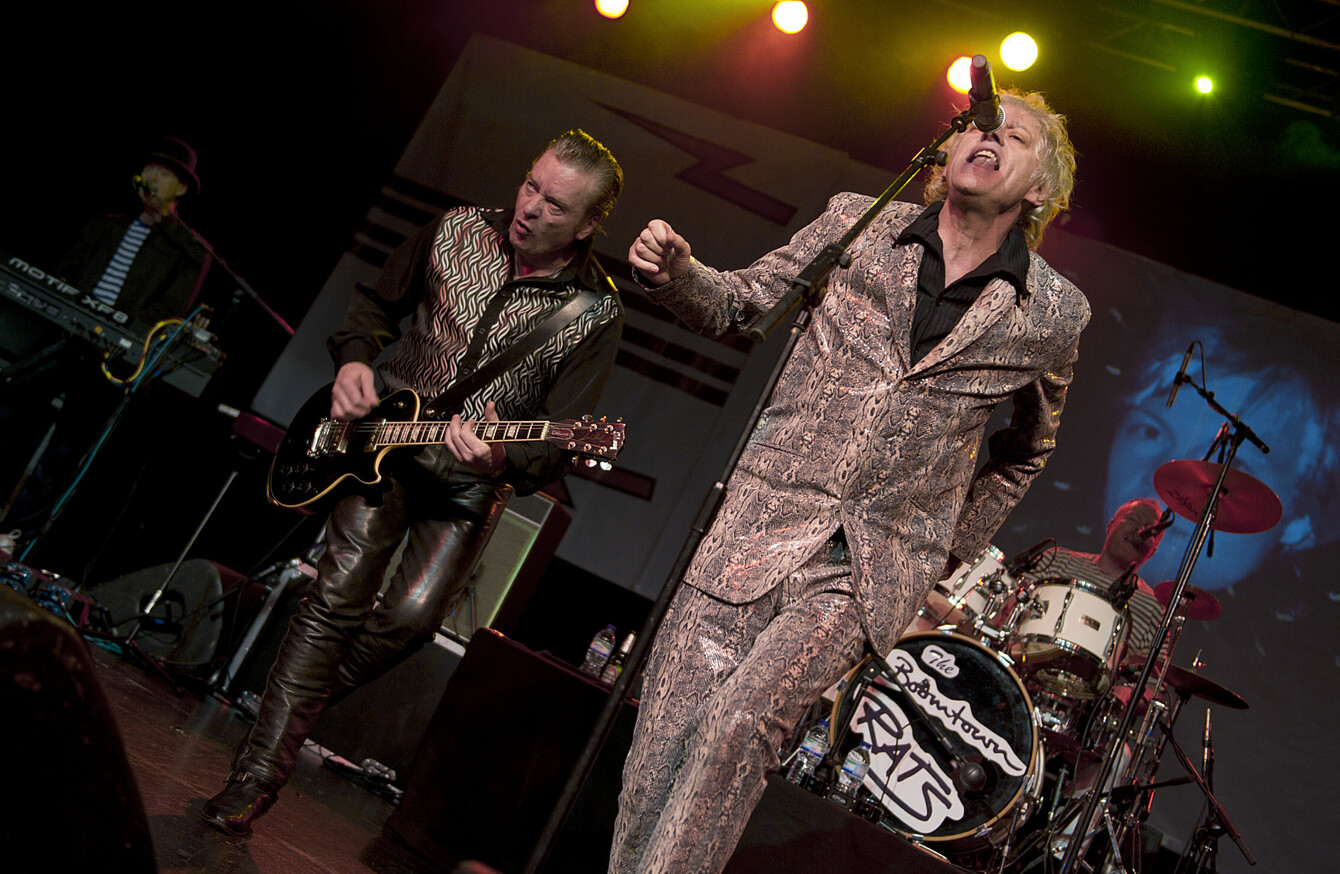 Garry Roberts on stage alongside Bob Geldof in Birmingham in 2013.
Image: Katja Ogrin
Garry Roberts on stage alongside Bob Geldof in Birmingham in 2013.
Image: Katja Ogrin
WHAT DO YOU do when the chart-topping band you spent a third of your life in breaks up? 
Garry Roberts, who founded the Boomtown Rats alongside Bob Geldof in 1975, was left to face that question when the group decided to call it a day exactly ten years later. 
Short answer: he eventually became a financial advisor. His Wikipedia biography says he spent fifteen years working successfully in the life insurance sector.
On the phone for an interview ahead of the reformed Rats next Irish appearance for a gig in Sligo later this month, Roberts says the real story is rather less salubrious. 
The guitarist had continued to work in music for a time after his band split, sound engineering for the likes of OMD and Simply Red as he continued his career in the UK. 
But he reckons the break-up of the group he had formed with his friends back in Dun Laoghaire in the mid-70s had had more on impact on him than he'd realised. When he needed to go out to find a day job, he was delighted that his prospective employers were interested in having him on board after all the stress and acrimony of the split-up. 
"My girlfriend got pregnant and I thought 'Christ I better get a job' and I went down the labour exchange to see what jobs were on offer.
"I saw 'financial advisor' and the salary offer and all of that and I went for an interview with them. 
"They were quite keen to have me and I was so flattered by that… I think after the band broke up initially I suffered from post-traumatic stress disorder of some kind.
"To have these people interested in taking me on I must have found it quite flattering really and I just got drawn into it because I've sort-of got a reasonably agile mind and all the rest of it and I can do maths and stuff like that it was no problem really.
But, really, all it was was just a sales job and I learned a little bit about selling which is useful in some ways. But I got stuck in that for 15 years. Looking back on it I can't believe it really.
The Rats had had their heyday in the late 70s – scoring number ones with hits like Rat Trap and I Don't Like Mondays. Geldof, meanwhile, courted controversy back in Ireland with his attacks on establishment institutions like the Catholic Church (he was, it turned out, a little ahead of his time with his Late Late Show attack on "medieval-minded clerics and corrupt politicians"). 
Their last top 10 hit in the UK – a scathing attack on the state of their home country called Banana Republic – charted in 1980, and the band's fortunes slowly faded over the ensuing years. In the wake of Live Aid, the record company was more interested in a Geldof solo project than yet another Rats album.
"I didn't think that was unreasonable because he was the most prominent member of the band, the most recognisable," Roberts says. 
In the end, their resentment of their label's preference "got the better" of some of his bandmates.
"I think Geldof kind of ran out of energy trying to hold the whole thing together as well. 
He had been doing his best to get a good deal for the band for a new recording contract or renewal of the recording contract … It was all a bit mad at the time anyway.
Roberts had been in his mid-20s by the time he joined the Rats, and had worked for a while as a photographer after a couple of short lived stints at Trinity College studying medicine and general studies. 
He was back at TCD to start an engineering course when the band started to make the big time – and headed off to London as the hits began to flow. 
The reunion 
All groups from the 70s and 80s – with the honourable exception, perhaps, of Abba – seem to reform at some point. And many of the spats that had led to such resentment two decades earlier amounted to water under the bridge by the time the Rats got back together as touring outfit for the first time in 2013. 
Roberts, having left the world of financial advice, worked for a while as a central heating engineer before reentering the world of headline gigs and large-scale summer festivals. 
So how did the reunion finally come about? 
"Simon [Crowe, the band's drummer] and I started playing together as Garry and Simon from the Boomtown Rats and went out with a guy called Bob Bradbury who sings with a band called Hello on lead vocals and bass and a friend of mine called Darren Beale on lead guitar – he's still playing with us now.
"Initially Geldof said 'you can't mention anything about the Boomtown Rats or I'll take you to court'. I said 'Yeah? Go ahead'.
Their former singer, eventually, came to see them at the Electric Ballroom in London with a group of friends.
"He slunk away afterwards," Roberts recalls. "I said 'I bet he thought we were really good'." 
The wider reunion came about after the death of the group's friend and sometime guest musician David McHale. Roberts, Crowe and Geldof – alongside bassist Pete Briquette – played together at the saxophonist's memorial service. 
"I said there's been bad feeling between us – we should just get together over a cup of tea," Roberts remembers saying to his former lead singer shortly afterwards. 
"He asked me to play on a couple of tracks on his solo album which he was recording, I think, at [Queen drummer] Roger Taylor's house, so I went and did that. It just felt so natural working with Geldof in the studio. Briquette was there as well.
"We met again a few times later. I brought up the subject of the band and what he thought of the Electric Ballroom thing and the subject of getting together again came up.
"There was a bit of bad feeling between Simon and Bob, but I said to Simon 'life's too short for all that stuff. Bring a bit of positivity into everyone's life!'
Simon went and saw Geldof and they sorted out whatever their differences were and Simon ended up spending the night at Geldof's place. Now they're best friends forever, so the power of the band to pull people together is quite strong.
There is, apparently, new music in the pipeline from the Rats. But for the most part, they've been living on the live circuit for the last five years – touring and playing summer festivals across Ireland, the UK and as far afield as Australia.
Like them or not, if you've seen them play recently the expression 'leaving it all on the field' might have occured to you. None of the band hold back, and Geldof seems in his element even if his rock n' roll tirades tend to come across, these days, as a kind of self-aware panto performance. 
Roberts assures us meanwhile that from the band's point of view, the live circuit these days is "a lot more professional" than it was 40 years ago. 
The Boomtown Rats play the Knocknarea Arena as part of Sligo Live next Saturday 27 October and the Wexford Spiegeltent Festival the following night.