Image: Manuel Balce Ceneta/AP/Press Association Images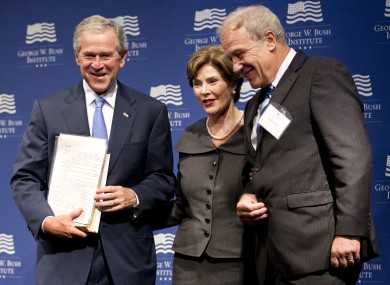 Image: Manuel Balce Ceneta/AP/Press Association Images
FORMER US PRESIDENT George W Bush on Tuesday praised the Arab spring movement and said the United States shouldn't fear the spread of freedom, even if it doesn't know what policies newly liberated countries will pursue.
"America does not get to choose if a freedom revolution should begin or end in the Middle East or elsewhere," Bush said. "It only gets to choose what side it is on."
And the US, Bush said, should always be on the side of freedom.
The former president remarks came at event marking the launch of his presidential institute's "Freedom Collection." The event also featured brief remarks by his wife, former first lady Laura Bush, and a question-and-answer session by video with Myanmar democracy leader Aung San Suu Kyi.
Bush said uprisings last year in Tunisia, Egypt, Libya and elsewhere marked the broadest challenge to authoritarian rule since the fall of the Soviet Union, but said some feared what that would mean for US foreign policy.
"America, they argue, should be content with supporting the flawed leaders they know, in the name of stability," he said. "But in the long run this foreign policy approach is not realistic. It is not realistic to presume that so-called stability enhances our national security."
Bush said the US also doesn't have the power to "preserve the old order, which is inherently unstable."
The former Texas governor, who moved to Dallas, after leaving office, seemed relaxed during his appearance. He mostly has avoided the public spotlight, including commenting on his successor, President Barack Obama, and this year's GOP presidential race.
Bush joked that he had found his own freedom "by leaving Washington." As the event wrapped up, he hopped back onstage to say thanks and playfully wave goodbye to the 100 or so people in the audience.