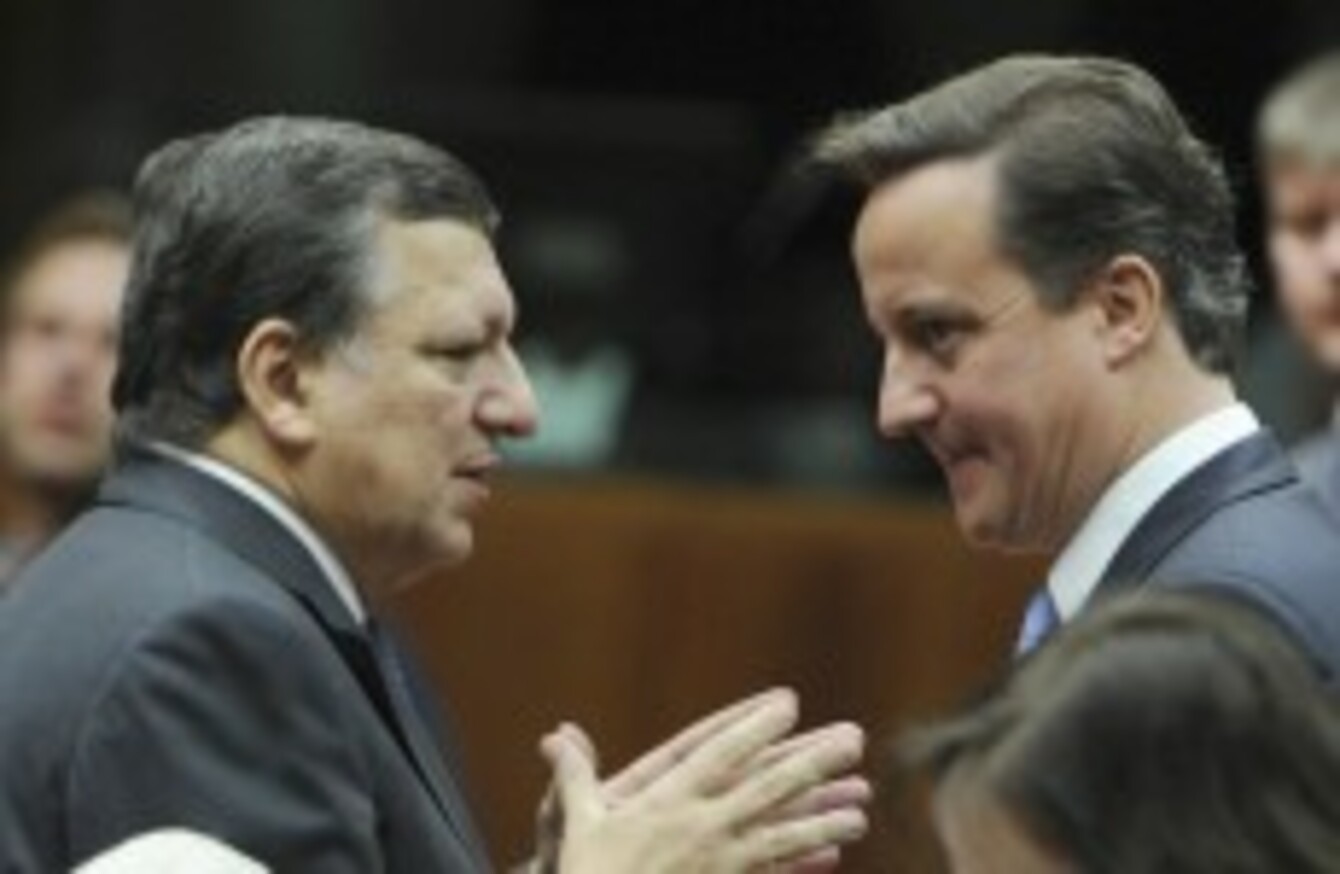 David Cameron speaks with EC president Jose Manuel Barroso at yesterday's summit
Image: Geert Vanden Wijngaert/AP/Press Association Images
David Cameron speaks with EC president Jose Manuel Barroso at yesterday's summit
Image: Geert Vanden Wijngaert/AP/Press Association Images
THERE HAVE BEEN mixed reactions across Europe to yesterday's landmark EU deal – with some hailing it as the solution to the crisis that has threatened to bring down the single currency.
Germany's Finance Minister Wolfgang Schäuble said that he was "quite sure" the deal – struck by at least 23 of the 27 EU states, with another three looking likely – would provide the tools to tackle the crisis.
He told Focus magazine (German): "I am quite sure that with the far-reaching measures we have agreed for institutional reform of the European Monetary Union, we can bring the debt crisis under control".
Schäuble stressed the importance of united action, saying that a common approach would allow EU nations to "defend the common values that are important to us as Europeans, and connect us".
Yesterday Britain became the only nation to opt out of the deal, after Hungary – which had earlier rejected the agreement – said it would put the measures to its parliament.
UK prime minister David Cameron received a mixed reception at home, after his rejection of the deal appeared to steer the country away from the rest of the EU.
According to AFP, Cameron received a "hero's welcome" at a dinner he hosted for Conservative MPs – including one who had called on Cameron to show "bulldog spirit" at the Brussels talks.
'The greatest uncertainty in a generation'
His finance minister George Osborne also supported the decision, saying that staying out of the deal – which may include a so-called 'Tobin tax' on financial services – would protect Britain's interests, particularly the City of London financial industry.
Osborne told the BBC the move was "the right one for Britain", saying that agreeing the deal would lead to EU institutions "using that opportunity to undermine Britain's interests".
However, much of the UK media was less positive. The Guardian warned that Cameron had "plunged Britain's position in Europe into the greatest uncertainty in a generation", calling the decision a "bombshell".
Opposition figure David Miliband said the decision would lead to Britain "rowing along on its own while the other 26 countries are the super tanker ahead of us", the Mirror reports.
Meanwhile, the White House has cautiously welcomed the deal, saying it was "a good thing" but warning that "more still needs to be done".
A spokesman said "In the end it is a European problem that needs a European solution", Reuters reports.
Markets have reacted cautiously to the agreement, with Asian shares falling slightly overnight despite a late rally among European traders yesterday.
Ireland is among the 26 countries set to sign up to the new deal. Last night Taoiseach Enda Kenny said the Attorney General would "analyse" whether Ireland needs to hold a referendum on the changes to EU rules, as it did for the Lisbon and Nice treaties.